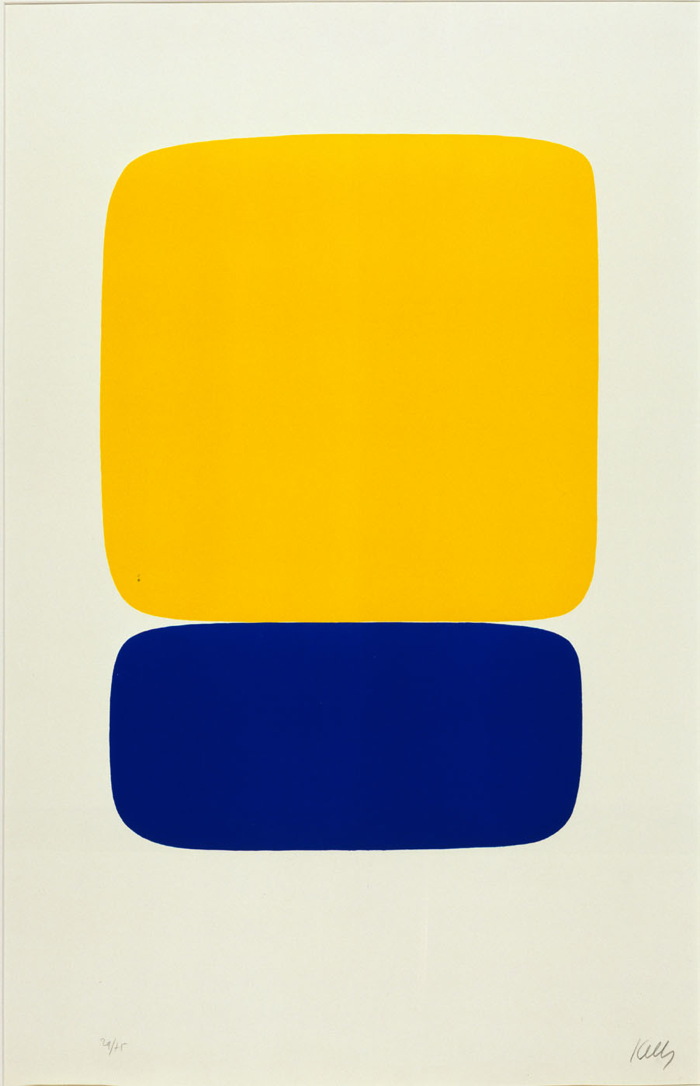 Ellsworth Kelly, Yellow over Dark Blue, 1964-5, from a suite of 27 color lithographs, ed. 29/75, loaned to Henry Kissinger for display in his White House office. Collection: SAAM
Who was Henry Kissinger's favorite artist? Ellsworth Kelly. But that's not important now.
While searching through the White House art loan records for the Nixon administration yesterday, I noticed that over the years, Kissinger borrowed several Kelly prints for his office, including the one above. It was a gift of the artist in 1966 to the National Collection of Fine Arts, which became the Smithsonian American Art Museum.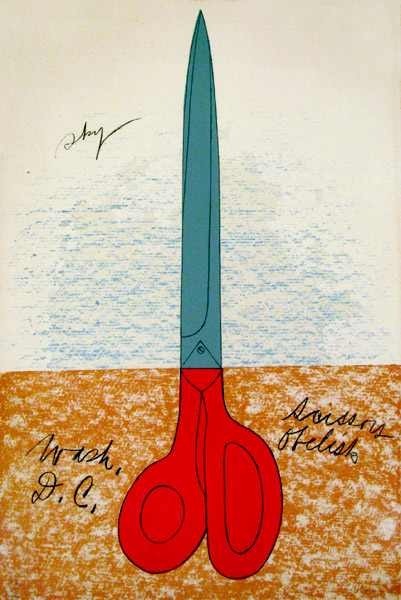 Claes Oldenburg, Scissors Obelisk, aka Scissors as Monument (Scissors Obelisk, Washington, D.C.), 1967 or 1968, ed. 144. Collection: SAAM
I first started wondering about art in the Nixon White House a couple of months ago, after I stumbled across a NY Times article describing a 1978 NCFA White House Loan inventory that showed hundreds of artworks missing, mostly from the Nixon era:
More than 100 prints, including a Claes Oldenburg poster, "Scissors Obelisk," and an Andy Warhol "Flowers" poster, borrowed and displayed in the White House, at Camp David, and in the Presidential helicopter during the Nixon Administration, have not been found where they were supposed to be.
The reason I'm writing this should now be clear: Richard Nixon had art on his helicopter.


Here are CBS's Dan Rather and Walter Cronkite reporting Nixon's departure from the White House on the morning of his resignation, August 9th 1974:
DR: President Nixon's helicopter going over the fountains on the White House south lawn.
Over the black back fence.
High over the Ellipse.
Toward the base of the Washington Monument.
[The dome of the Jefferson Memorial rises into the frame.]
WC: The President, Dan, is getting his last look now, as he peers back from that seat in the helicopter–
DR: What a scene there–
WC: –from the White House as president of the United States. This will be the last look. By the time that he comes back to this point, if indeed, history decrees that he does at any point, he will, of course, no longer be the president.
I thought Nixon hated all that elitist New York art world crowd. But what if he actually hung their art in his helicopter? What if Nixon's actual "last look" at the Washington Monument turned out to be of Oldenburg's print hanging on Marine One? And then, what if, after everything else–the wars, crimes, scandals and coverups–what if Nixon just took that damn print right off that helicopter wall and kept it? I mean, what're they gonna do, fire him? He quit!
Surprisingly, perhaps, there are no published accounts of art on presidential helicopters. Actually, the helicopter Nixon flew in, the Sikorsky Sea King, was the first presidential helicopter. It was used by JFK, LBJ, Nixon and Ford. Col Gene T. Boyer was piloting Army One when Nixon resigned, and he arranged to have the helicopter restored and put on view at the Nixon Library in Yorba Linda, CA.


Army One/Marine One, interior, Nixon Library, image: Chris Jepsen/ OC Historical
The curator and archivist I spoke with at the Library had no information of any art ever being on the helicopter. This, even though library director Timothy Naftali had once described the interior on C-SPAN3 as, "it's sort of Graceland in the air." Which, well. In the only photos I could find of the interior, from Chris Jepsen's Orange County History blog, it looks very basic Seventies airport/airline.
More importantly, there seems to be only one possible place to install an artwork: on the bulkhead, where that framed photo is. Apparently, that photo, of Army One visiting the Great Pyramids at Giza during the Summer of 1974, came from Col. Boyer. The point is, though, it's small. If that frame's 20×24 inches, that photo's 16×20. Scissors Obelisk is 30×22, and that's without a mat or a frame. Even if it fit on the helicopter, all you'd see are the tips of the scissors sticking out of Pat Nixon's head.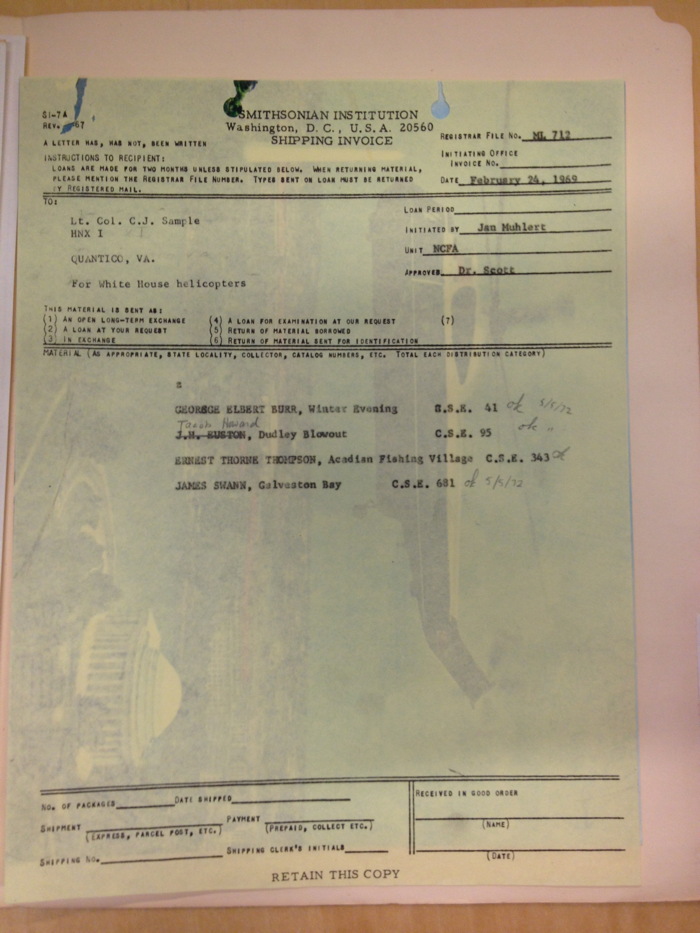 "For White House helicopters": shipping invoice, with a photo of the White House helicopter behind it, collection: Smithsonian Archives
Well, it turns out the NCFA Archives, which are now part of the Smithsonian Archives, has a box of paperwork for White House Loans, and it includes a folder called "Helicopter (Nixon)." There are three shipping receipts for eleven artworks. The first two, from February 1969, just weeks after Nixon's inauguration, are directed to the USMC at Anacostia and Quantico; one from 1970 went to the Executive Office Building. Sadly, the man who received the artwork, Lt. Col. Edward Sample, just passed away last month. He had been the commander of Helicopter Marine Squadron One until his retirement in 1972.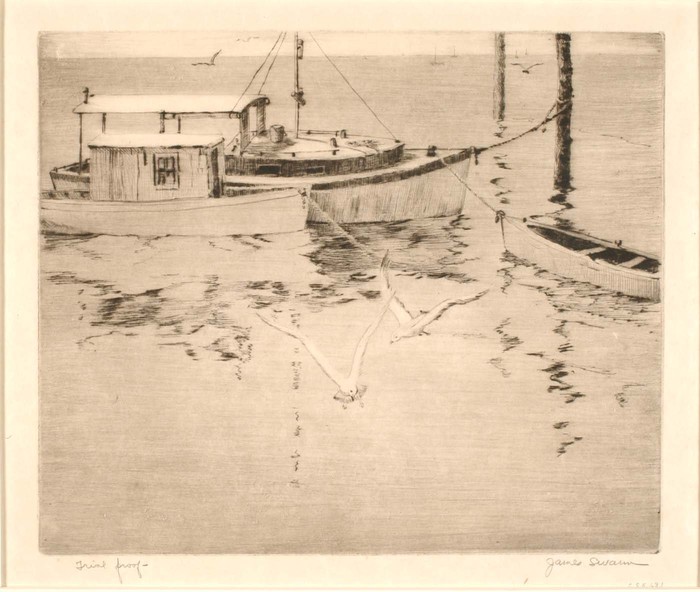 James Swann, Galveston Bay, no date, 7.5 x 12 in. drypoint etching, trial proof, Gift of the Chicago Society of Etchers, 1935. Loaned to the White House for display on presidential helicopters, Feb. 24, 1969. Collection: SAAM
And the art? No Oldenburgs, or even Warhols. A complete list is below, but all eleven pieces turn out to be small prints and drypoints made, with one exception, by artists affiliated with the Chicago Society of Etchers. They all came into the National Collection in 1935, and the ones that still show up are all innocuous landscapes. The closest to a scandal Nixon's helicopter art gets is the title of the other James Swann etching, the one he didn't borrow. A notecard accompanying the receipts appears to show that all eleven works were returned and accounted for in May 1972. I could find no records of helicopter-specific art loans after that date.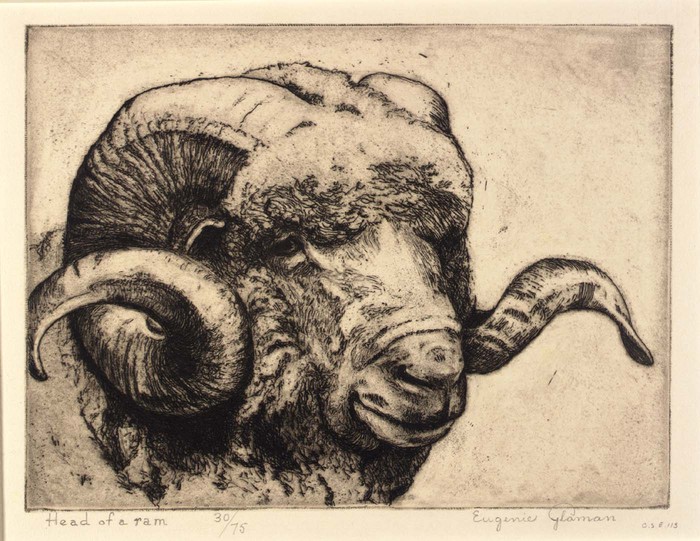 The most/only interesting one: Eugenie Fish Glaman, Head of a Ram, no date, Gift of the Chicago Society of Etchers, 1935. Loaned to the White House for display on presidential helicopters, May 12, 1970. Collection: SAAM
The Kellys Kissinger borrowed were returned. But the Warhol Flowers print in the SAAM collection was only acquired in 1977. And the SAAM's Scissors Obelisk was a gift made in 1997. Which means the whereabouts of the Nixon White House Warhol & Oldenburg is still unknown. Until I hear otherwise, I'm just going to assume they were on that helicopter after all.
Previous coverage of White House art loans:
Call me when Sir Charles has an audience
On Wingnuts On Alma Thomas
Oy, White House sends Alma Thomas painting back to the Hirshhorn
Curate the Controversy?
On Things Other Than David Hammons' Work
ADDENDUM:
In case you were really wondering, here are the artworks borrowed from the Smithsonian Institution for display in White House helicopters, 1969-70. Links are to actual artworks where available, or to the artist. Via NCFA Archives, Collection RU 445, Smithsonian Archives:
Feb. 17, 1969
Guiseppi Catalano, Detroit River
Guiseppi Catalano, The Canal
Rose Grosman, The Clock Tower, Rouen, CSE 67
Lee Sturges, Spring, CSE 320
Feb. 24, 1969:
George Elbert Burr, Winter Evening, CSE 41
Jacob Howard Euston, Dudley Blowout, CSE 95
Ernest Thorne Thompson, Acadian Fishing Village CSE 343
James Swann, Galveston Bay, CSE 681
May 12, 1970
Walter E. Bohl, Under the Rim, CSE 509
Frank Skinner, A Picardy Orchard, CSE 299
Eugenie Glaman, Head of a Ram, CSE 113