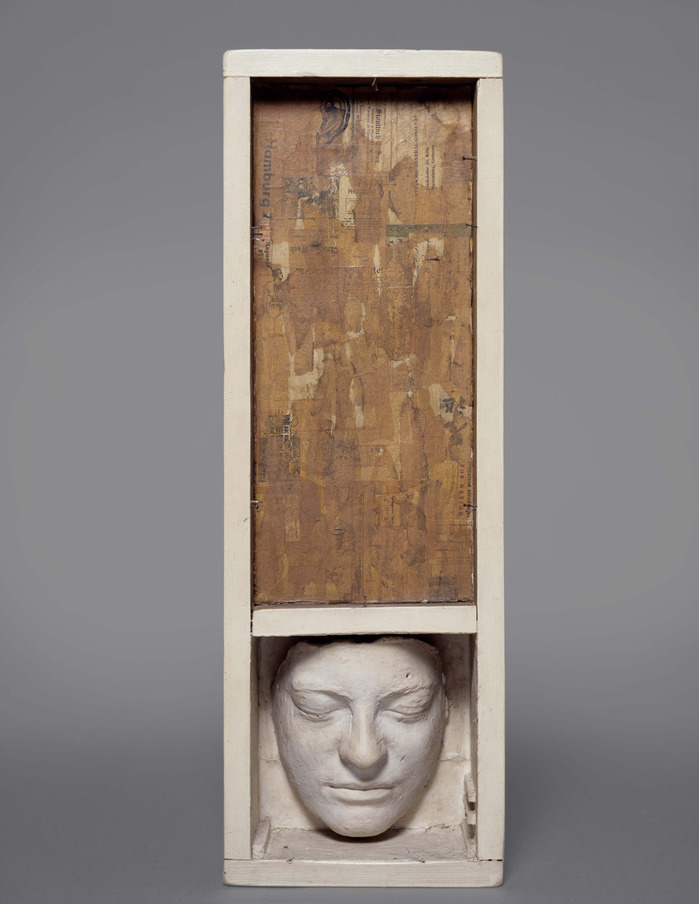 Jasper Johns, Untitled, 1954, collection hirshhorn
I went to a gallery talk at the Hirshhorn by Amy Boyer, of the museum's education department, on their rare, early Jasper Johns work, Untitled (1954). It's one of just four known Johns works to survive destruction by the artist in 1954, because it was in someone else's possession. That someone was Rachel Rosenthal, an important friend and collaborator of Johns, whose face is cast in plaster there in the bottom. [Rosenthal sold the work to the Hirshhorn in 1987.]
In his 1996 conservation interview at the Menil with Carol Mancusi-Ungaro Johns noted that the collaged element in Untitled, probably shared paper and stationery from various "exotic," foreign sources with the work he made next, Untitled (Green Painting), which first belonged to Rosenthal's mother. [Asked her name, Johns replied with a laugh, "Mrs. Rosenthal."] The torn printed bits are overlaid with similarly sized fragments of brown tissue paper that veils but doesn't obscure the texts. A piece of glass is fitted over the collage, held between pairs of tiny nails in a fashion similar to Star, the Star of David-shaped painting Johns made for Rosenthal.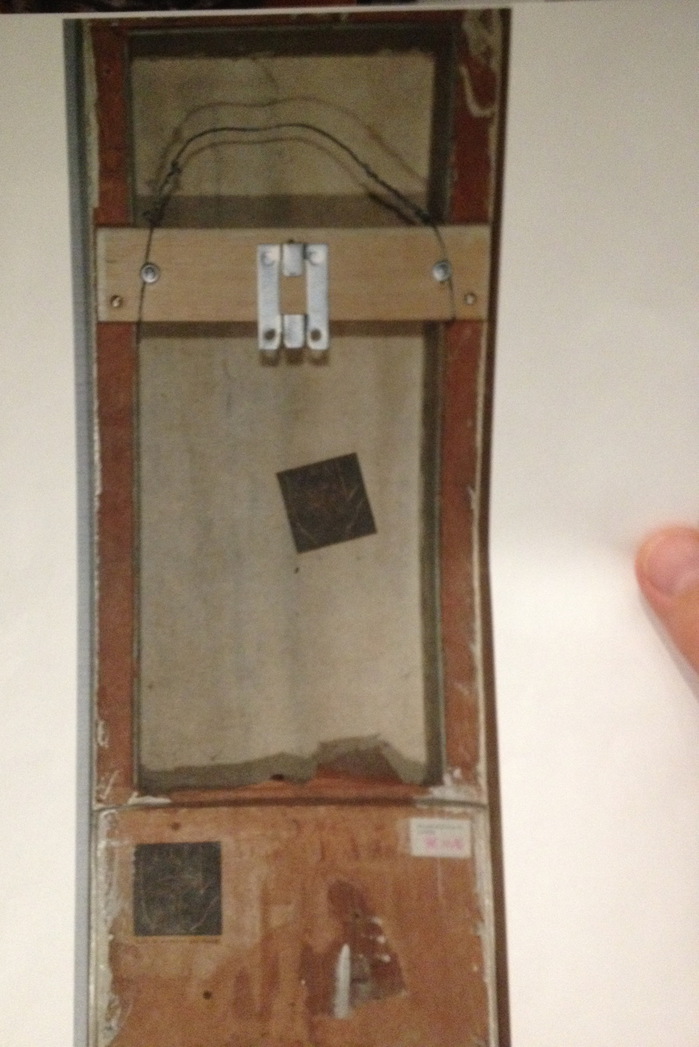 bad photo of a laserprint of a 2006 photo of the back of Johns' Untitled, 1954 via hirshhorn
But today the party was definitely in the back. Bower presented images taken at the Hirshhorn in 2006, which showed two images Johns had affixed, one to the canvas, and one to a wooden backing. They were identical white-on-black palm reading diagrams printed with the caption, "Hand of Accidents and Travels." Bower wondered if this indicated the work was originally intended to stand, like a sculpture, or possibly to be handled.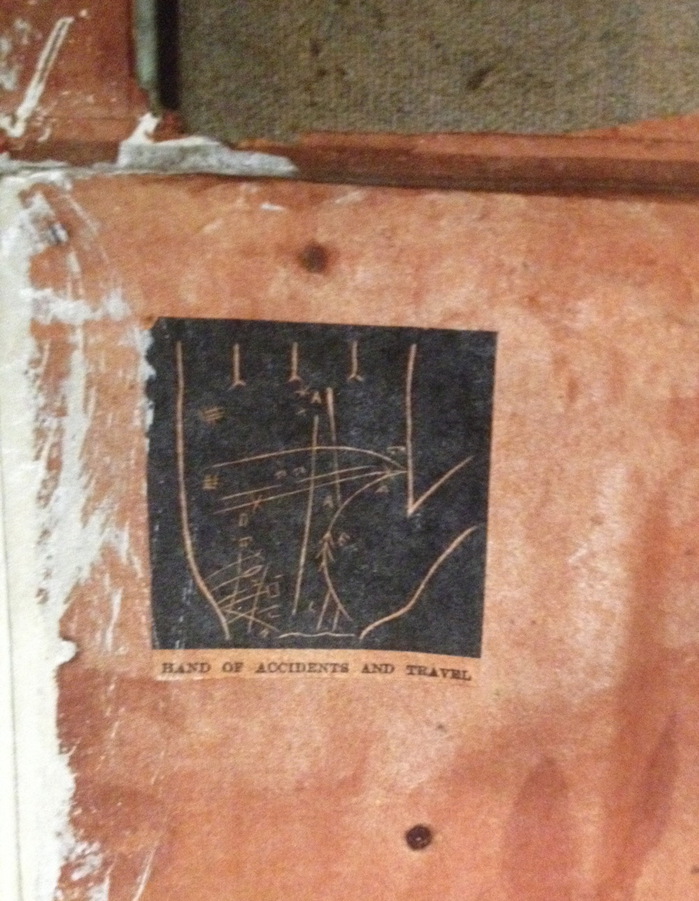 same, a detail: "Hand of Accidents and Travel"
Seeing the palm reading hands, along with the shape of the Untitled collage (16.4×7-inches), made me think of the Shirtboards collage/drawings Rauschenberg made in 1952 while traveling through Italy and Morocco with Cy Twombly. Bob would glue etchings and illustrations he found or bought in street stalls onto the leftover cardboards folded inside his laundered shirts. Hopps wrote that because Rauschenberg never framed the Shirtboards, "they exist potentially as hand-held objects."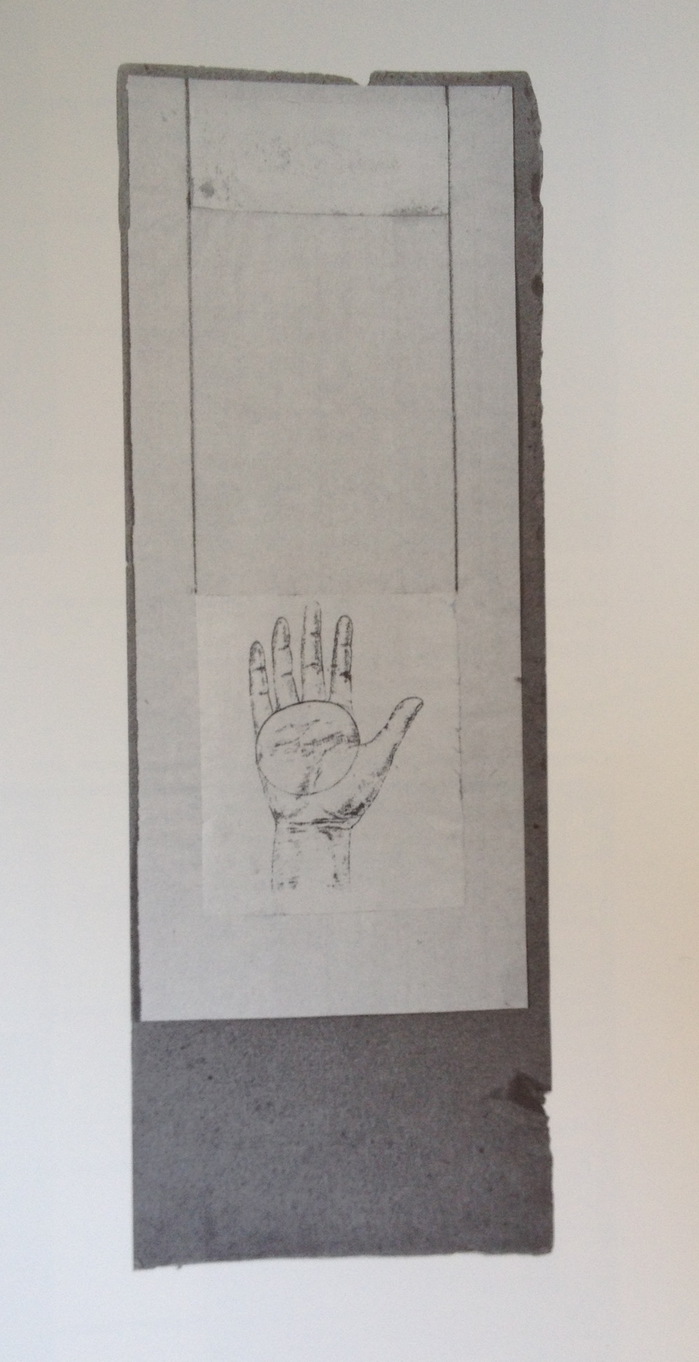 Robert Rauschenberg, Shirtboard collage with palm reading diagram, 1952, lost or destroyed, image: Walter Hopps' Rauschenberg: The Early 1950s
Of the eleven elongated (14×5-in.) Shirtboards included in Walter Hopps' 1990 catalogue, ten were in the collection of the artist, the Sonnabends, or Sue Weil. The other one was listed as "lost or destroyed." It had a palm reading diagram, in black on white, the inverse of Johns's.
Did Johns bury Rauschenberg's Shirtboard palm down under the collage of Untitled, only to bring it back as an X-ray, or was he just giving Bob a secret high five?
Jasper Johns, Untitled, 1954 [hirshhorn.si.edu]