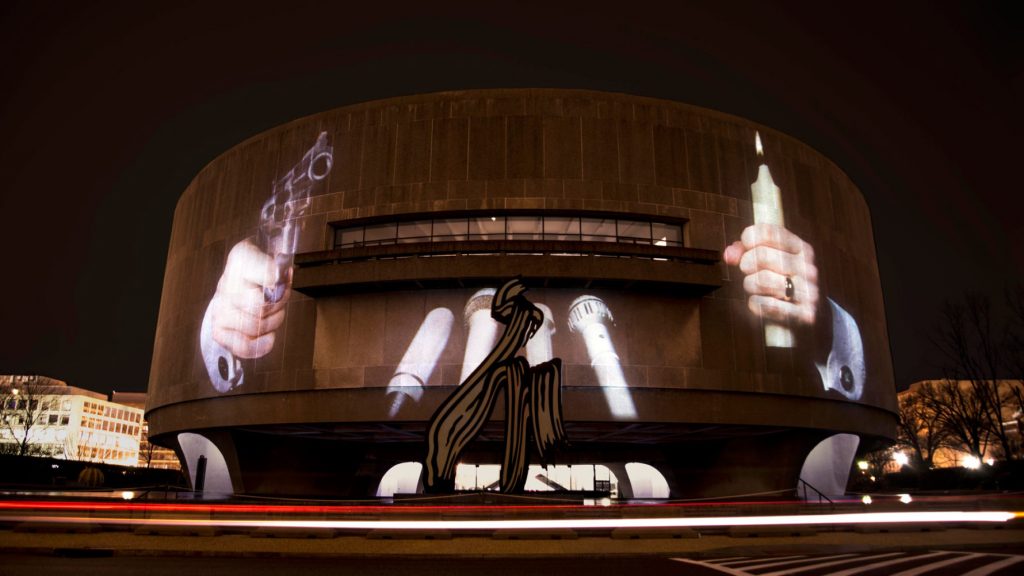 I have reservations about directing too much of today's outrage at a museum or a curator, so I'll try to keep some perspective, and I urge anyone reading this to do the same.
But I find myself literally shaking with anger at the decision to cancel Krzysztof Wodiczko's Hirshhorn Museum, Washington, DC, 1988–2000, in the aftermath of a mass shooting at a Florida high school yesterday afternoon. The work is a 3-night slide projection of a hand holding a gun and a hand holding a candle, flanking a bank of microphones. The decision was made, an unattributed update to the project's press release said, "Out of respect for those affected, and in sensitivity to our public."
I stepped away from my computer for a few hours to deal, and they added yet another update, a quote from the artist:
"To me, the silence feels most respectful. In this case, not showing the projection shows respect and sensitivity to the people who suffer from this great tragedy," Wodiczko said.
Seriously? We all suffer. And while the artist and the museum join the NRA in silence, the ones suffering the most, the students, are stepping the hell up to the microphone. If silence is best, then why show the piece at all?
The sudden embrace of silence-as-respect belies the Hirshhorn's and, apparently, the artist's, claims and positioning for the work up to and while it was projected, as planned, on Tuesday night.
The press release led with this pull quote from Wodiczko:
"…the 30-year-old projection appears to me today strangely familiar and at once unbearably relevant. More than ever before, the meaning of our monuments depends on our active role in turning them into sites of memory and critical evaluation of history as well as places of public discourse and action."
I guess the relevance really was unbearable, and instead of memory, evaluation, or discourse, the only action was to pull the plug.
Director Melissa Chiu told WAMU:
"What his work did was suggest that art in the public sphere … could actually offer up ideas and commentary that was topical," Chiu said. "It was about what's going on today, but also ephemeral."
Indeed it was about what's going on today, which is why she disappeared it.
I would perhaps have let the whole thing go with a grimace except for the comments of Chief Curator Stéphane Aquin in a YouTube clip, positioning the work as a safely shocking spectacle from a lost, fascinating history:
In 1988, the artist made it very clear it had a pointed reference to the politics and issues at the forefront of the public debate. It was an election year in the States. The original context has waned, has dissolved in history. But those objects still speak to us with striking relevance, to all of us, in various ways.  And so it remains a very powerful image.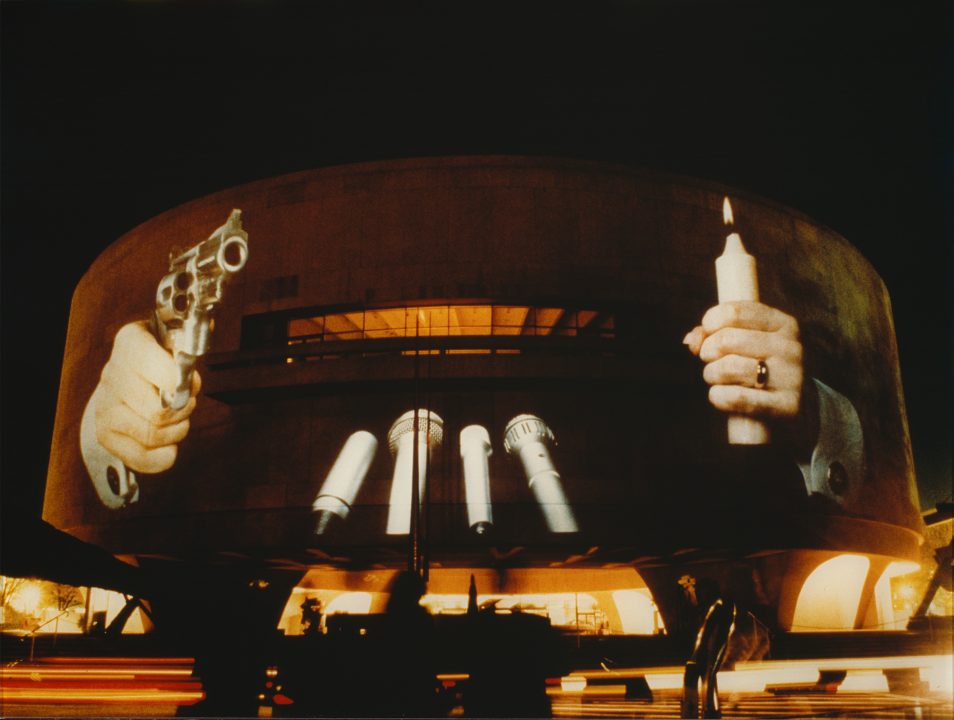 Which, just, no. What were the politics and original context? In a Washington Post article from the original staging, in late October 1988, just weeks before the presidential election–an article which the Hirshhorn linked to three weeks ago– Wodiczko explains:
"For me, it is what I think of politics in this election, resembling more and more a crime story. For example, [Republican presidential candidate] George Bush on one hand is for the death penalty and on another is antiabortion, on one hand he goes on about 'a thousand points of light' and on another defends guns and a strong militaristic policy.

"Media and microphones are also used as weapons."
What has changed? What has waned? What has dissolved into history? There is another, very similar clip, where Aquin says, "thirty years after, we've lost and forgotten about the original context" for Wodiczko's work. But damn it, we have not. It is all around us, even more.
So why does he say this? Why return to this piece which, contrary to his lofty claims for its significance, was neither groundbreaking (it was Wodiczko's 32nd projection) nor impactful. (When I tried to argue that Wodiczko should get the credit Doug Aitken's vapid music video was getting for being the first projected work on the Hirshhorn's exterior, Aquin's predecessor Kerry Brougher cackled that it was barely more than a one-night slideshow that no one saw or remembered.)
Museum regimes change, but the motivation is the same. There is a desire for attention through spectacle and controversy in order to accrue power and capital, both social and political, at the moment. And in this case, Aquin and Chiu either are completely blind to the reality they're showing in–which I doubt–or they're calculating and manipulating for their own optimization.
When its relevance and topicality spike, like they just did, what is the instinctive reaction? To hold a candlelight vigil? To turn the museum and the Mall into a site of mourning or debate? Does Wodiczko's work pose an opportunity for the Hirshhorn, or an inconvenience? Or possibly an existential threat?  If necessary, would we rally to defend the Hirshhorn's showing of this work? Is a museum that silences itself and artists it claims are of profound relevance, in mere anticipation of critique worth defending?
Unfortunately for those who thought art was the message, the message is cowardice. Museums in this town have died from such self-inflicted wounds. That's history that should not be lost or forgotten.
[yet another update: by last night, Melissa Chiu was saying the work would be rescheduled, not simply brought inside to a video monitor. A sensitive announcement to that effect at the beginning would have averted much criticism, but it also seems clear that criticism was the catalyst for the change. Which only underscores the absence of critical thought and understanding that went into this entire presentation.]
[Two weeks later update: the Museum has announced that the projection will now happen on March 7-9.]