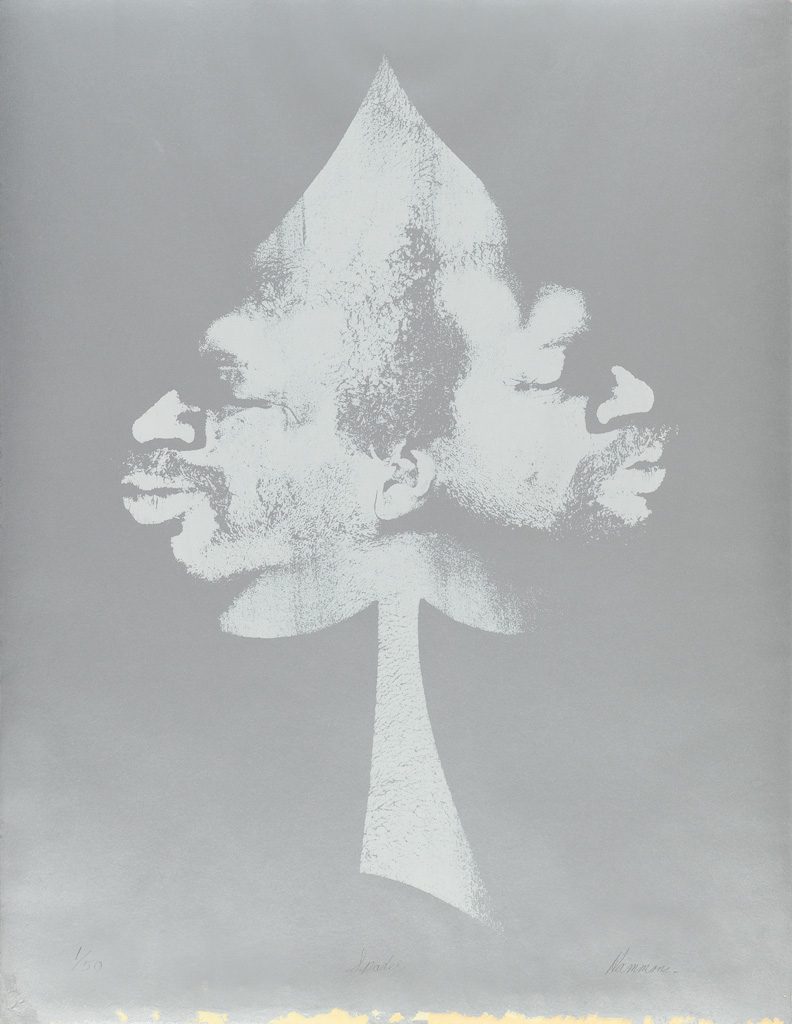 I was very interested to see this David Hammons print on silver paper when it came up for sale a year ago at Swann. And now that it's back at Sotheby's, I'm kind of interested in what's up. I don't remember it selling before, but Swann says it did. [For just $25k, or a $20k bid+premium, against a $30-40k estimate. Maybe it sold afterward.]
For an important approach (face imprinting) to an important subject (spade) for an important artist (DH, prounounced duh), that was only realized in a tiny fraction of the original edition (50 declared, six printed), it seems like it should've been snapped up and kept.
Oh right, now I remember why I was so interested in it: because I wanted to finish off the edition myself. There was a Warhol print on silver foil paper, too. Seems tricky to execute.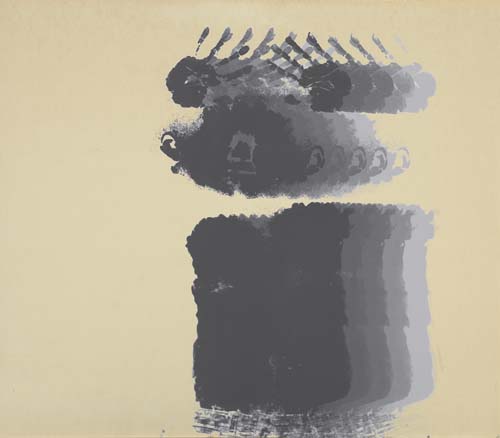 Not as complicated as making it in the first place, though. Hammons' process of turning a bodyprint into a silkscreen was described in a 2007 sale of a 1969 proof, Moving to the Other Side [above]:
"When I lie down on the paper which is first placed on the floor, I have to carefully decide how to get up after I have made the impression that I want. Sometimes I lie there for perhaps three minutes or even longer just figuring out how I can get off the paper without smudging the image that I'm trying to print." [Young, p. 8.]
Then the artist applied a fixative to secure the image to the thin layer of margarine, often, as in this work, with multiple impressions. The artist took this work one step further making a screenprint of a monotype, moving the print across the paper to create a multiple self-image.
This process made me think Hammons mirrored his profile for Spade, but I think they're actually the two sides of his face, composited.
Anyway, a Spade in the hand…
Lot 426 David Hammons, Spade, 1972, no 1/50, screen print on silver metallic paper, est. $40-60,000 [sothebys]
UPDATE: wow, $100,000. Epic flip.
UPDATE UPDATE: Not really, more like epic shop. $100,000 is what a collector pays, and the markup for a collector who did not know or know where to buy this work just a year ago is 400%.
Assuming the seller bought it last year for $25k, their take yesterday after premiums (25% buyer, 10% seller) is probably only $72k. So their net is around $45k. Not bad for one work for a year, but not epic.  Combined, the two auction houses got $35k ($7k for Swann, $28k for Christie's). The original owner got around $18k. Plus 45 years with the work. Hard to say he's not the winner here.