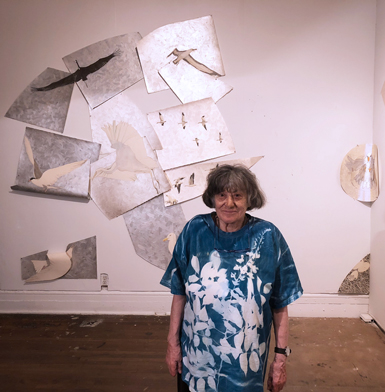 Though we have emailed several times over the years that I've researched her and her first husband's work, I finally met Susan Weil a couple of weeks ago, and it was awesome. The occasion was the first US show in nearly 40 years of sculpture by her late (second) husband, Bernard Kirschenbaum, which is currently at Postmasters Gallery. Weil discussed Kirschenbaum's work, and their life together, and her work, and it was great. Our conversation was just published on ARTNews, so go check it out:
[W]e're used to the idea of calling what he did as sculptural now, because we've come through Minimalism, and the artist's mark, and having things fabricated, but at the time, that was still largely unheard of: that you could order a sculpture. That you could have something fabricated in a shop, and it would be a sculpture. Did he think about that much, or was it not a concern for him?

Well, it wasn't that way with him, because he wanted to be a part of every step of it. He didn't order something and then it came. He worked in all the materials, in the actual welding, and finishing, and this, that, and the other. He had to know everything about how things were made. No, he had a beautiful vision.
'A Beautiful Vision': Artist Susan Weil on the Work of—and Her Life With—Bernard Kirschenbaum, Her Poetry, and More [artnews]