I've been wanting to see Rirkrit Tiravanija's film Lung Neaw Visits His Neighbors since it came out in 2011. I've been sleeping on it/booked up with other stuff almost the whole time it's been on view at the Hirshhorn, along side his curry and protest drawing piece, newly acquired, Who's afraid of red, yellow, and green? Instead of mosaicing snippets from various visits, I wanted to see the whole thing in one sitting. Yesterday was the second to last day of the show, so I jammed downtown first thing.
Rirkrit and his dealer's brother shot 16mm a week at a time, here and there, for two years, following the Chiang Mai farmer/laborer on his daily routine. He compared it to portraiture rather than narrative, and so I expected 2.5 hours of fly-on-the-wall footage, minus the walls.
It's an extremely quiet, unassuming film, especially for a gallery setting. It does not grip or demand attention. So when I sat down on the Hirshhorn's Miesian daybed in what turned out to be the middle of the film, I expected a bit of endurance and, frankly, escapism. Even a couple of weeks ago, Rirkrit had talked about Lung Neaw as a guy who'd helped build his studio, and who could be seen walking through the forest, foraging for wild eggplants. I imagined a shaman at one with nature who could free (or distract) me from the daily shitshow of the world we've created. It did not turn out that way.
I didn't think to shoot pictures of Lung Neaw shopping at the market or getting his transistor radio repaired. Lung Neaw practiced his religion and shared food with people.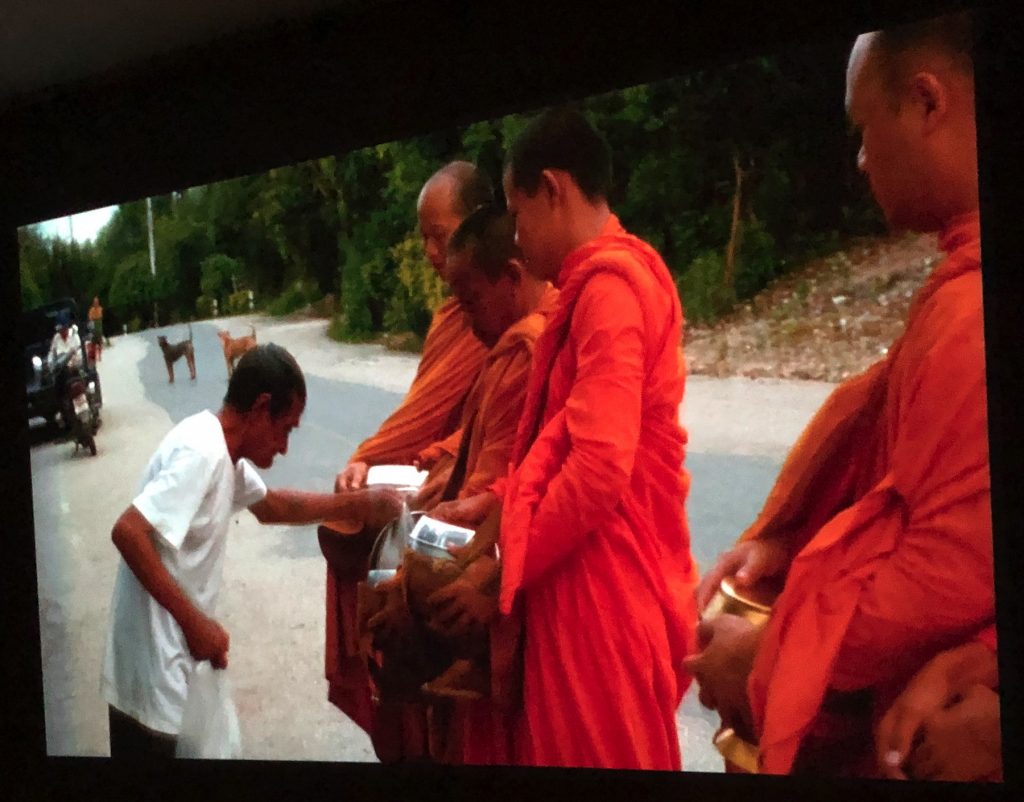 After a lot of working Lung Neaw needed a rest.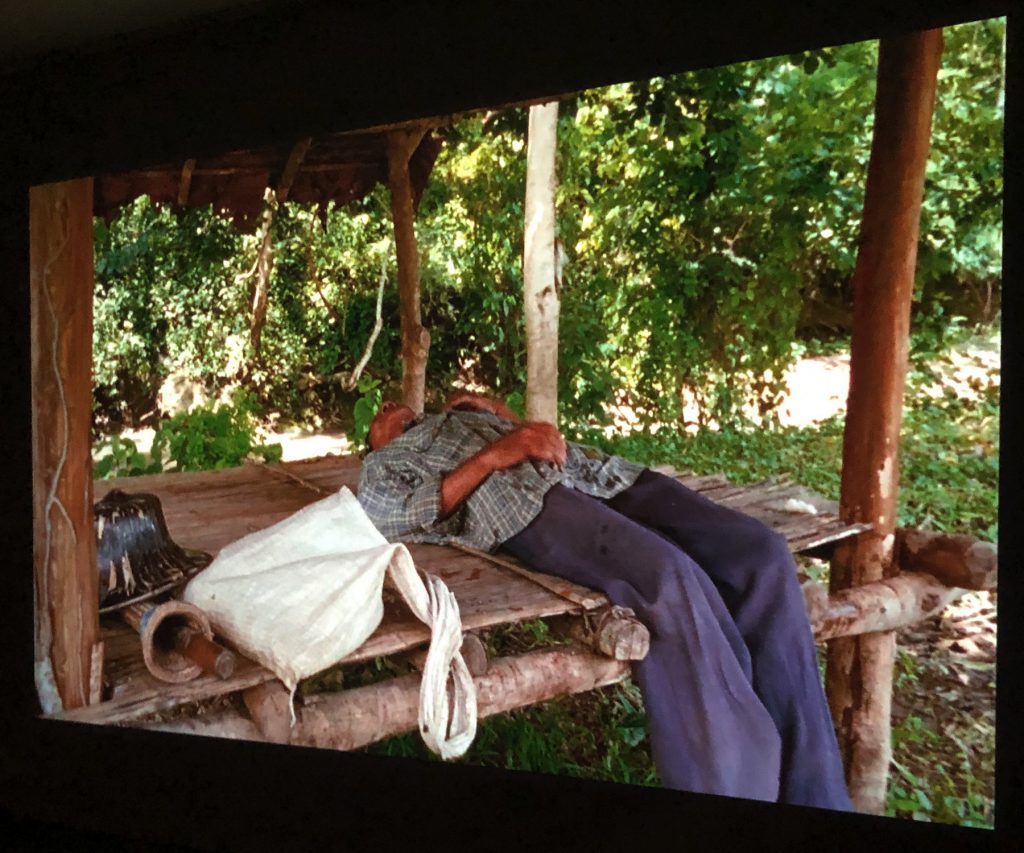 Then Lung Neaw work some more in someone's rice fields.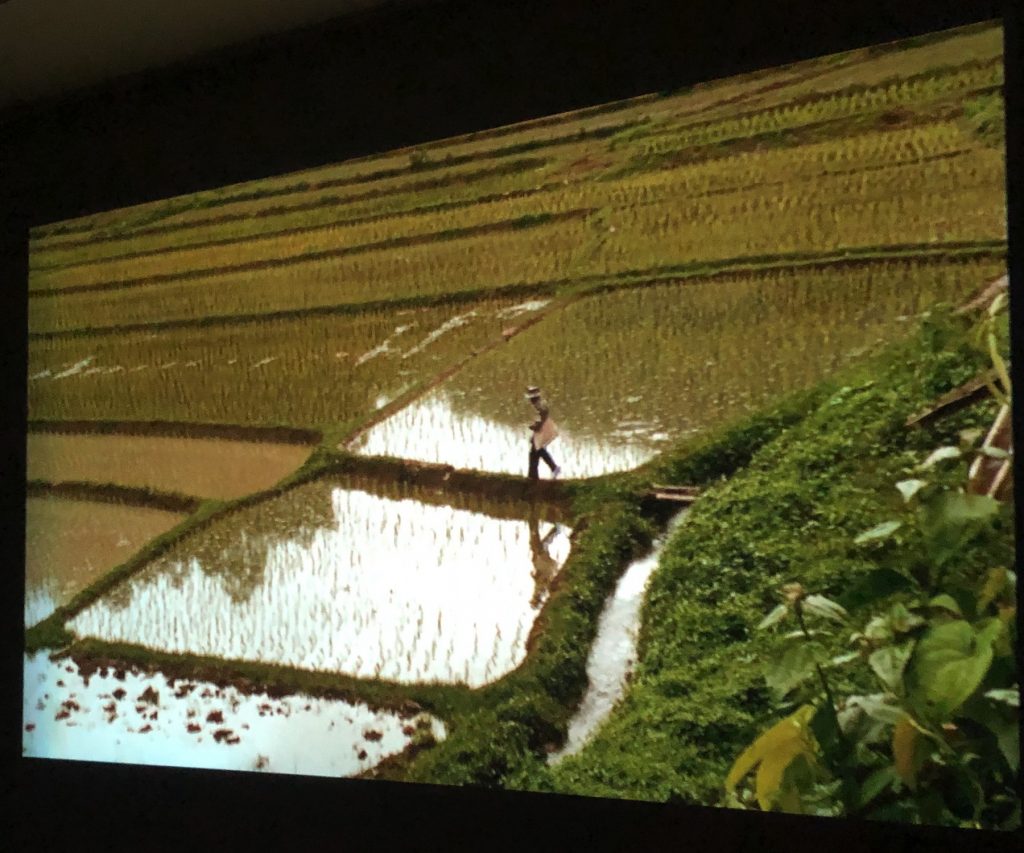 Lung Neaw picked up a hoe after working again in someone's rice fields.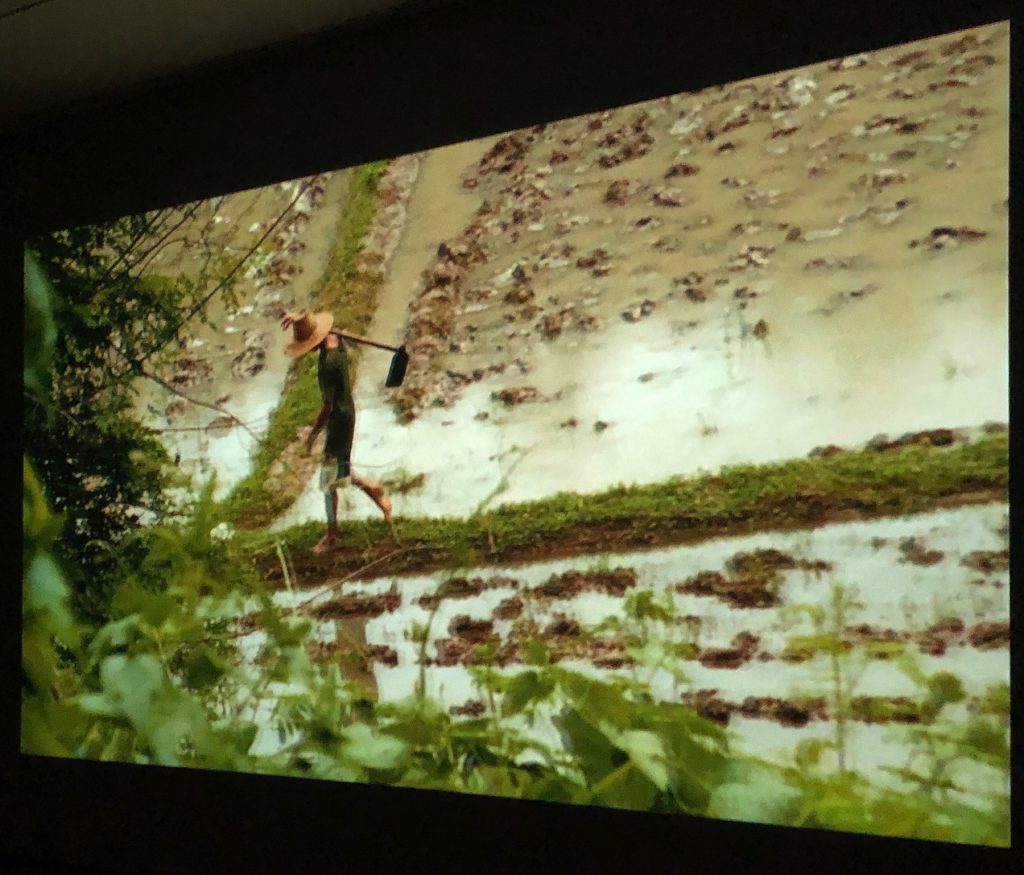 Lung Neaw worked again in someone's rice fields, collecting rice shoots in the rain. His co-worker rigged an umbrella for himself.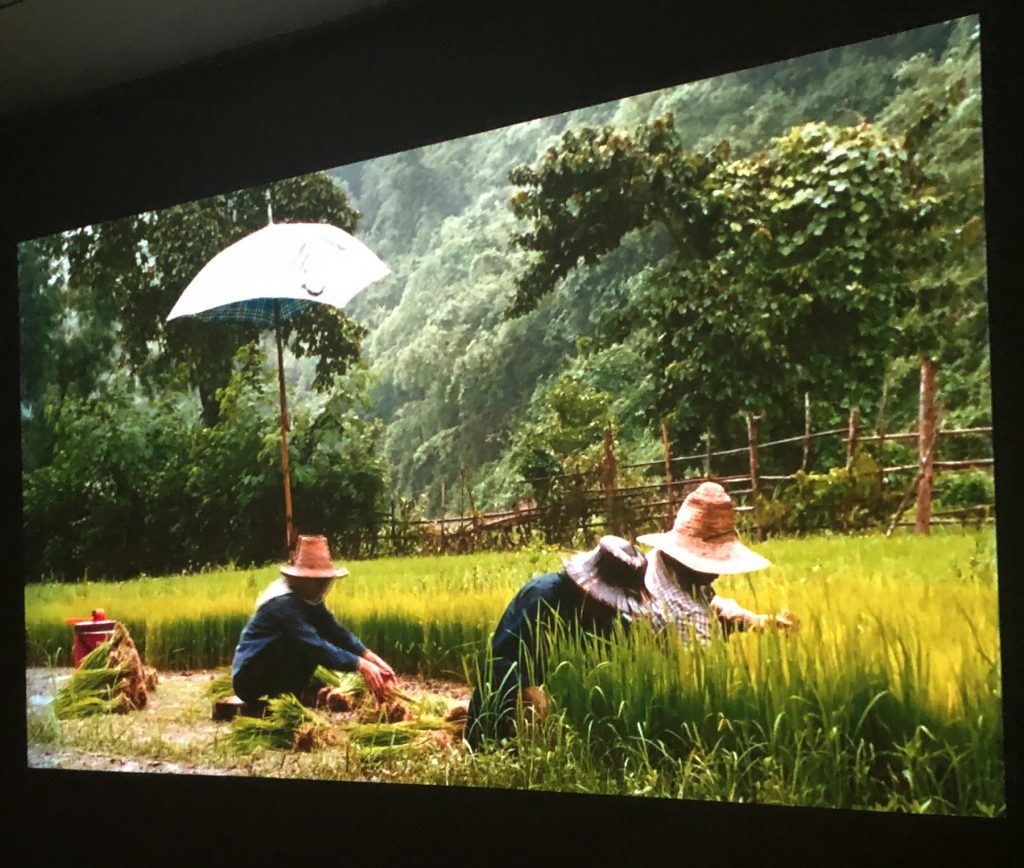 Lung Neaw gathered with many of his neighbors after working in someone else's rice fields.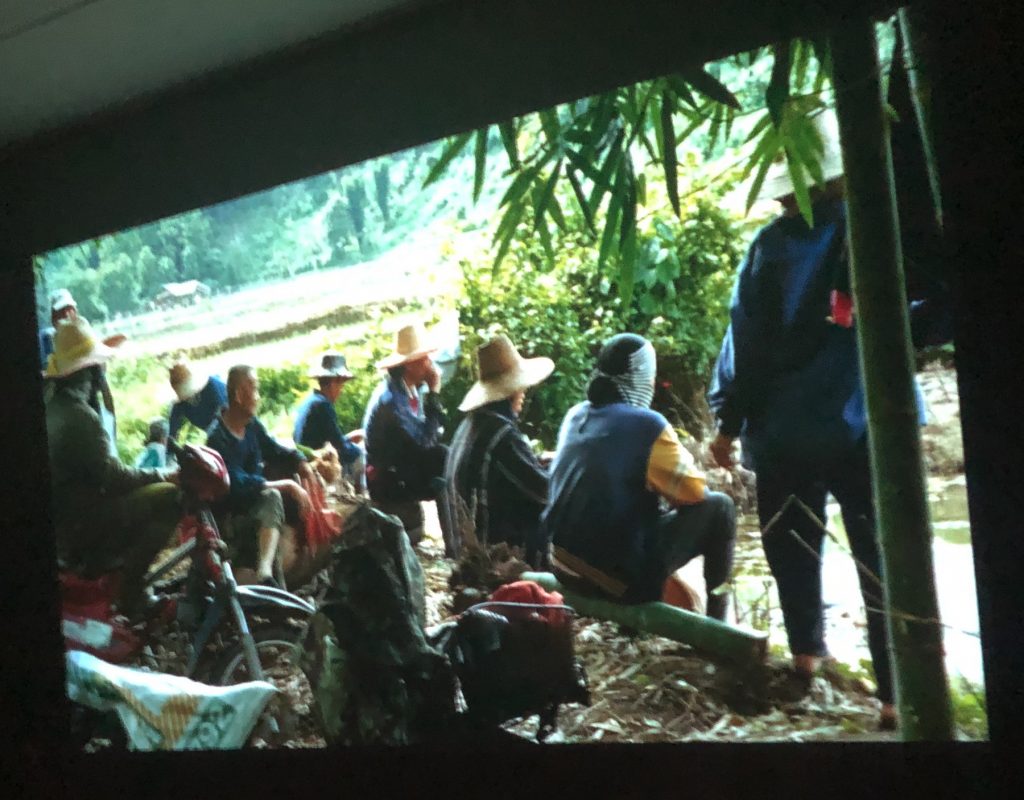 Lung Neaw talked with a monk about excessive tree clearing and drought. Also, even though it was a weekday, they started serving curry in the adjacent gallery. So I watched some of the film through the door. Museum staffers approached seemingly hesitant visitors to invite them to "Curry Service." I love this photo, though. #curryservice
"Man destroys the forest, so nature destroys us back."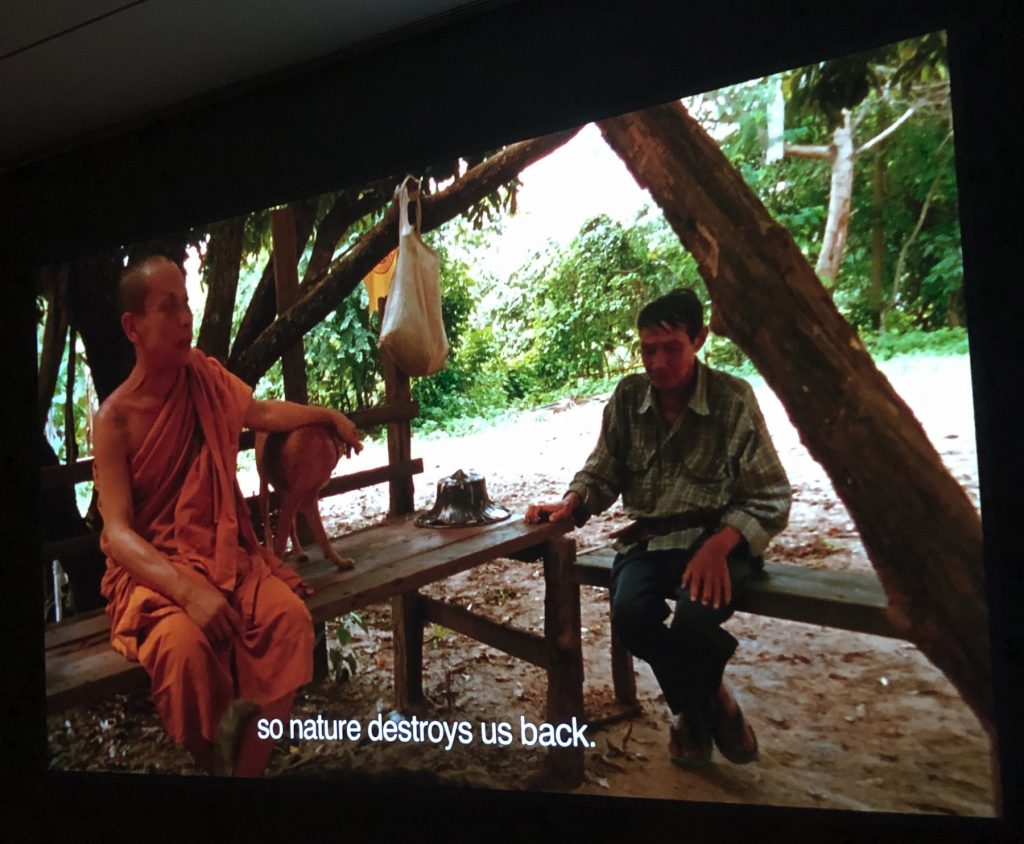 I didn't think to take snaps of Lung Neaw bathing in the river, or of him walking through the forest searching for nettles or eggplants or whatever.
Lung Neaw visited his relatives and talked with them about children, marriages, divorces, police, tribal loyalties, and who gets the right to wear tribal fabrics.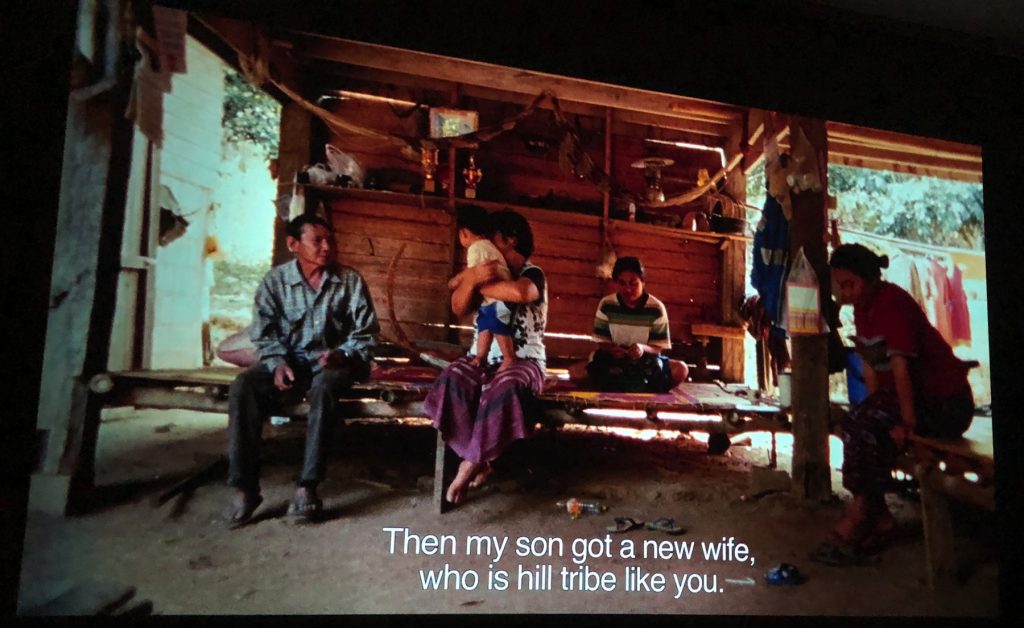 Lung Neaw visited with his friend, and they talked about water pipes being laid where streams used to run, and about these guys who periodically show up and follow him around, and about his friend's preparations to go to the hospital, and about loneliness.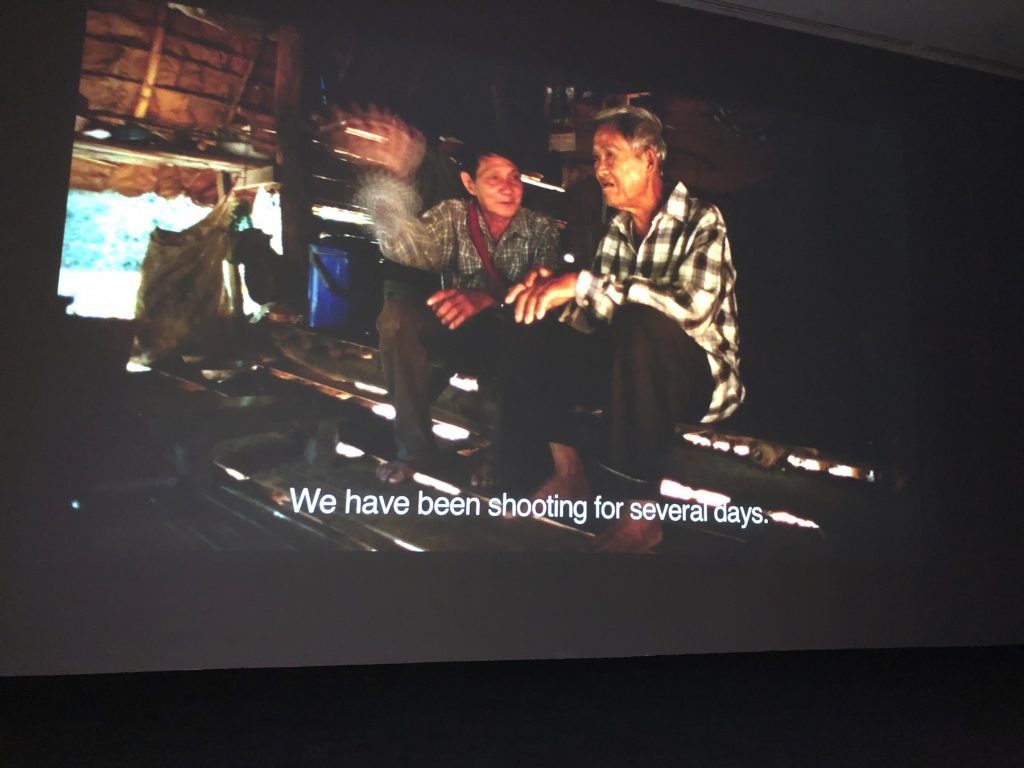 I didn't think to shoot Lung Neaw visiting a bar, and then weaving his way home.
(THE DAYS OF THIS SOCIETY IS NUMBERED)
So all in all, a wonderful film that did not feel like 2.5 hours, and which provided no respite at all. Human lives are fractal, with shared characteristics at every scale.
Previously, related: 'Rirkrit Tiravanija's favorite farmer'
Transactional Aesthetics, or the highly collectable Rirkrit Tiravanija