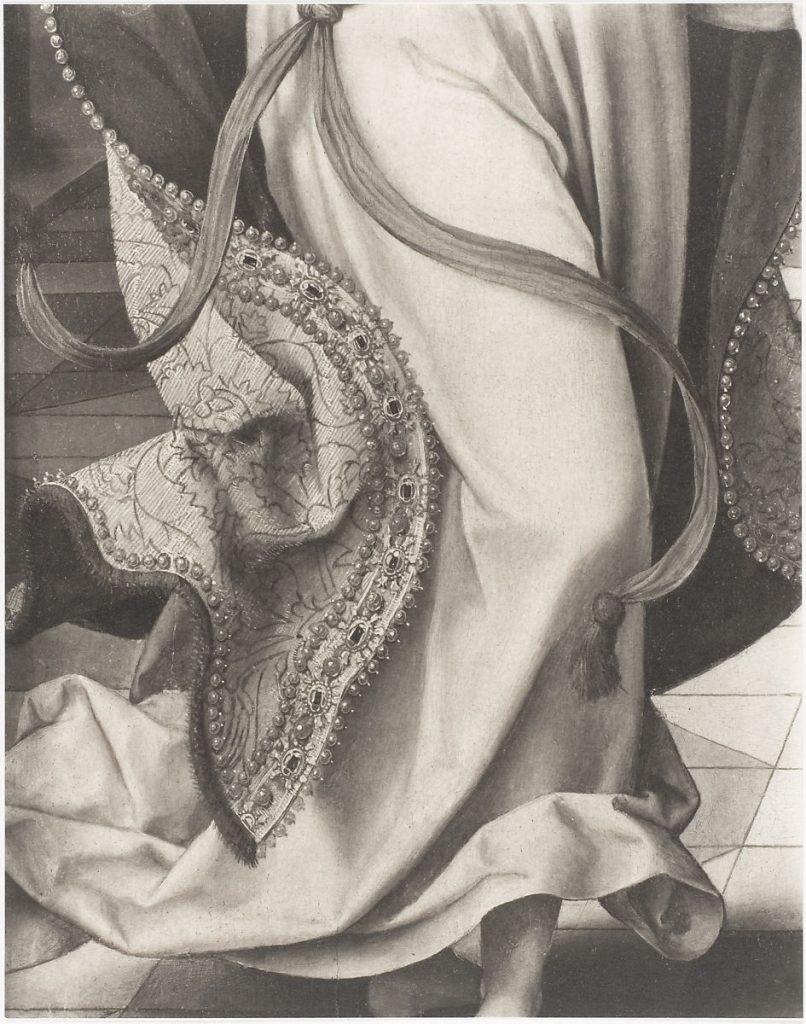 Yesterday while searching for lion embroidered Qing rank badges at the Metropolitan Museum, I saw many of them photographed in black & white, which made me wonder if any had been photographed by Charles Sheeler.
It appears not, but Sheeler's Met photos are always interesting to me. While I 've never imagined buying a Sheeler, I have fantasized about running across a stray print of an African mask or an Egyptian torso in some photodealer's bin some day. [That has not happened.]
What I did not expect, though, was jamming so hard on this 1943 detail of Antwerp painter Joos van Cleve's c.1525 Annunciation. Sheeler shows just a dynamic section of the archangel Gabriel's flowing drapery, embroidered cope, and swirling sash–and just a hint of ankle.
Sheeler certainly made stylized, even dramatically composed images for his day job [he worked as a photographer at the Met in 1942-43.] He even took detail shots of other artworks, particularly the museum's extraordinary Assyrian wall sculptures. [I have an old photobook of them somewhere, published by the museum in 1946.] But this sort of tightly cropped image with such elaborate internal composition feels like he was shooting for himself.
Another thing that comes to mind is Sheeler's work as a fashion and socialite photographer for Condé Nast between 1926 and 1931. [Though he was quoted in the 2017 show of that work as hating the gig, comparing it to going to jail every day.]
Only a couple of Sheeler's Assyrian prints are in their collection database, so those might be catalogued as something else. But this was one of a group of Sheeler photos printed and acquired as works in 1982.
It is also my second sixth favorite artwork based on someone else's Annunciation, after Richter's first five, but before his next 53.
The Annunciation by Joos van Cleve, Charles Sheeler, 1943, printed 1982 [metmuseum.org]
Annunciation, Joos van Cleve, c. 1525 [metmuseum.org]
Previously, related: LLOLZ On Gerhard Richter's Annunciation After (A Postcard Of) Titian; Gerhard Richter Facsimile Objects