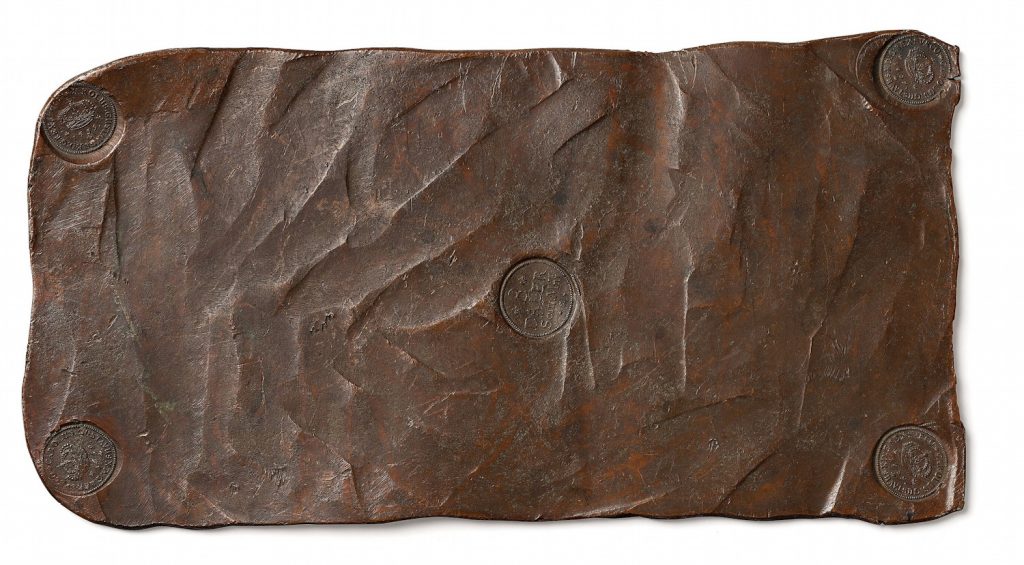 In the 17th century Sweden had the copper, and needed the silver, and its imperial war-making activities were constantly beholden to the exchange rate, and their monetary policy was in turn at the mercy of commodity prices for the metal their coins were made from.
In the middle of all this, someone had the idea to turn the plates of raw copper into actual coins by stamping them. This 14.5kg 8 daler plate is the second largest denomination. A 10 daler plate weighed in at 19.7kg.
Almost all these plate coins were melted down the second copper prices warranted, and it wasn't until the 20th century that some examples were found in shipwrecks. About 50 of these bad boys exist, with 6–10 in private collections, which is why this coin is expected to trade at a 199,950 euro premium to the current value of the copper itself.
Oh wait, no, 6–10 examples from 1659, one of the 13 years 8 daler plate money was issued, are in private collections. I'll let you connoisseurs sort out the price and rarity; I'll stick to the oddity.
Holy smokes, they're as big as a baking sheet.
Also, this 1660 8-daler sold for just EUR2430 in 2017, so maybe rarity by year is really important? Except the plate above is also from 1660, and sold for like EUR175,000 in 2016. These things don't work as money, and they don't work as speculative instruments, either.
Lot 105 Plate Money 8 daler SM 1659 (Karl X Gustav), Avesta. est SEK2-2.2M, around EUR200,000 [bukowskis.com]
related: 8-daler plate money c. 1658 [britishmuseum.org.uk]