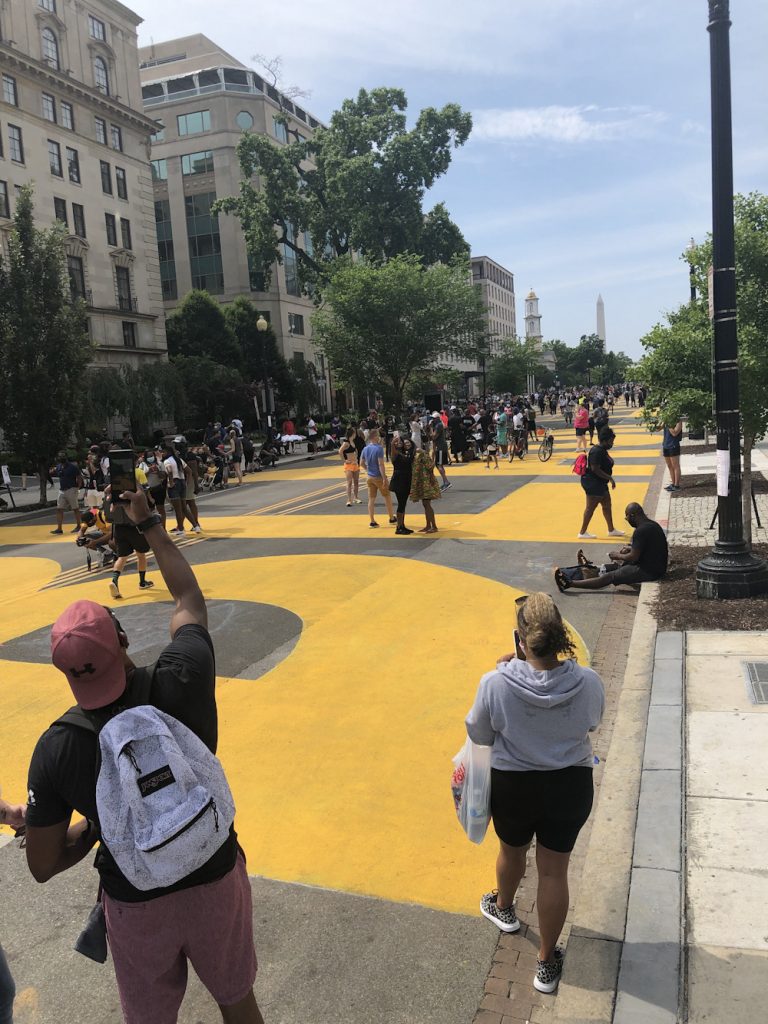 [UPDATED, SEE BELOW] Muriel Bowser's newest work, BLACK LIVES MATTER (2020) is the best painting I've seen in months. It was realized Friday morning on 16th Street by the Department of Public Works in collaboration with some local muralists and passersby who volunteered to help paint.
It measures approximately 35 x 850 feet, the full width of a city street and most of the length of two blocks. It is made largely of DOT Highway Yellow paint (FedStd 13538) on asphalt and thermoplastic crosswalk and lane striping, with highlights and details in DC Gray (FedStd 16099) [see below.]
An underpainting made in silver spray enamel was used to guide the placement of yellow paint with rollers.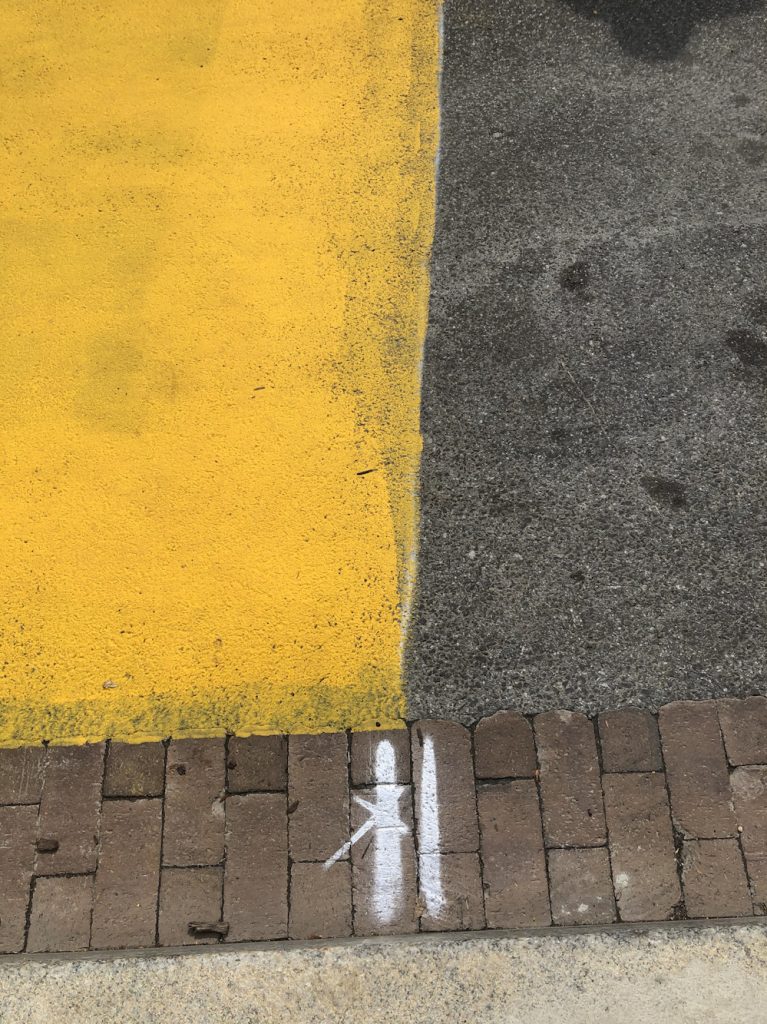 Some letters were created by painting the outline, and then filling it in.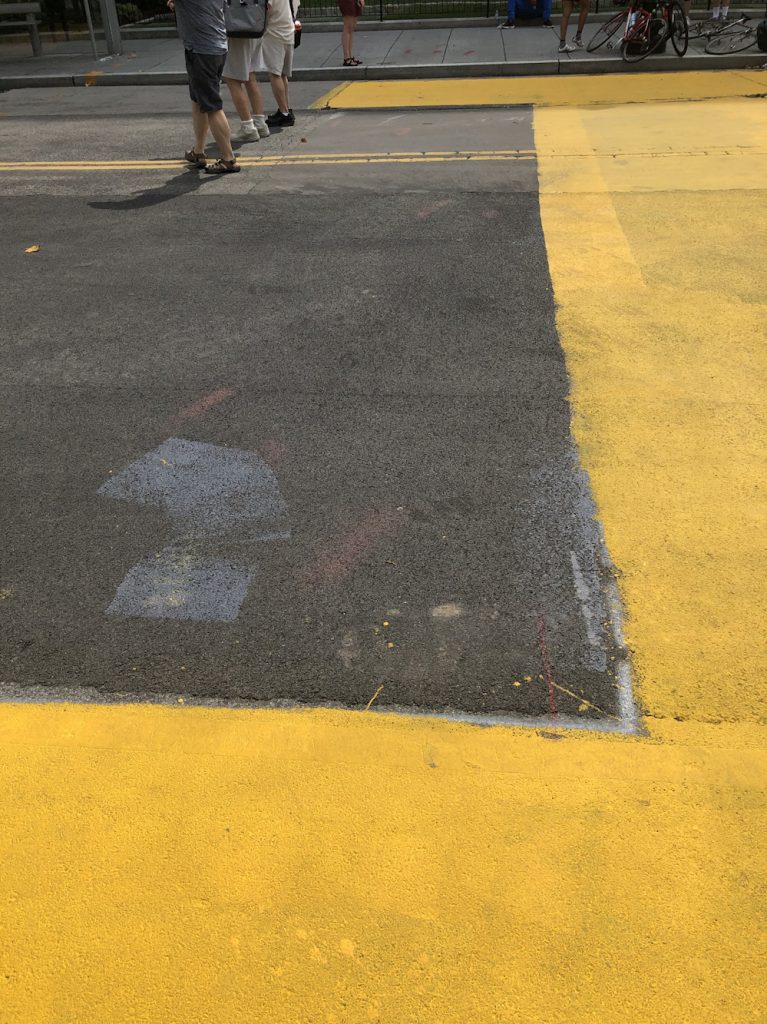 Others were made by trying to paint right up to the edge, and then having to fill in a bit.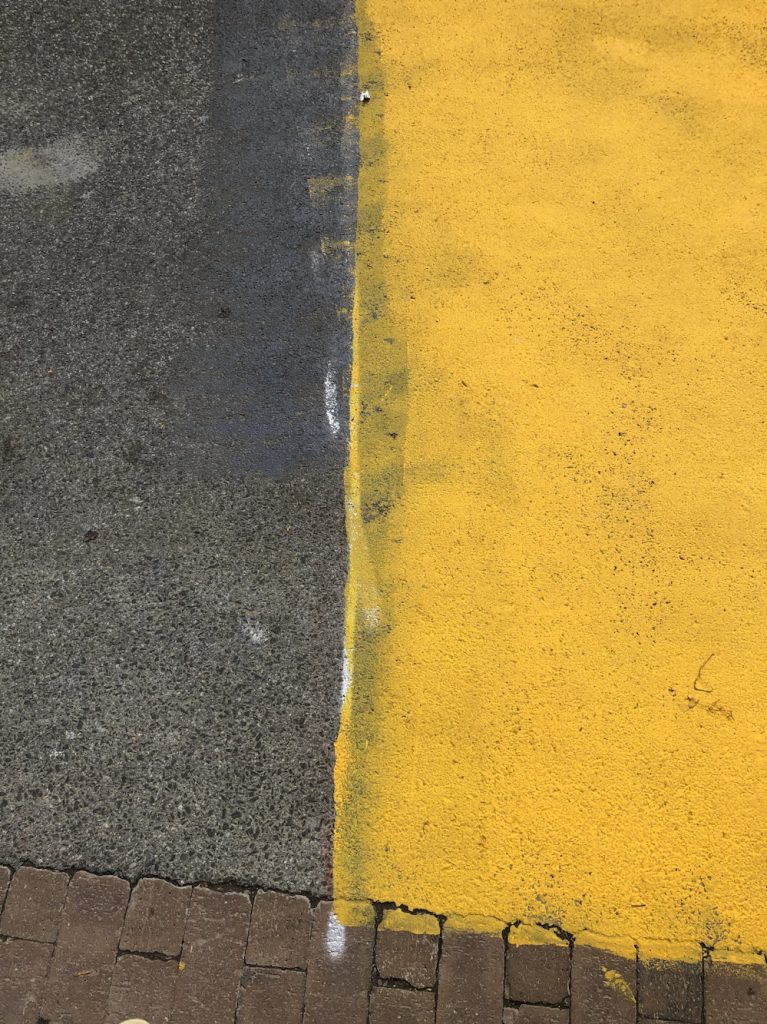 There are pentimenti where adjustments were made to the initial composition. They are minimized by the application of gray paint.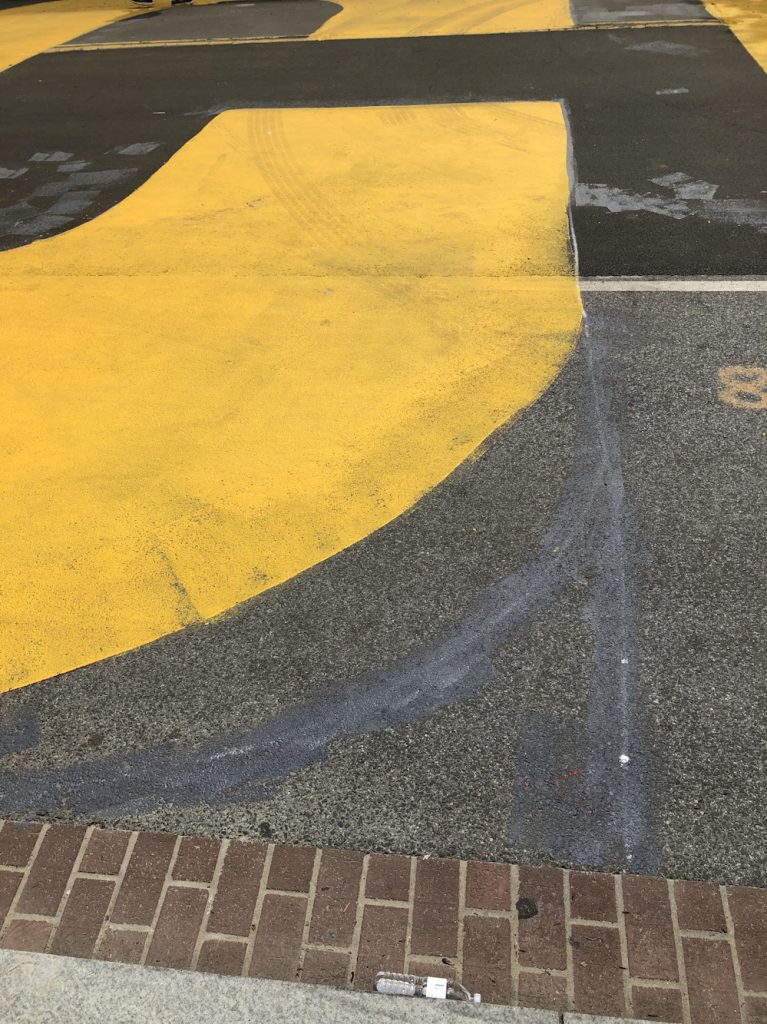 Gray paint was also used to clarify negative space around the yellow letters when underlying elements like crosswalks might intrude. It was also used to minimize the visual impact of yellow splatters outside the lines.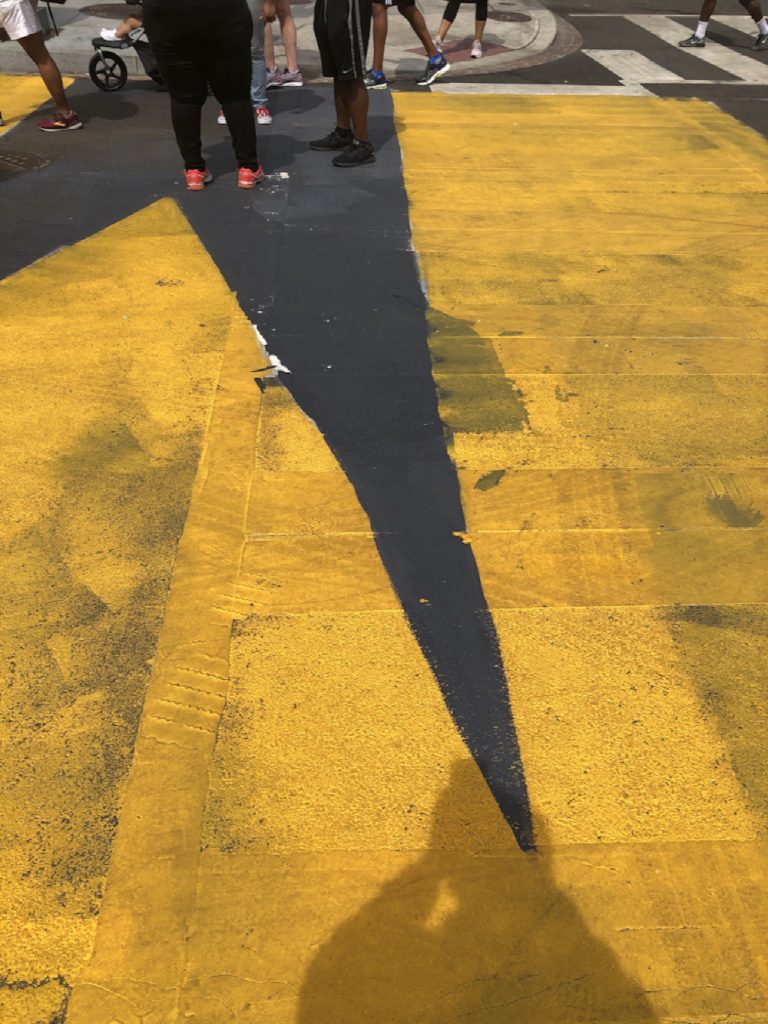 BLACK LIVES MATTER was not the first text to be painted on these streets, however, and not all underdrawings have been obscured.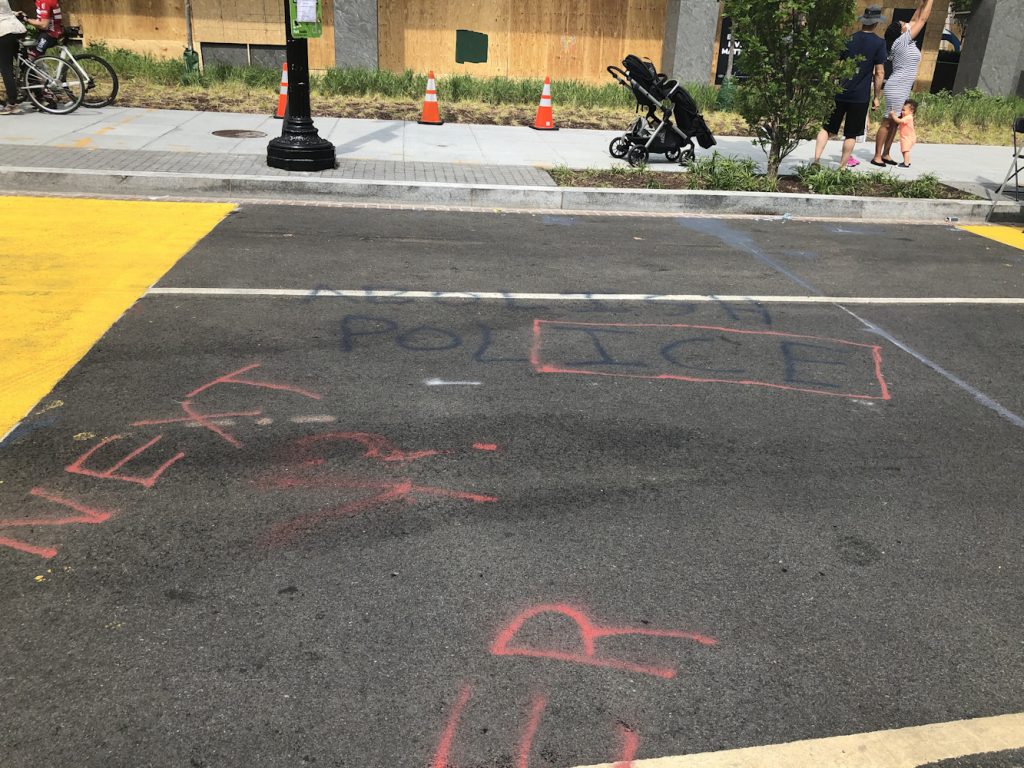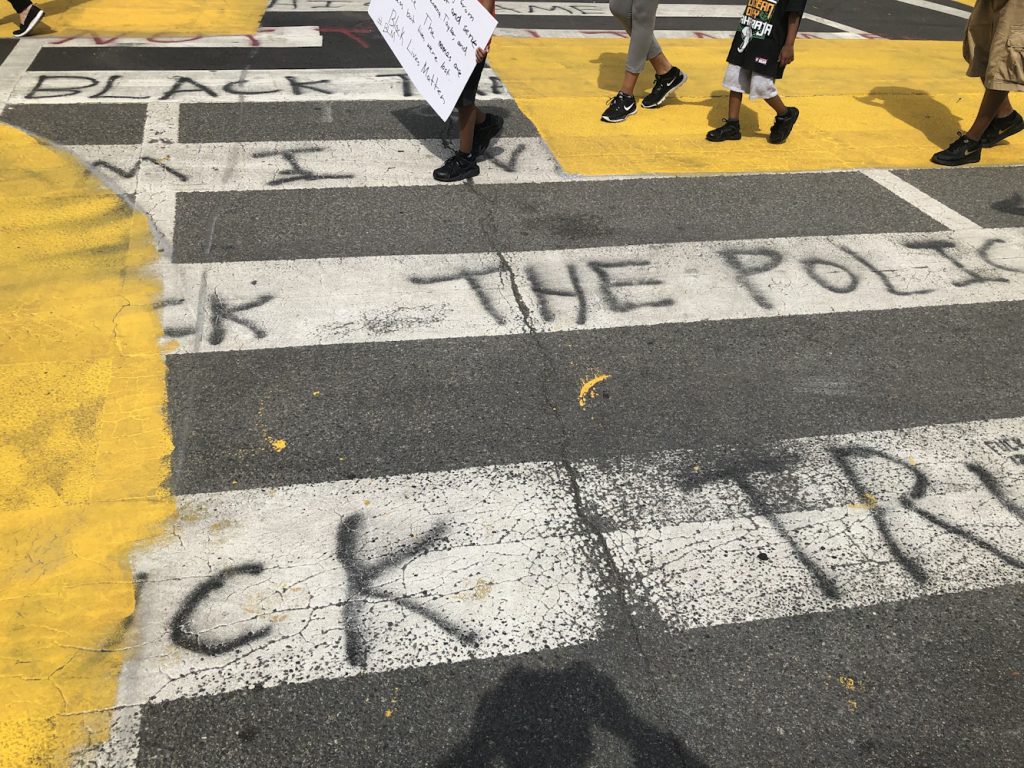 At the end of the painting nearest Lafayette Square–an area now officially renamed Black Lives Matter Plaza–is a DC flag, painted in yellow.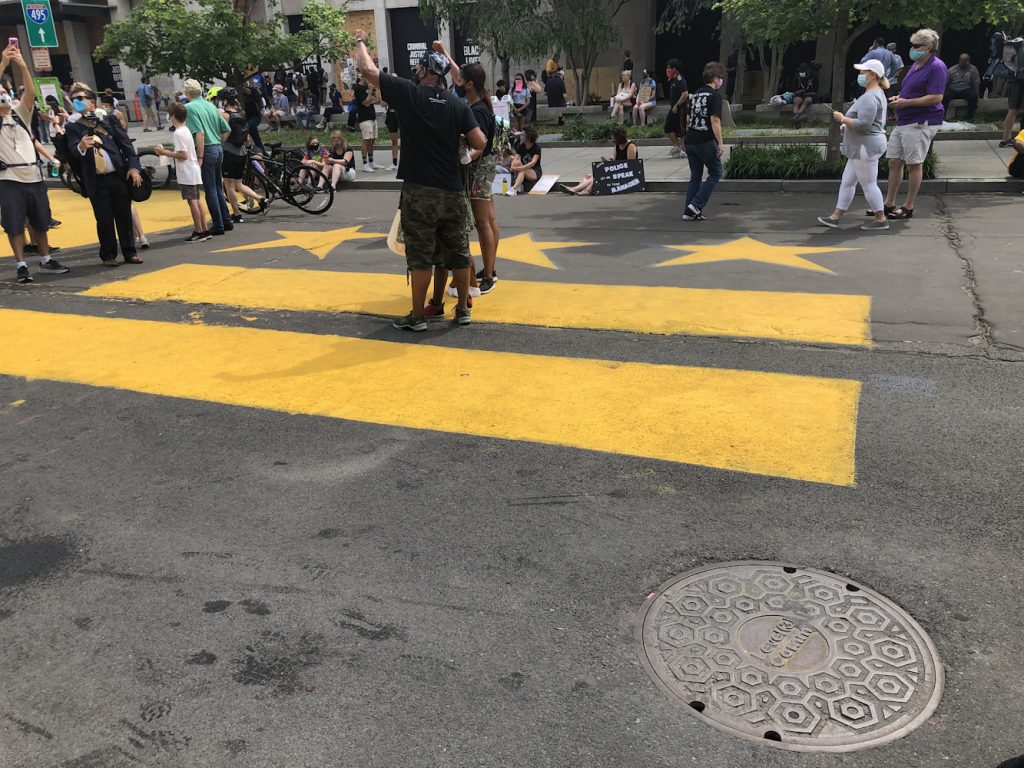 Unlike the letters that comprise the majority of the work, no underpainting is visible; the flag appears to have been painted freehand. The second and third of the three asymmetrical stars are edged with gray, perhaps to get them to match the first [below]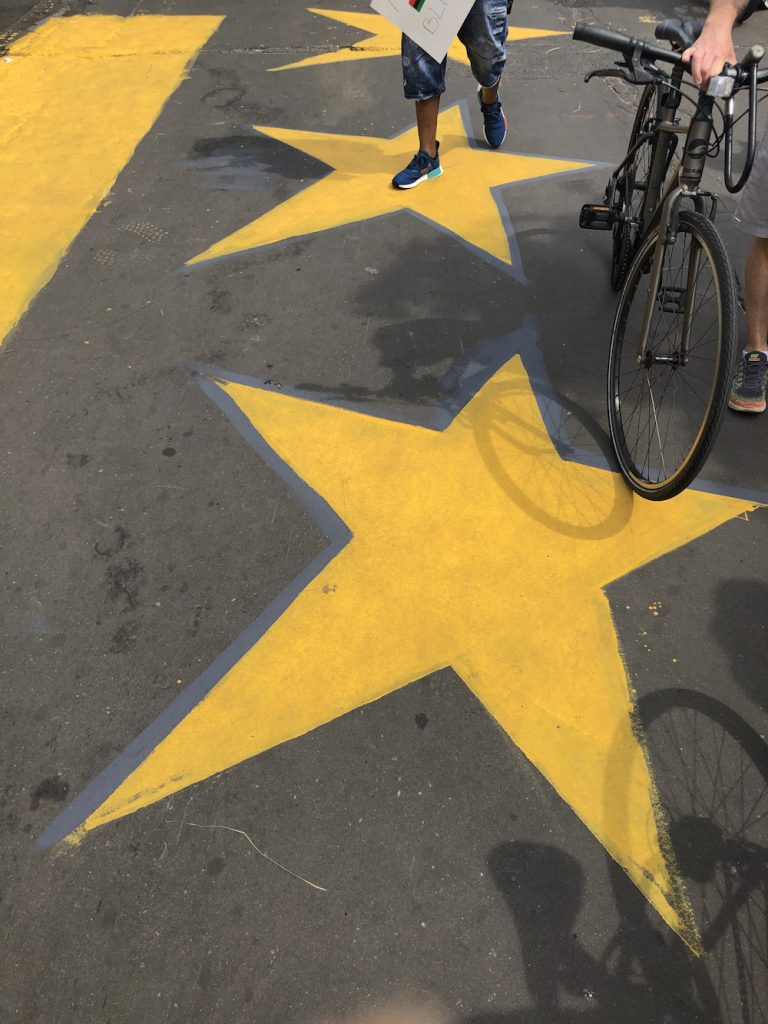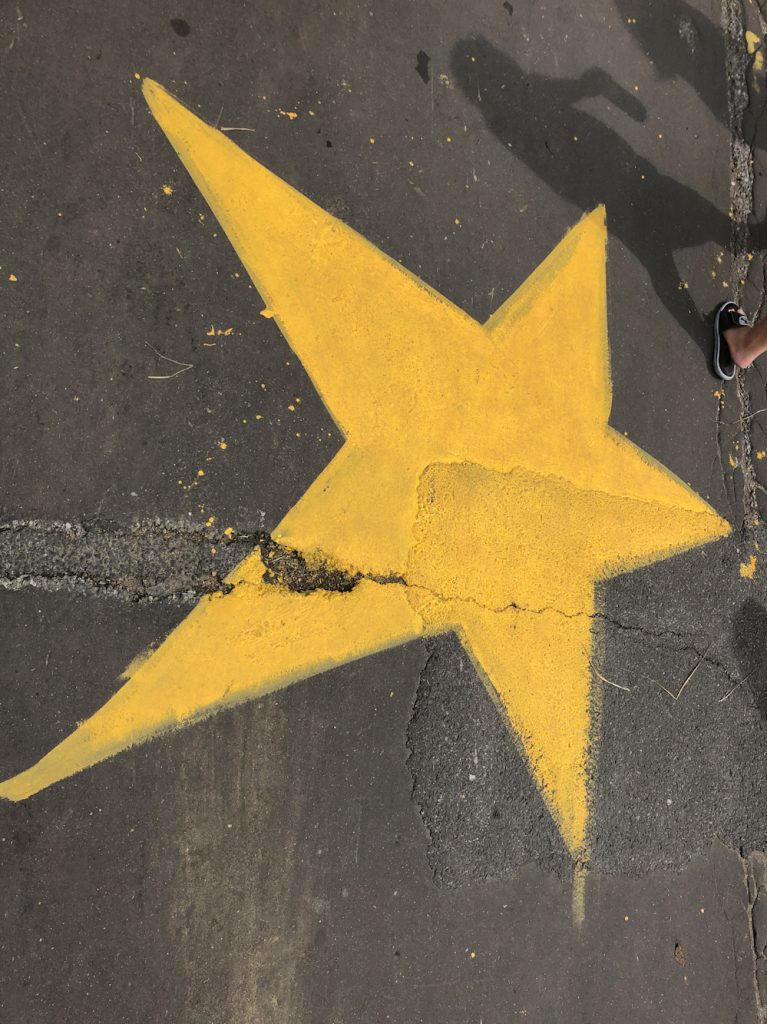 The entire painting is not viewable from the street. It is difficult to capture in photos, even in video. Nevertheless the painting is very successful at defining a new public space.  Wielding the extremely circumscribed powers afforded the elected local government of the District–to maintain streets and designate street and place names– Mayor Bowser has transformed these blocks of carless streets into a potent site of protest to replace Lafayette Square, which was closed behind a giant fence after the federal government's violent assault and ejection of peaceful, lawful protestors earlier this week.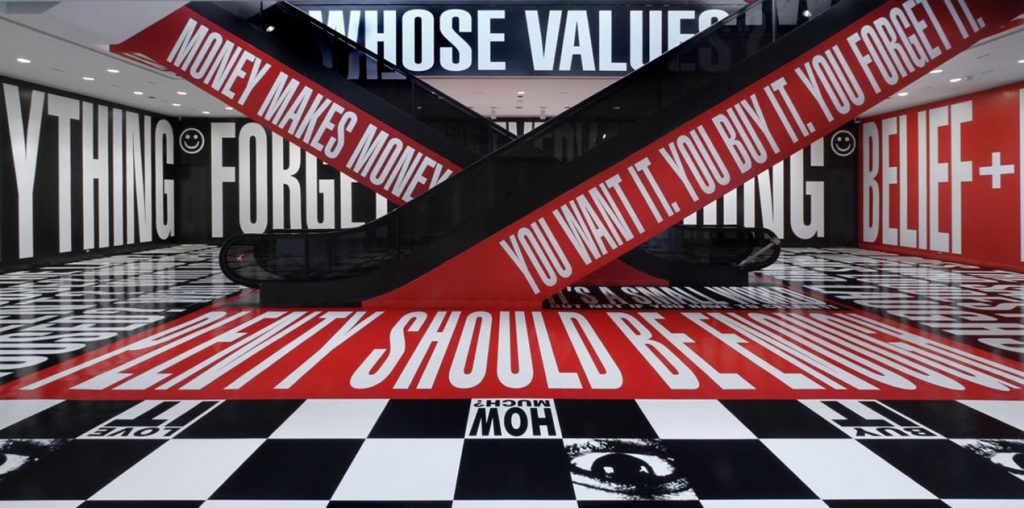 I was going to say the only comparable work in Washington is Belief+Doubt (2012– ), Barbara Kruger's immersive text installation at the Hirshhorn Museum. But as I looked for an image that captured Kruger's stated intent to speak truth to power, I couldn't find anything even a fraction as compelling as the three words Bowser chose. [Kruger's piece was conceived–or justified financially–as part of an artist-led renovation of the museum's gift shop, which perhaps explains the limits of its potency, or at least its purpose.]
On a visit to view the BLACK LIVES MATTER work this morning, it was covered by hundreds of people, including many families with children. Street musicians performed songs of protest, and roving vendors sold BLM t-shirts and masks. Free water was being distributed in front of St John's Episcopal Church, where a hollow publicity stunt involving a Bible had recently taken place.
Photos from this afternoon show the streets and sidewalks filled with thousands more people. The more successful Bowser's street painting is at drawing attention, the less visible it becomes. You can't see the painting, but you can see where people stand.
[LATER TODAY UPDATE] DC isn't even a state, but this painting now has two. Activist/artists painted over the stars to make the DC flag an = sign and, well: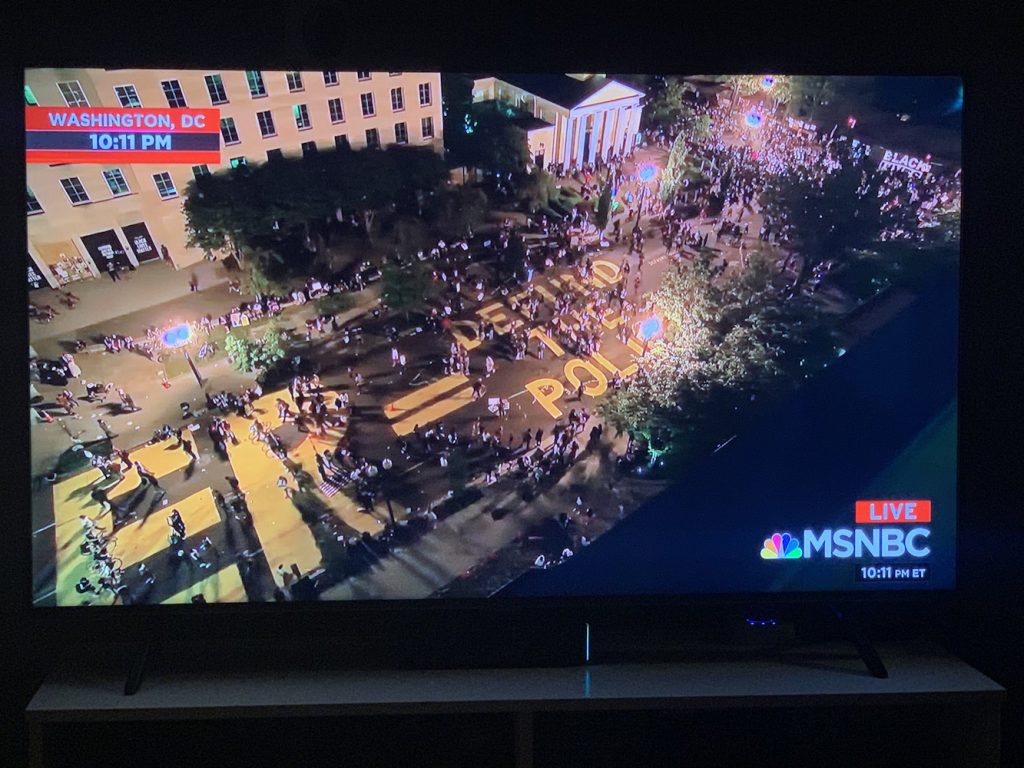 [DAY 2 UPDATE] In this moment in Washington DC painting is become an act of protest and engagement with political power. By last night, activists appeared to have painted out the stars on DC's flag, turning it into an equal sign,  transforming Mayor Bowser's BLACK LIVES MATTER into a call to DEFUND THE POLICE.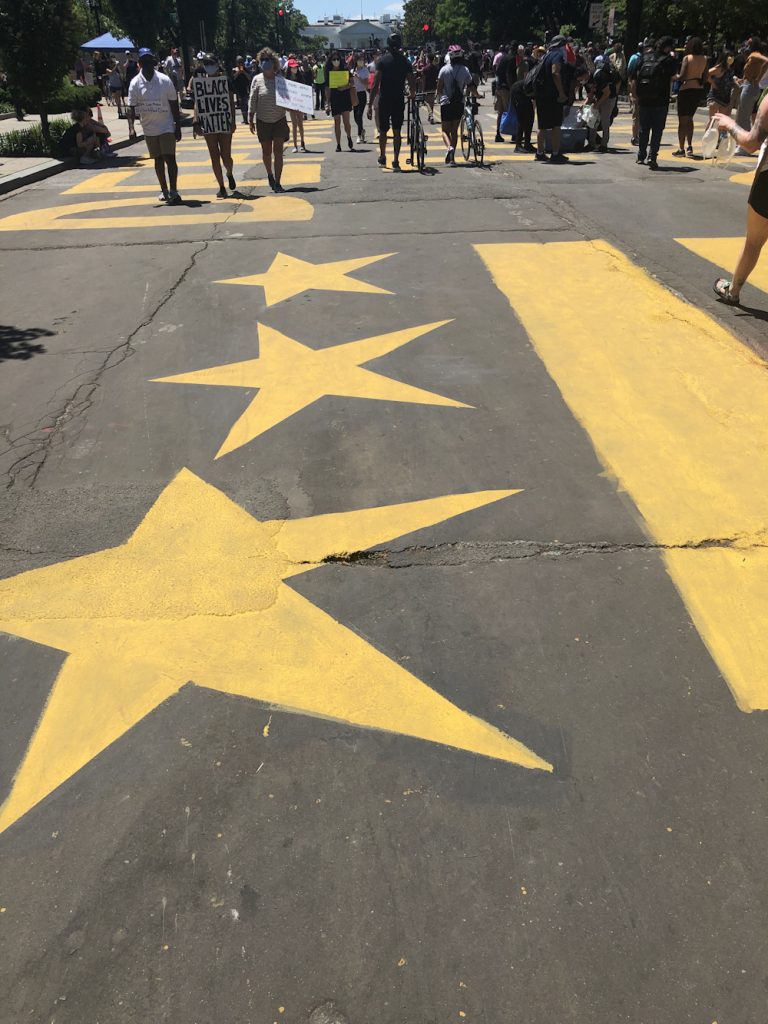 On inspection this morning, the DC stars had reappeared. They were repainted, a bit wonkily, it must be said, but undeniably there. Note how the grey touchups to the edges of Star 3 are gone; instead there is a darker underpainting that presumably hides the previous, wider star.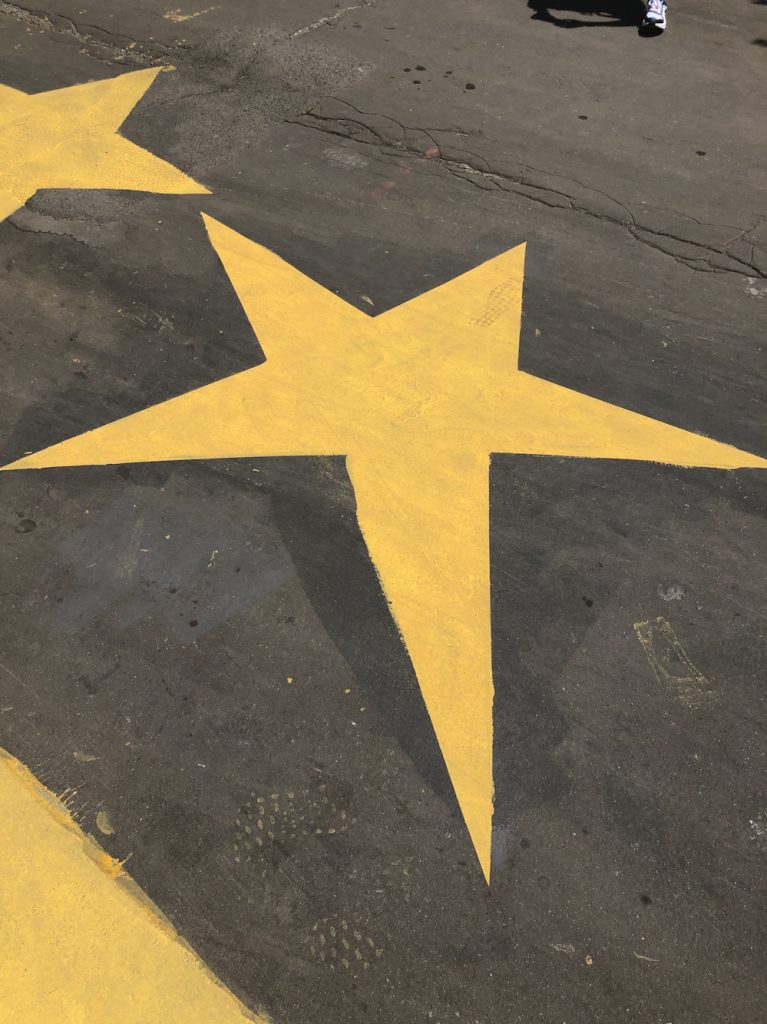 The DEFUND text, meanwhile, is exceptionally crisp, all the more remarkable because it appears to have been executed freehand. Maybe they snapped some chalk lines before the rain came, but it is tight. And it addresses the criticism longtime BLM activists have against Bowser, whose policies up to this week have not reflected any significant reformist influence. She made a bold clapback to the president, and has successfully demilitarized and de-escalated a situation that Trump badly wanted to dominate with force, and that has immediate impact. But after millions of people marched in protest against police brutality, the sun rose again, and other painters have stepped in and intensified and added to her work. It is on her and the rest of us to see that her efforts do not stop at painting.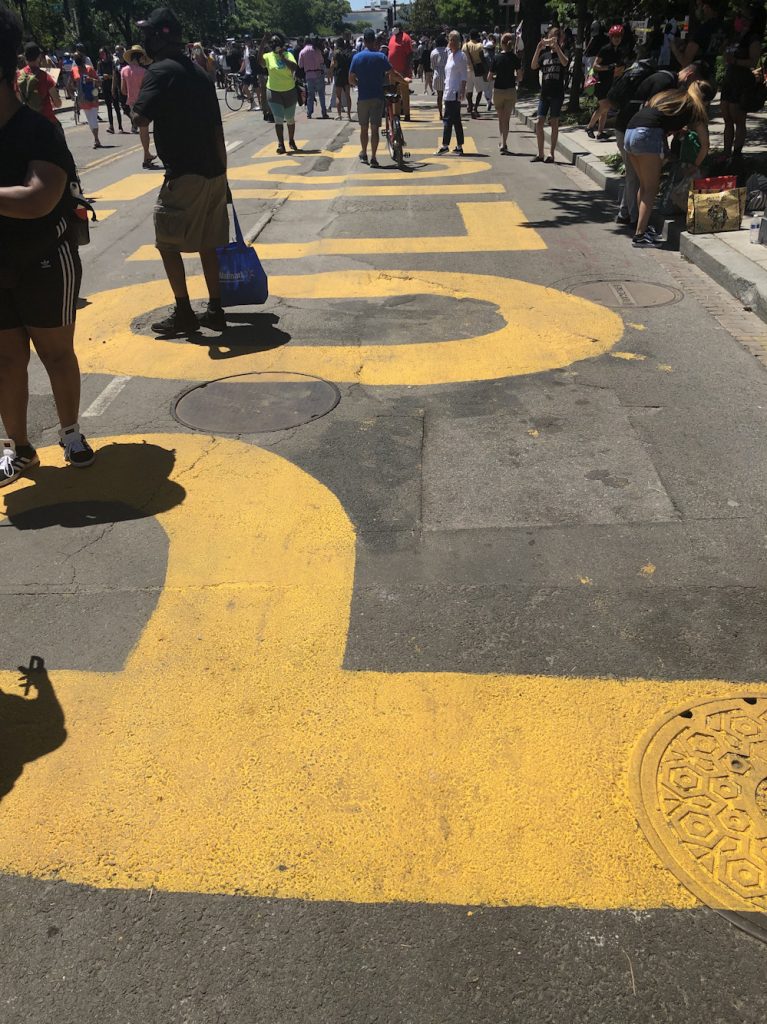 Not that painting is finished, either. On the streets surrounding the DEFUND addition are large, spray-painted names of other people killed by police, along with URLs from organizations seeking to defund the MPD specifically. The fence thrown up around Lafayette Square, meanwhile, has become an impromptu memorial, filled with banners, paintings, and signs honoring those killed by police.
As painters are showing, this site, like this conflict, is as local as it is national and global. What each day will bring remains, literally, to be seen.