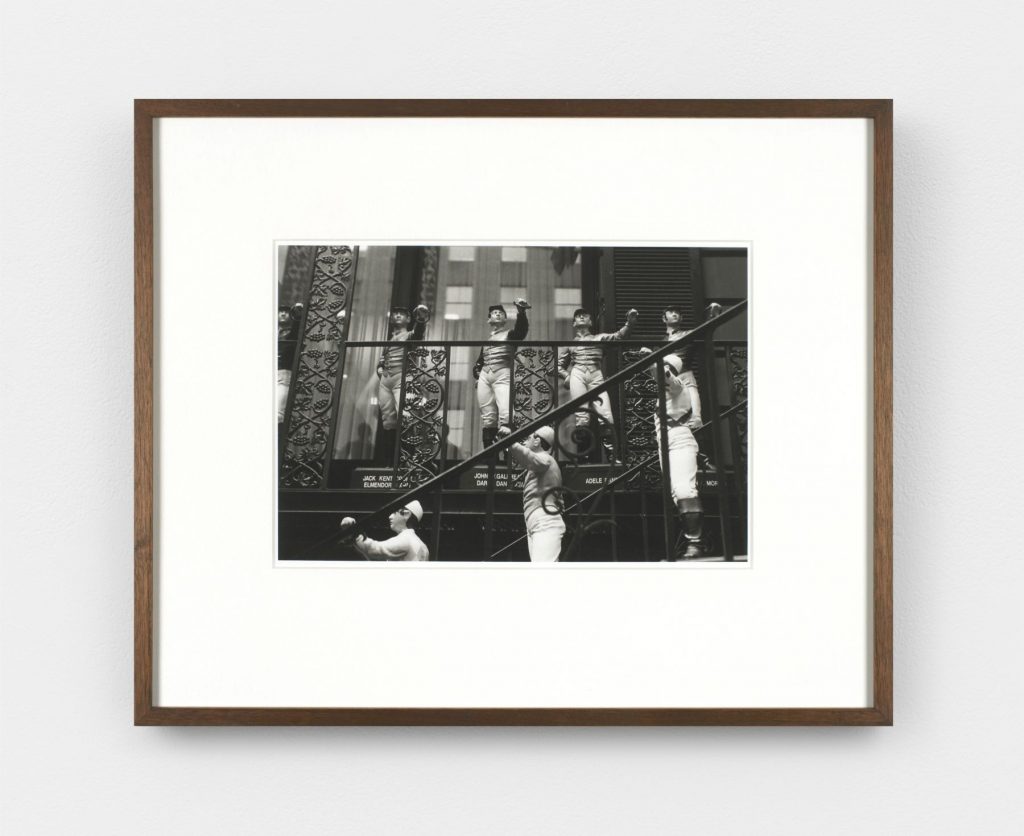 A (Patriot)
B (Historian)
C (Ranchman)
D (Scientist)
E (Soldier)
F (Humanitarian)*
G (Author)
H (Conservationist)
I (Naturalist)
J (Scholar)**
K (Explorer)
L (Statesman)
M (Club 21)***
"Untitled" (Natural History) is a set 13 photographs by Felix Gonzalez-Torres, twelve of which are of the words above, carved into the entrance plaza of the American Museum of Natural History, and one which is of the entrance of the 21 Club. It was realized in 1990 as an edition of three. The first two sets were kept together; the prints from the third were sold separately.
The images were created for Out There: Marginalization and Contemporary Cultures, an anthology to which Gonzalez-Torres provided illustrations. Ten of the twelve images of the Teddy Roosevelt memorial comprised one of three projects for the book, the only one with a title, "Untitled" (I Think I Know Who You Are), (1989), and to have been described as a work. It was nevertheless not included in the artist's catalogue raisonné. ****
"The artist's acceptance of such mutability," Russell Ferguson later wrote*****, "is not so much inconsistent as it is integral to his practice and to his work's relationship to its own authority."
"Untitled" (Natural History) was first shown publicly in 1991. It was installed for the opening week of Every Week There Is Something Different. Three prints–"Soldier," "Humanitarian," and "Explorer"–remained on view for the second week, when a platform and a silver hotpantsed go-go dancer were added.
* 3/3 Gift of Robert Gober to the Walker Art Center, 1999 [via]
** A smaller print of this photo exists with the title, "Untitled" (Natural History), 1990. It is listed in the appendix of the CR for "additional material."
*** While the thirteenth element was included in the first exhibition of this work, the thirteenth element is not intended to be shown publicly. [via] When Carol Bove repeated Every Week There Is Something Different at the Fondation Beyeler in 2011, she wrote that "Gonzalez-Torres requested that it continue to be part of the larger artwork but no longer be publicly exhibited with and as the work" [emphasis original]. "As Gonzalez-Torres did in 1991, I showed all the photographs that comprise "Untitled" (Natural History), including the forbidden 13th element, "21 Club," which could be seen from the back room. In doing so in 2011, I went against the rules of the piece the artist had constructed…[but] I decided it was ethical and necessary to show it as part of the historical reconstruction." [Filipovic, p. 207]
**** The other two categories of photos in the anthology were found or appropriated photos, flyers, and postcards; and childhood portraits of the editors and contributors.
***** Ferguson, the co-editor of the anthology who commissioned the photos, wrote an essay called "Authority Figure" for Julie Ault's 2006 collection on Gonzalez-Torres, which is available from the Foundation in pdf.
[I really started this post thinking it would be just the list of texts of the 12 photos, one and done, bam, not all the monument's going away. But I'd forgotten the 21 Club one, and then it just started spiraling from there, the breaking up the edition, the not showing one, the reconfiguration of a work, the original source/impetus for the images, the erasure of a work from the CR and the discourse, the restaging of shows, the calculated ignoring of the artist's instructions. And after all that I have not been able to find any discussion of the inclusion of the 21 Club image in the first place, and only this one comment on the gesture of excluding it from public view. I guess I could just ask Andrea, but it's midnight, and all I'd originally wanted to do was to type twelve words by Felix about Roosevelt, and you'd think I'd be aware by now of how this happens. Anyway, the American Museum of Natural History just announced they will remove the giant bronze statue of Teddy Roosevelt, flanked by so-called "Grateful Savages." I guess it will no longer be with and as the monument.]