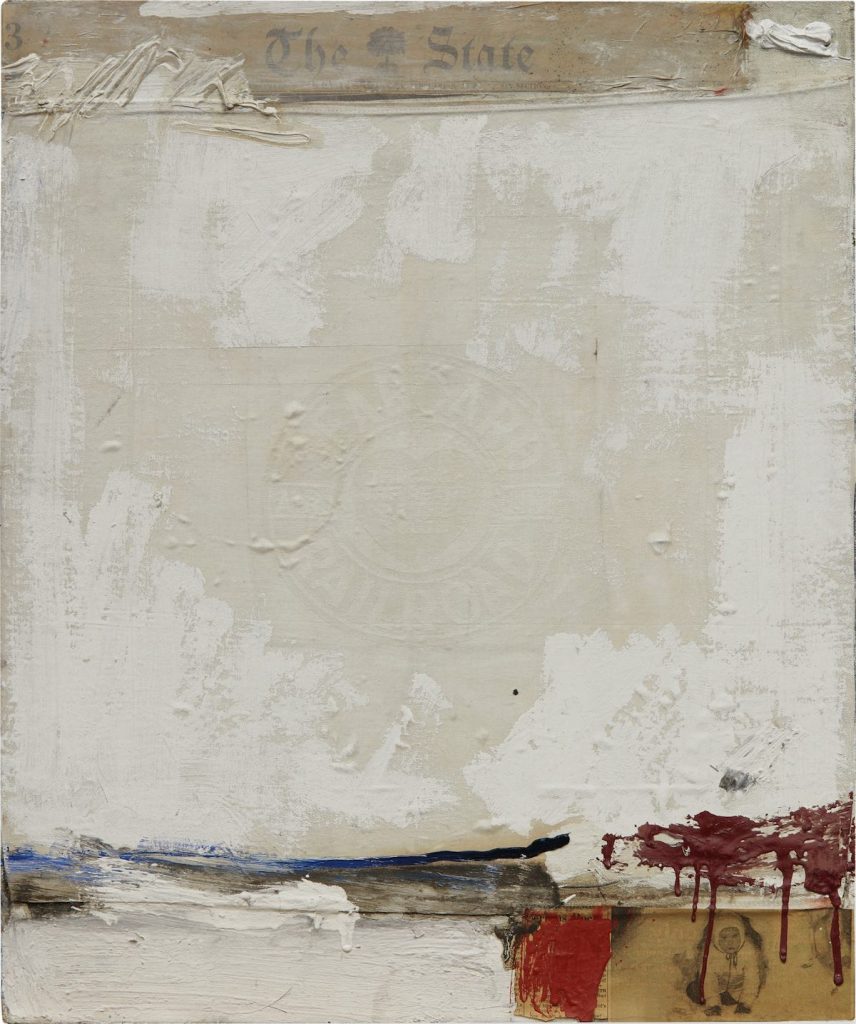 Sotheby's is selling this sweet little early Rauschenberg combine next week. It is titled State, dates from 1958, and originally belonged to Emile de Antonio, who got it from Leo Castelli in 1959. Various aspects of this are interesting.
State is one of at least seven small combines on canvas dating from early 1958. There are at least another seven similar combines from 1957, and a bunch are still owned by people close to the artist, including Jasper Johns and the Castelli/Sonnabends. De Antonio would fall into this category, too. They also stayed close to home; most of these small combines don't have any exhibition history at all, or only began to be shown much later. These were not the major, groundbreaking, space-taking, attention-grabbing combines like Monogram, Minutiae, or Rebus, or even the bigger ones like Bed or the Factums.
With similar strategies across them–a collaged image or two, a piece of fabric shellacked into place with white, some quick drippy brushstrokes of a handful of colors–it feels like they could have been made side by side, if not all at once. Or maybe they were made as a regular exercise, a daily practice of combining? We know a little of how combines changed and accumulated as Rauschenberg lived with them, but there's only one person left alive who was in the studio where these happened.
About him. Jasper Johns has a photo credit for the picture of young Rauschenberg in the Sotheby's catalogue, but otherwise he is entirely absent from their discussion of State. Which is wild, because he is all over this combine.
The title comes, obviously, from the newspaper banner across the top. The State is published in Columbia, South Carolina, Johns country. The date is Sunday, February 9, 1958, the day after Johns' debut show at Castelli closed. Rauschenberg's own solo show opened at Castelli on March 4.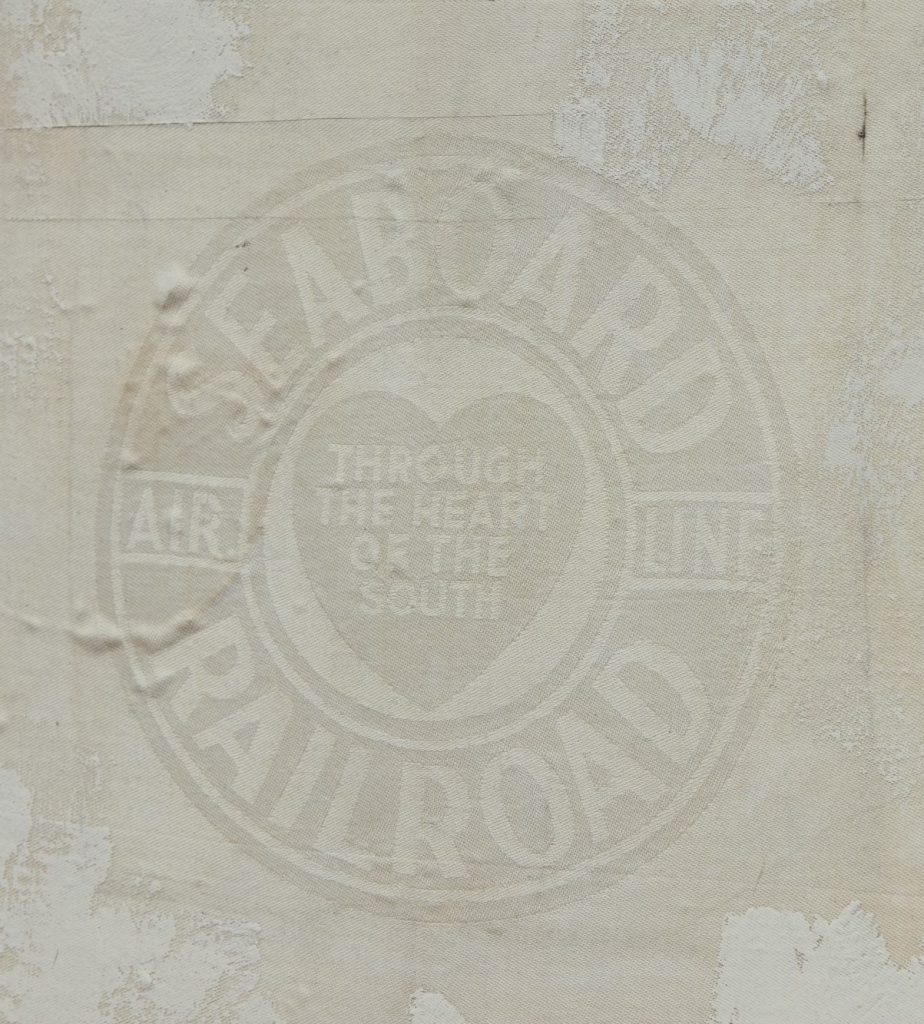 The 20-inch square fabric at the center of State is damask, with the logo of the Seaboard Air Lines Railroad company woven into the center. Sotheby's suggests it's a napkin or tea towel. I think it's a headrest cover from a seat, or perhaps a hand towel from a sleeping compartment washroom. The latter would be easier to pocket, and that is what happened: someone took this from the train. I don't even make combines, but I totally would have stolen it for the slogan alone. The question is, did they swipe it for the novelty, the sentiment, or for their boyfriend to make art out of it? Who was on that train? That train to and from South Carolina?
The image at the bottom right, of a white kid in a snowsuit crawling out of a snow cave is also clipped from a newspaper. The red paint patch covers the left side of the paper, but it doesn't render the text completely unreadable. It is an article about a Serious Poet, who wrote a poem that includes the line, "Who bloomed [blob of red paint] world's/ applause"
That would be Robert Elliott Gonzales's "Dear Women," or as it was titled here, "Dear Women of The South." Here is the complete text, from the collected Poems and Paragraphs of Gonzales, held by the library of Harvard College:
Dear women of a dear, dead cause,
Who bloomed in other days,
You strove not for a world's applause,
Nor sought a nation's praise;
But, oh, you swayed the mind of men,
The heart, the soul with burning words
That strengthened as the strength of ten,
And nerved a million swords.
Oh ye, our sires, who rode to fight
With Hampton and with Lee,
Ye that through darkness into light
Wrought immortality!
Shall we then raise against the sky,
Empedestaled, our heroes proud,
And round who gave the heart to die
Draw dark oblivion's shroud?
That's right, it is a poem about building confederate monuments. It was first published around 1907-09 in either The Carolinian or The Garnet and Black, the student publications of the University of South Carolina, where Gonzales graduated in 1909. When his subsequent plans to attend Harvard were derailed by illness, Gonzales went to work at the family business: The State. His job was paragrapher for the opinion page, the archaic term for tweeting hot takes. I can't not take the bait: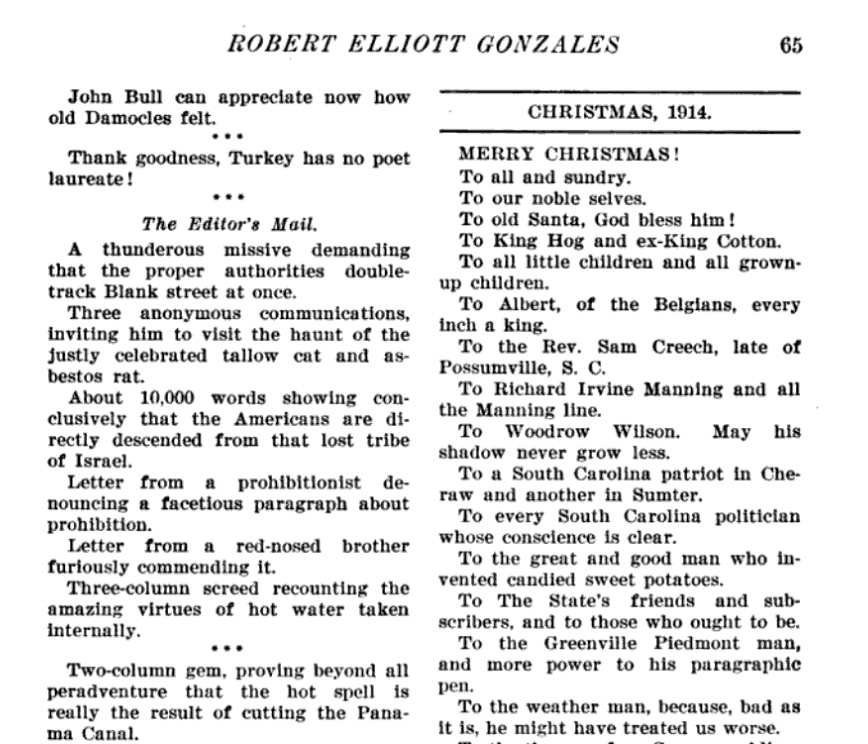 He sudden death at 28 of pneumonia after enlisting in the Army in 1916 devastated his family and their succession plans for The State, which published Bob's writings in 1918–and apparently, whenever the Lost Cause needed a boost, like in 1958.
Gonzales was a poetic prodigy making work torn from the headlines of the day, cut down in his prime, and living on in the memory of his powerful, press-owning family, at least. And then there's the kid in the igloo. It's not clear how much any of this factored in to the decision to include then occlude this fragment. But more than many combines, State feels like the particular condition that a specific person is in at a specific time and place. Or at the dictionary calls it, a state.
29 June 2020, Lot 16 | Robert Rauschenberg, State, 1958, est. $2.5–3.5m [update: sold for $3.1m, sothebys]