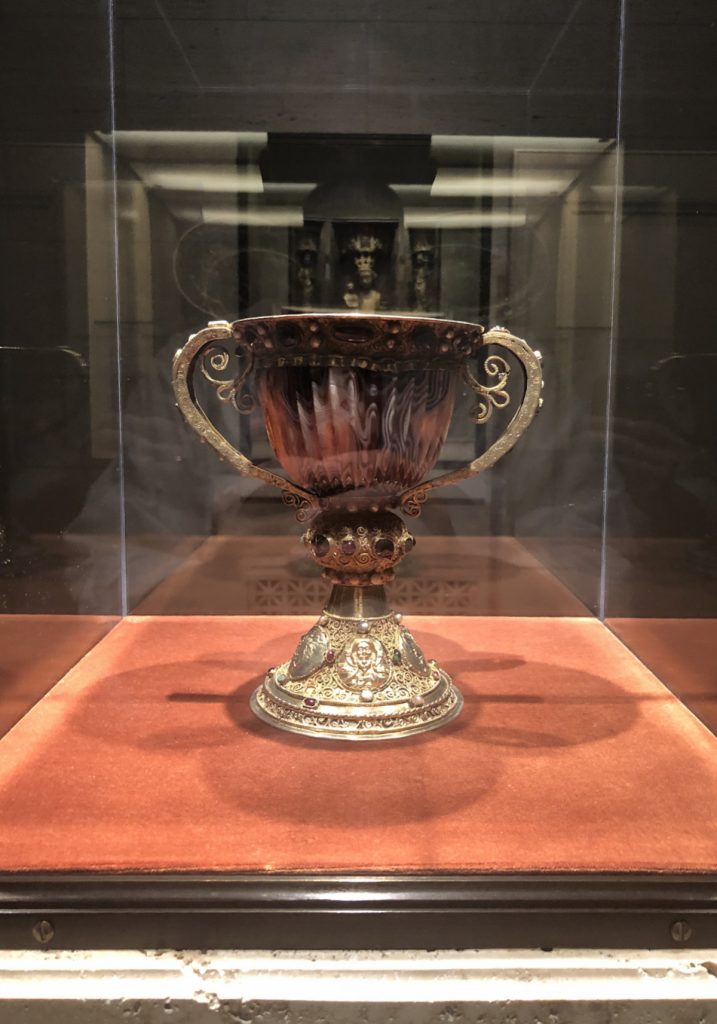 When I went back to the National Gallery the other week, I didn't just see some little paintings. I visited the empty medieval galleries to see the one thing that has been considered a literal treasure for longer than anything else in the museum: the chalice of Abbot Suger of Saint Denis.
During Power and Pathos, the epic 2016 exhibition of Hellenic bronzes, Getty curator Kenneth Lapatin talked about these rarest of all antiquities in their contemporary context. Turns out, even when bronze sculptures were made of heroes by the most celebrated sculptures of the day, they were not considered valuable, or even necessarily important; such bronze sculptures literally lined the streets and crowded the grounds of every temple in town. And of course, when their metal was needed for spears, or helmets, or the next big wrestling star, they were readily melted down. They're rare today precisely because they weren't valued as more than scrap.
Lapatin looked at what the rarest, most precious objects of the Hellenic Age were? What did they spend their biggest money on? What contributed the greatest social status? What were the most completely extraneous and frivolous and conspicuous luxury purchases that influenced the political and social forces of the day? What, in other words, was their Art?
It was blingy dishware, but not just gold, which was also quickly reduced to its metallurgical value. The pinnacle was carved hardstone in exotic patterns from far away or unknown sources. Records show cups of porphyry that sold for more than a villa. The delicately fluted and translucent sardonyx cup in the chalice is one such cup, made 2100 years ago in Alexandria, and then transformed 900 years ago for the sacramental use of the kings of France.
In whose private chapel it remained until the revolution, when it was nationalized, then–lol wow ok–stolen in 1804 and smuggled to England via Holland inside a plaster cast of the Laocoön, whence it circulated in the market until it was bought in 1922 by Joseph Widener, who ended up donating it to the National Gallery. Sounds like its roughest time was the last 200 years. But then, Abbot Suger never said where it came from or how he got it, so who knows.
Chalice of the Abbot Suger of Saint Denis [nga]
Uses and Abuses of the Luxury Arts, Symposium Lecture [nga]
Medieval treasures catalogue going deep on the history of the chalice [nga/pdf]