When I saw this 1989 photo of the Opéra Bastille on Tumblr last night, I was surprised. Not just because I'd never seen Cy Twombly's curtain for the Opéra, but because I'd completely forgotten it ever existed. I didn't remember, even when I was writing about Cy Twombly making curtains for European opera houses. I'll take responsibility for that to a point, but looking into it, I think the invisibility of Twombly's monumental public work starts at home.
There is no mention of Twombly's curtain on the website of the Opera de Paris, or on the Opéra Bastille's Wikipedia. It didn't yet exist when Harald Szeeman organized his 1987 Twombly retrospective that traveled to the Pompidou in 1988. From the Pompidou's perspective, it exists as six tiny sketches. It's not in Kirk Varnedoe's catalogue for Twombly's 1994 MoMA retrospective. To paraphrase Rauschenberg, it existed in the gap between art and opera, a painting Twombly didn't actually paint, and the thing operatic artists literally move out of the way to present their real work.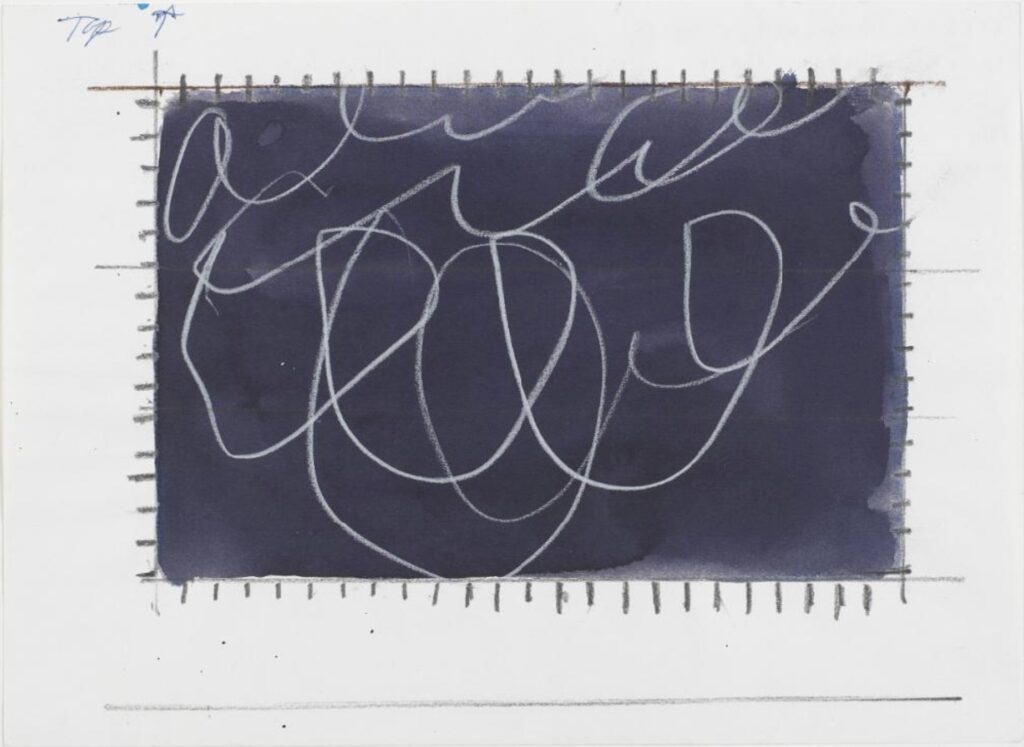 Add to that the weird history and reality of the Opéra Bastille itself. It's gigantic and politically fraught, built as a refutation of the gilded pile of the Palais Garnier, which it was supposed to replace, but hasn't. The title of Twombly's curtain, La Nuit d'avant le jour [The Night before the day], was the same as Robert Wilson's inaugural spectacle. It was performed for a bunch of politicians on 13 July 1989, the 200th anniversary of the French Revolution, but not actually part of the Opera de Paris' programming—which, because of construction delays, wouldn't even start for nine more months. Between this soft, slow launch, and the underwhelming and problematic Bastille programming, it was never clear that Twombly's curtain even existed beyond the inauguration. I've tried to recall anything different, but as a young Twombly groupie in the 1990s, working in Paris, I only understood this curtain as a footnote, nothing to try to see, maybe no more seeable than the scenery for a decade-past play.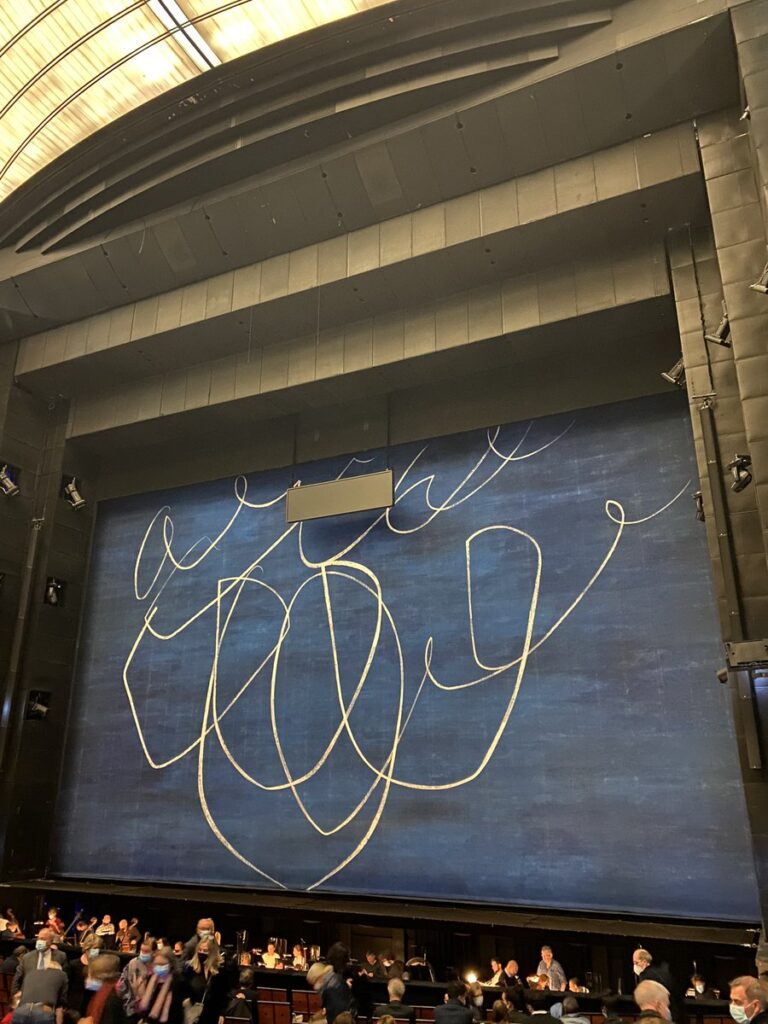 But it turns out to still be hanging around, literally. A tweet from Matthieu Odinet has a pic of Twombly's "rideau historique," which was apparently brought back for Vincent Huguet's production of Manon.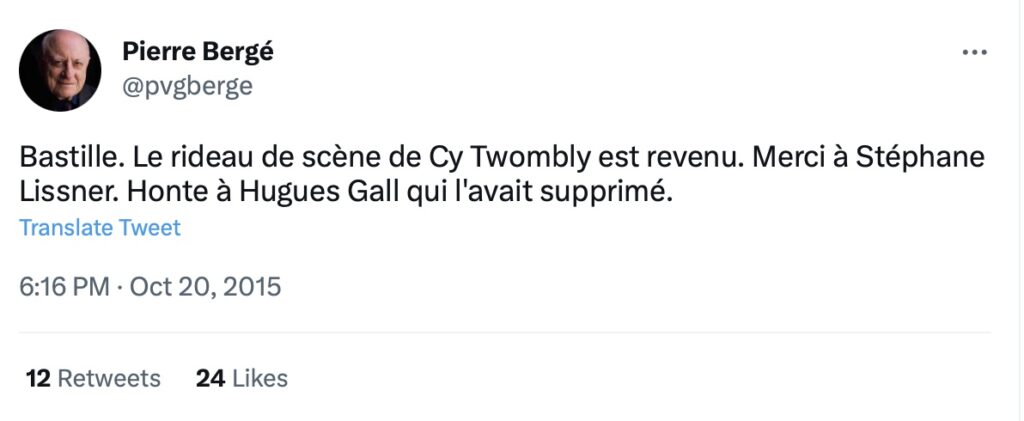 Which led me back to a 2015 tweet by YSL's late husband Pierre Bergé, who chaired the Opéra de Paris when Bastille opened: "Bastille. Le rideau de scène de Cy Twombly est revenu. Merci à Stéphane Lissner. Honte à Hugues Gall qui l'avait supprimé. [The scenery curtain by Cy Twombly has returned. Thanks to Stéphane Lissner. Shame on Hugues Gall who had removed it.]"
What would opera even be without drama? Gall was a right-wing government appointee who pushed Bergé from the board in a power play when he became the director of the Opéra de Paris in 1995. Lissner was his Gall's successor. So while it appears like his classic, looping abstraction, the Twombly curtain sends political signals, even if it doesn't depict them.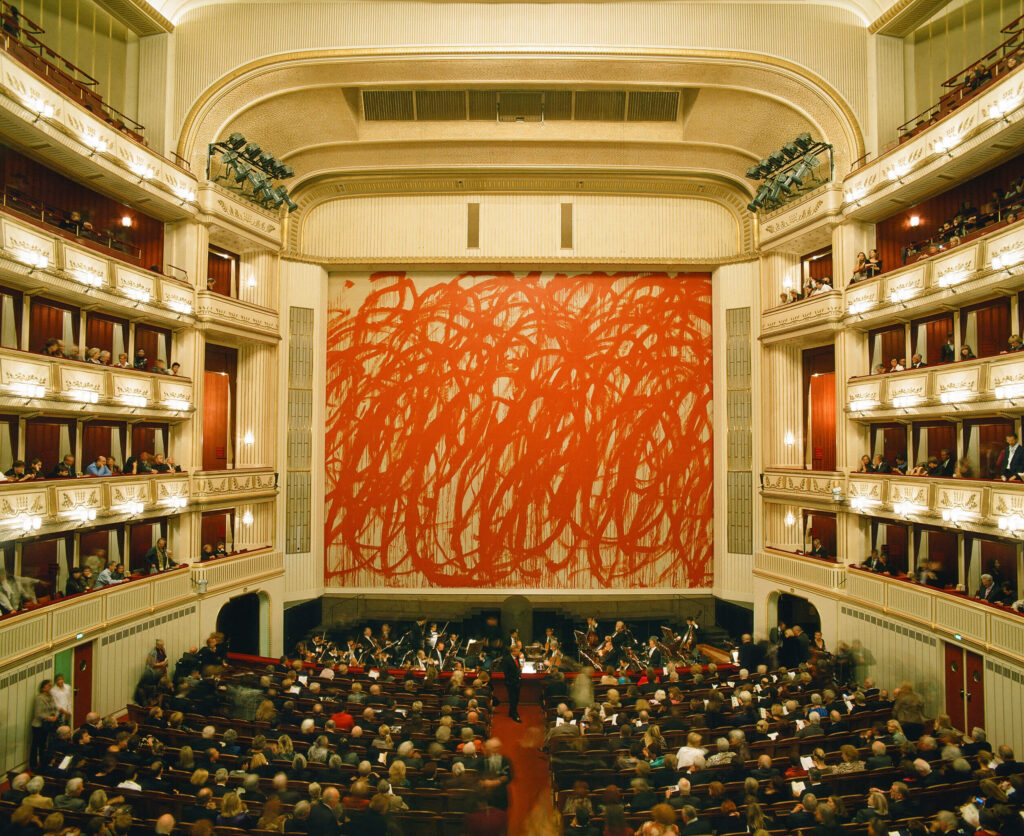 But now that it exists, and we can see it, I want to see it. Unlike Twombly's curtainwall for the Vienna State Opera in 2010, which was inkjet printed from a cropped photo, the Bastille curtain was painted, by a crew, on the floor. Just like, it turns out, the 2010 Twombly ceiling mural in the Louvre.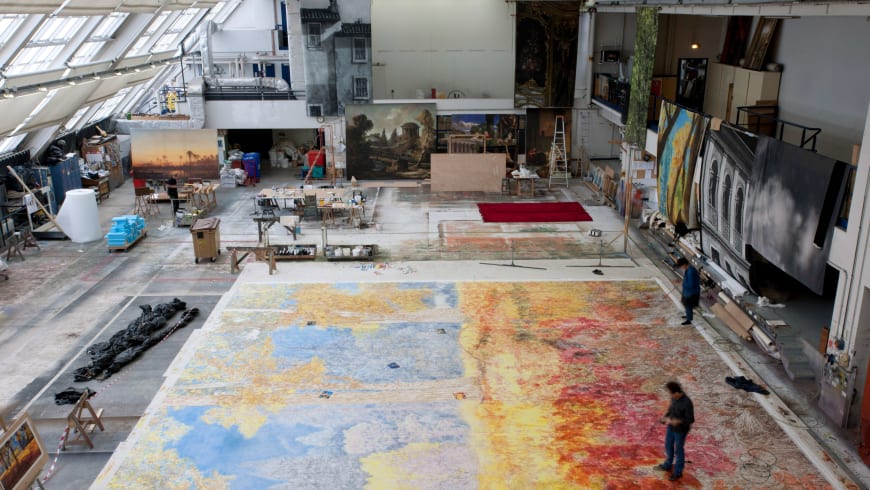 I would imagine the Twombly curtain was made in the Opéra Bastille's own ateliers de peinture, the vast studio in the rafters of Bastille where giant canvas scenery is painted in the technique à l'italienne, right on the floor. The blue looks unproblematically fantastic, the marks look like Twombly's, but they're by others. The little loop on the top right extends beyond the artist's sketch, and is the better for it. I think it might be the best giant Twombly in Paris.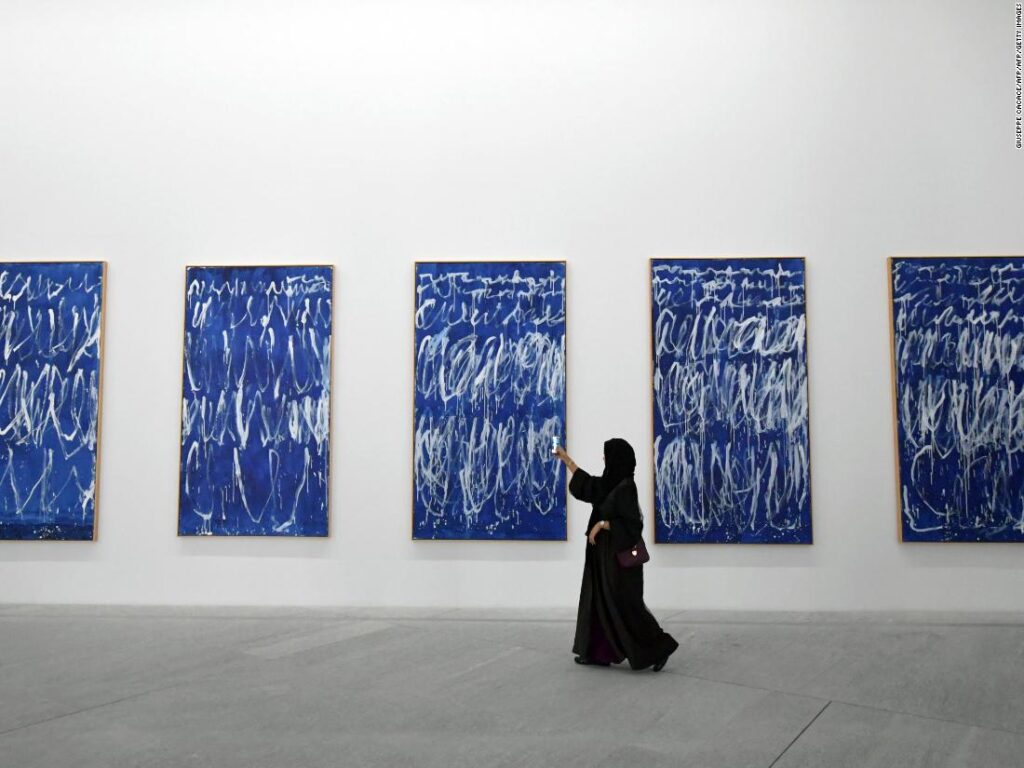 And I don't think I'm the only one who thinks so. The curtain looks a lot like the suite of Twomblys purchased for the Louvre Abu Dhabi, which Vincent Noce's reporting in Libération revealed to have been part of a EUR15 million deal that preceded Twombly's donation of The Ceiling. [Which was also embroiled in political turmoil, turns out.] Whether it was the little stack of sketches, the giant curtain in the Bastille, I think this Opéra project definitely sent someone on a quest after a Twombly.
Cy Twombly works in the Collection Centre Georges Pompidou [centrepompidou.fr]
Previously, related: Presumably Destroyed Cy Twombly Safety Curtain
'Destroyed' Cy Twombly Mural Still There
Destroyed Cy Twombly Backdrop