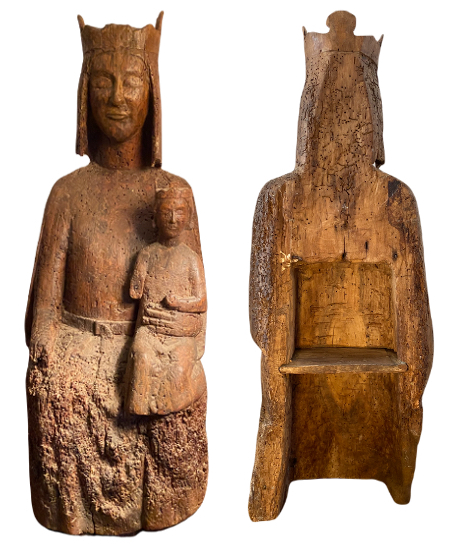 It's fascinating to think of the history of this carved walnut statue hollowed out with a little shelf in the back. Of its genre, a Sedes sapientiae, or the Seat of Wisdom, that depicts the enthroned Virgin Mary holding the infant Jesus on her lap. Of how it probably adorned a church in central France from some point in the 13th century, until who knows when, it's not clear.
Of how it survived the centuries, worn, aged, saved and ignored in some fortuitous combination, gathering the rough patina of a deconsecrated, or at least not ostentatiously venerated, relic.
Of how it made its way to the capital, Paris, to rest for a moment under the authenticating connoisseurial gaze of an online antique dealer specializing in ancient and medieval sculpture.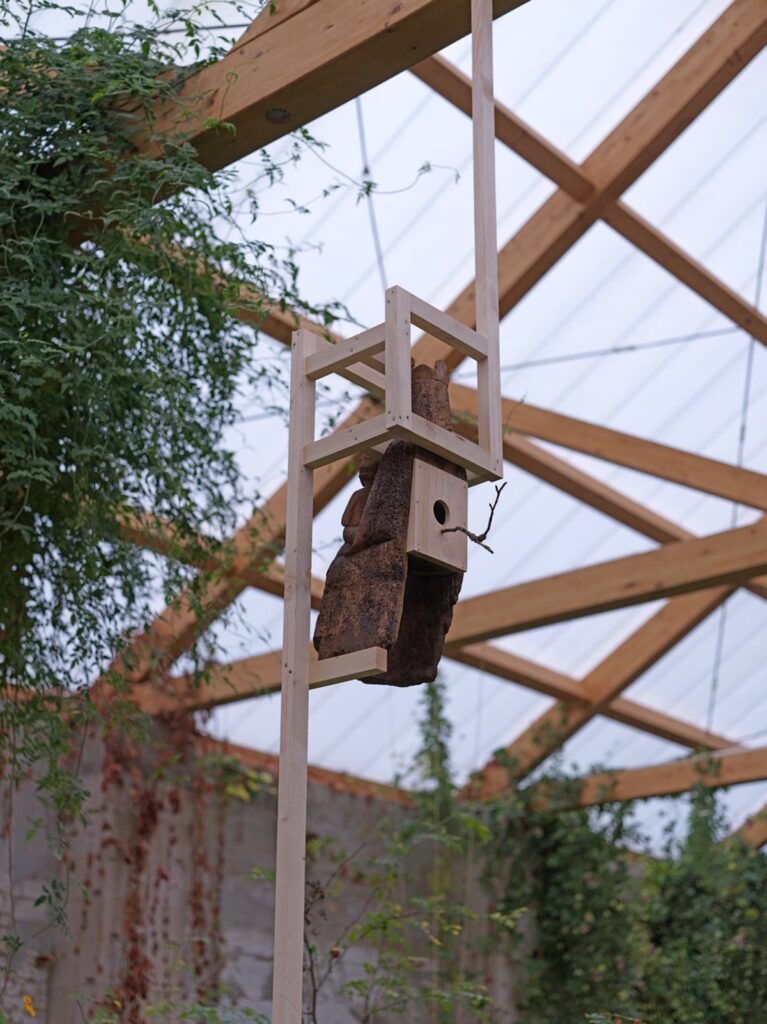 And then of how, in the last several months, it was purchased by a Vietnamese artist who, using a simple, wedged plank and a stick, transformed it into a birdhouse, and installed it in the greenhouse/performance space of his communal garden/farm/studio outside Berlin. As the Psalmist declared, "Yea, the sparrow hath found an house" [Ps. 84:3].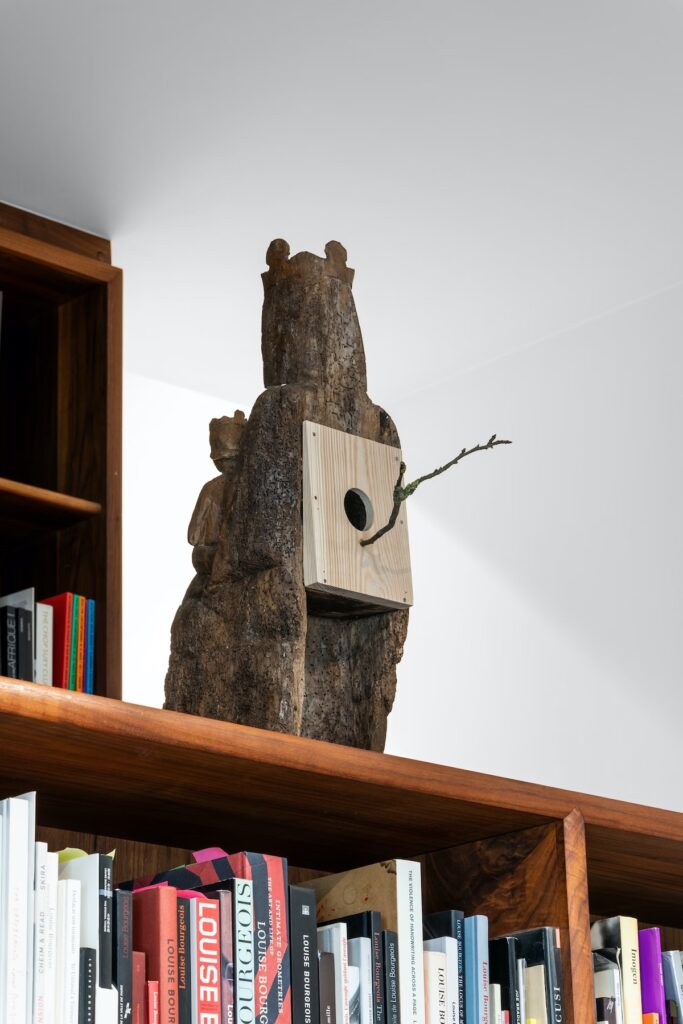 And of how it traveled from Güldenhof to Brussels, where it perched atop the bookcase of an influential art dealer, and where until last week the rich and powerful of Europe traveled to be in its presence, or perhaps to put a hold on it via pdf.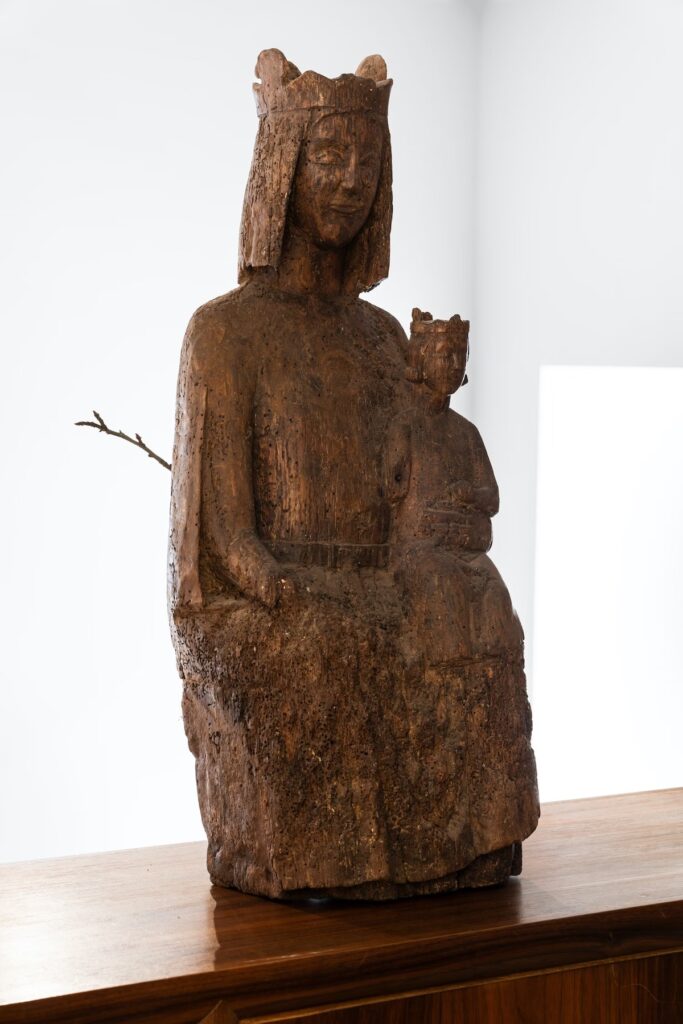 Whatever the future hold for this object, it is likely to be dramatically different from what it might have expected even as recently as a year ago. Fear not therefore: ye are of more value than many sparrows [Matt. 10:31], but if you ask successfully, perhaps the value of 10% fewer sparrows.
Next Morning Update:
It occurs to me that I've not seen very much at all written or said about the material aspects of Vo's practice of cutting and reusing old, even ancient, sculptures and fragments. This is not something he came to only lately; an early and important work for him was a German religious statue he bought and chopped into carry-on suitcase-sized chunks, so he could bring it home on EasyJet. [He talked about that work, Untitled (2008), with Katherine Brinson for the Guggenheim show in 2018, and about the "clash" that comes from applying a modern strategy and system of constraint to a pre-modern object. "I always consider them as appropriating art history, but that it just went really wrong."]
It went really wrong, and yet he's kept on doing it. Vo has continued to subject these old, art or art-adjacent objects to arbitrary external constraints, but these are all of his own choosing: he often cuts medieval or ancient sculptures to fit precisely into old wooden crates. Something in this process of going "really wrong" yields an attractive, or at least successful, result, and has become something of a signature, like Statue of Liberty fragments or Thai gold leaf on cardboard.
What strikes me, though, is the lack of outcry at Vo's manipulations of these ostensibly religious and/or historic objects. Vo has found a tranche of object that embodies aspects of cultural and art historical significance without actually being significant. They're old but not rare. They're worth something, but not priceless. They're by definition irreplaceable, but also disposable. There is no museum, church, abbey, or institution responsible for these objects, and so Vo is able to enter freely into the marketplace for things no collector or decorator wants. And from these literal leftovers of history, Vo crafts his own aesthetic.
It's a process—and a result—that sometimes feels like the corollary to Western decontextualized aestheticization of Asian or Buddhist objects, turning Chinese porcelain into table lamps, and Burmese temple carvings into wall hangings, the result of seeing the world first through consumption-driven, capitalist eyes. Vo turns the mechanisms of extractivist colonialism onto the European culture that destroyed his own homeland, converted his family, and ultimately rescued them from the sea. I suspect it's ignorance, indifference, or capitalist inculcation, not self-aware grace, that keeps folks quiet about Vo's chopping habits, but not making a fuss about it is literally the least one can do.
Or maybe it's that we're soaking in it, it not just being capitalism, but the passage of time. In an email artist Claudio Santambrogio notes the beauty of weaving these left-over objects into a personal history, and of bringing new attention to their beauty. It reminded me of something Vo has talked about several times, including in his short interview about his piece for the rotunda at The Bourse de Commerce in Paris, about how when he didn't travel to the south for a winter, he discovered the colors and beauty of northern Europe winter light—and of northern Europe's winter darkness.
Danh Vō at Xavier Hufkens, 17 March — 16 May 2023 [xavierhufkens]
Previously, just realizing it may be related: Walden, or Afterlife of the Wood