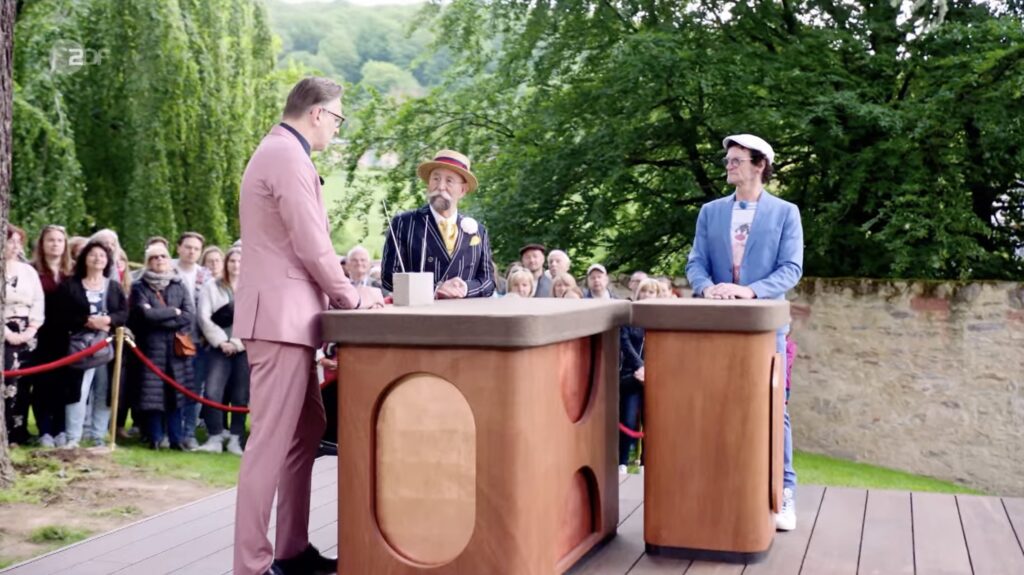 Alex Greenberger has the English report at ARTnews, but there is apparently a German version of Antiques Roadshow called Bares für Rares, or Cash for Rarities, and it is hosted by Jerry Saltz starring in Gilbert & Sullivan's adaptation of Death in Venice? I don't really speak German. But that's not important now. What matters is that an Isa Genzken sculpture was crumbling on prime time German television.
But hold on to that. the twist of the show is that after getting their object appraised outside, the guest goes into the schloss where a panel of collectors, I guess, bid against each other to buy the objet on the spot. And the objet that turned up 75 minutes into the XXL, 90-minute episode that aired on Sept. 6 was a Weltempfänger/ World Receiver by Isa Genzken. Genzken has been making the short wave radio-shaped sculptures out of cast concrete and antennas for 40 years.
This particular Weltempfänger is signed and dated (2011), and was apparently given by the artist herself to Jörg, the guy in the light blue, an intensive care nurse, as a gift for caring for her. That's the story from the show, anyway. Which makes 10% sense—most of the Weltempfängeren that have come to market were originally acquired directly from Genzken. But it also completely eliminates any actual mystery around the object, its maker, its backstory, or its worth. So Jörg can only be here because he wants to sell the sculpture. He got an expert estimate of EUR30-35,000, which is fine—literally the same estimate as a Weltempfänger auctioned at Lempertz in Cologne in 2021.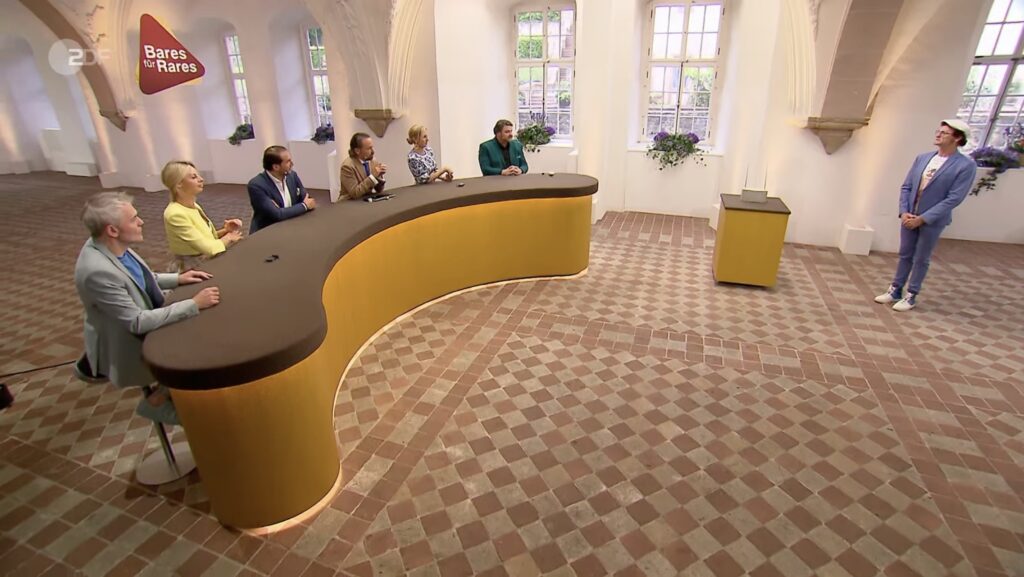 When Jörg went into the castle to cash out, it seems the collectors did a round of lowball bidding, as if they didn't know what the Genzken was, or what the appraisal was, and they were just bidding on a concrete block with antennas? When Jörg told them, they immediately 10x'ed their bidding, and some lady Susanne Steiger, a jeweler, according to Greenberger, won with a EUR16,000 bid. Which is just slightly less than Jörg might expect to net from a EUR30,000 auction sale. Convenient, but baffling.
The day after the episode aired on ZDF, Monopol magazine's Daniel Völkze noticed the Weltempfänger was the opening lot in a Sotheby's online auction in Cologne. It had an estimate of EUR30-50,000, and had even been authenticated by Genzken's dealer, Daniel Buchholz. And then it was withdrawn after the intervention of the artist's lawyers. Völkze reported the withdrawal yesterday, but Sotheby's said it had occurred before bidding began on Sept 14, when questions were raised by the artist's guardians, who were apparently unaware of Jörg, his connection to Genzken, or any gift.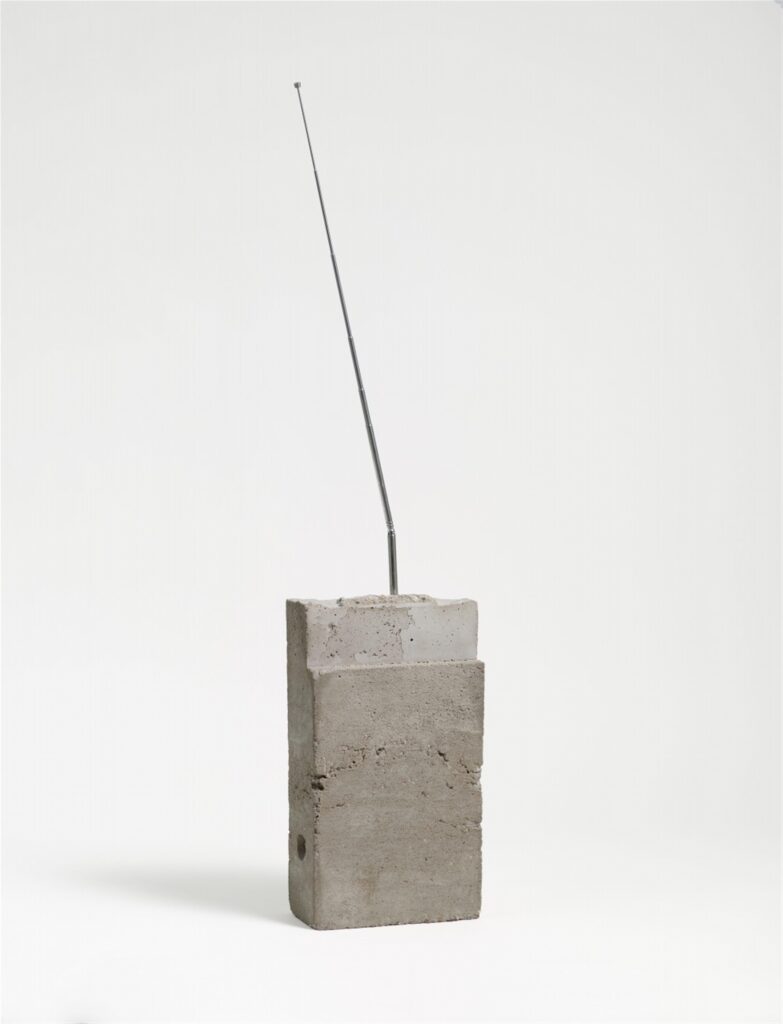 What sticks out to me is why Jörg would seek cash from a prime time TV show, when Genzken's dealer and an auction house like Lempertz are both right there. The Weltempfänger Lempertz estimated at EUR30-40,000 ended up selling for EUR75,000. Did Jörg just not want that much cash?
previously, related: an Isa Genzken World Receiver installed at Philip Johnson's Glass House in 2015