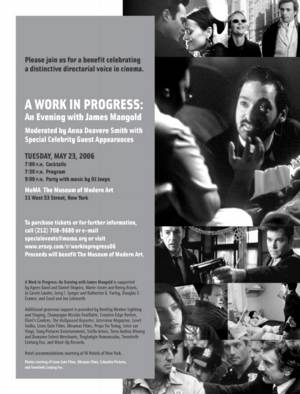 And let me put it this way: when you're talking about the films of James Mangold and you see the words "star," "stud," and "special" together that can only mean two possibilities: Joaquin Phoenix or Sylvester Stallone.
And if either of them are a no-show Tuesday, I'm sure moderator Anna Deveare Smith'll be able to channel them as only she knows how.
In one of my other lives, I'm the co-chair of this benefit for MoMA's Film and Media department, A Work In Progress, which this year honors Walk The Line director James Mangold.
The gig is this coming Tuesday, May 23rd, from 7-11pm, at MoMA and if past years' have been any indication, the event will be awesome (and will run slightly over schedule).
Check out the invite here, and then buy a beneficently priced ticket or two here. [$400 to see the celebrity ear hair, $225 to see the celebrity bald spots, and $150 to eat the celebrity hors d'oeuvres.]

A Work in Progress: An Evening with James Mangold [ersvp.com]
Previously: And the AWIP goes to: Marc Forster, Alexander Payne, Sofia Coppola, David O. Russell