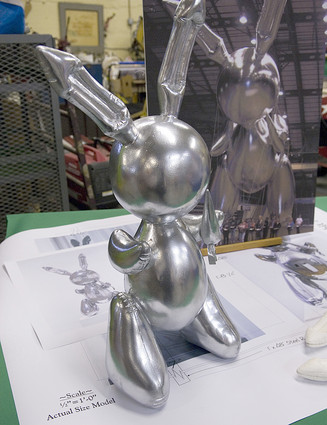 Alright, the clock is ticking, only hours to go until Jeff Koons' largest work to date, a 53-foot high balloon based on his 1986 sculpture, Rabbit, bobs down the west side in Macy's parade. It was made using a new material intended to replicate the original sculpture's mirror-like stainless steel surface. Said Koons in a Macy's press release, "I think one of the reasons why Rabbit is an iconic work, a popular piece, is because it's so reflective. It reflects the needs of culture and society and can represent so many different things to the viewer."
Courant's critic wonders what I wondered, which is what other art balloons have been in Macy's "Blue Sky Gallery" series? I can't find any previous artists mentioned.
Anyway, Gallery or not, the Satelloon would not be able to appear in Macy's parade; Manhattan's avenues were laid out to be 100 feet wide, the same as the Satelloon itself. What with the streetlights and trees and whatnot, it just wouldn't fit.
Still, I hope it'll make a nice, intimate venue for Koons's modestly scaled work.
Money quote: "A giant silvery rabbit that looks like a massive bunny-shaped UFO? [courant, also top image]
Rabbit inflation test shot via fashionweekdaily [fashionweekdaily.com]
Previously: The Satelloons of Project Echo
If I Were A Sculptor, But Then Again...