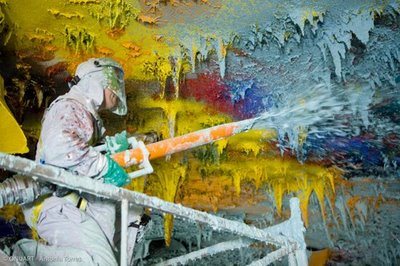 Spanish artist I've never heard of #48 Miguel Barcelo got the commission to paint the domed ceiling of the UN Palace of Nations' Human Rights and Alliance of Civilizations chamber in Geneva.
Eyeteeth has some photos; Designboom has some background on the making of, which involved pigments from around the world and paint ball guns.
Apparently, the minority right in Spain has raised a stink about the government's share of the $25 million cost. In retrospect, they probably could've saved a bundle if they'd let Sony shoot a Bravia ad during production. A 4,600 sf paintball target of peace presents an attractive marketing hook.
Room XX by Miguel Barcelo [designboom]
The UN's Stalactite Ceiling [eyeteeth]