Now that I've read up on it, and on the philosopher's harrowing last days, I think I experienced the Walter Benjamin Memorial in Portbou, Spain the only way it really should be experienced: by total accident. Which is almost impossible.
We'd been visiting family in Provence, and one of the kids, the one who has been taking Spanish, not French, was wanting to go somewhere they spoke her language for a change. Plus, they wanted to go to the beach. Relenting, I pulled up the last town I knew in France, Banyuls, and looked to see what, if anything, was across the border.
The answer was Portbou. Google Maps said it was 3.5 hours away; we figured we'd drive to Spain for lunch and a couple of hours on the beach, send a postcard, and head home for dinner. Extraordinary traffic which had the autoroute backed up for several kilometers before the border, and the caravan of caravans winding along the 1.5 lane coastal mountain road, easily doubled our drivetime, and we arrived in Portbou starving and almost late for lunch.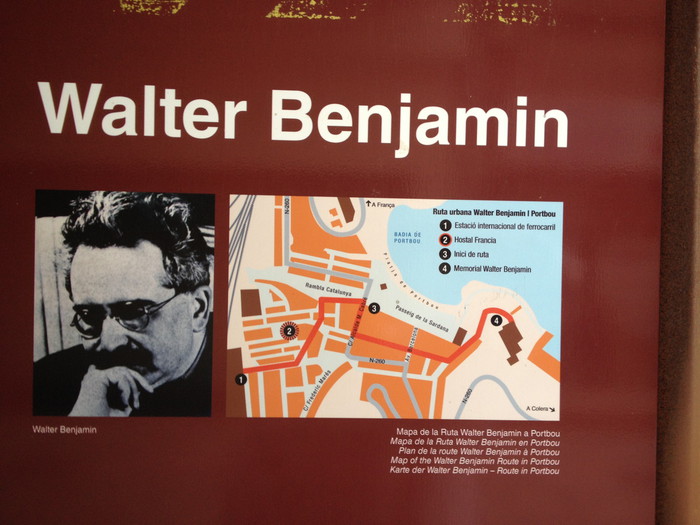 We quickly parked in a massive tunnel-turned-one-way parking lot, and wandered back through town to find any open cafe. And that's when I spotted the Walter Benjamin information panel. It turned out to be No. 2 on the town's four-stop Ruta Walter Benjamin, the Hotel de Francia, where Benjamin and his fellow refugees stayed after sneaking across the Spanish border in September 1940. And where he, where, well, as the panel puts it, "What happened over the next few hours is a striking illustration of all of the tragedy of barbarism."
This town has erected a plaque in front of the hotel where Benjamin killed himself.