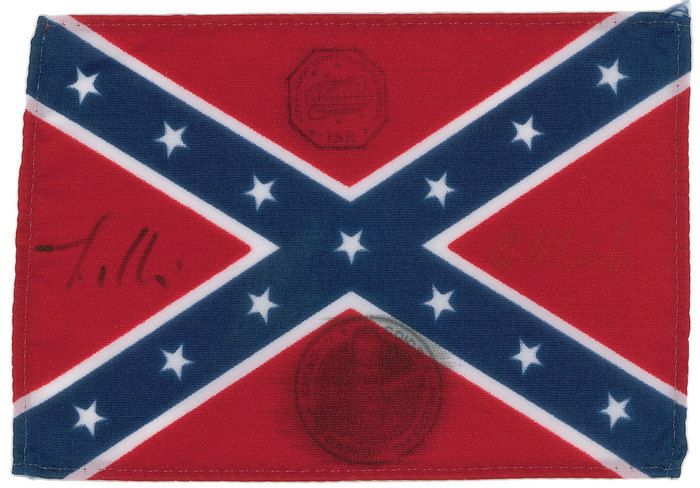 What's that? #20 - Soyuz TMA-5 Flown Flag? Oh nothing, just a flag, like you'd see anywhere.
Next month RR Auction is selling a Confederate Flag that flew on the International Space Station. It is signed by Salizhan Sharipov, the Russian cosmonaut who brought at least five of the flags to the ISS in 2004-5, and by NASA's own Leroy Chiao, who was the commander of the pair's 6-month expedition.
The flags caused an uproar when they first started appearing on the flown souvenir market in 2006, and both Chiao and Sharipov acted like they had no idea how those flags might've--Confederate flags, you say? Well how'd that--who coulda--
Which seems like total crisis PR-driven bullshit, and a lot of needless racist hassle for a couple hundred bucks. But anyway, here one of the apparent five flown is.
#20 - Soyuz TMA-5 Flown Flag, est. $200, sold for $437.33 [rrauction]
How Did A Confederate Flag Get Aboard the International Space Station? [spaceref]