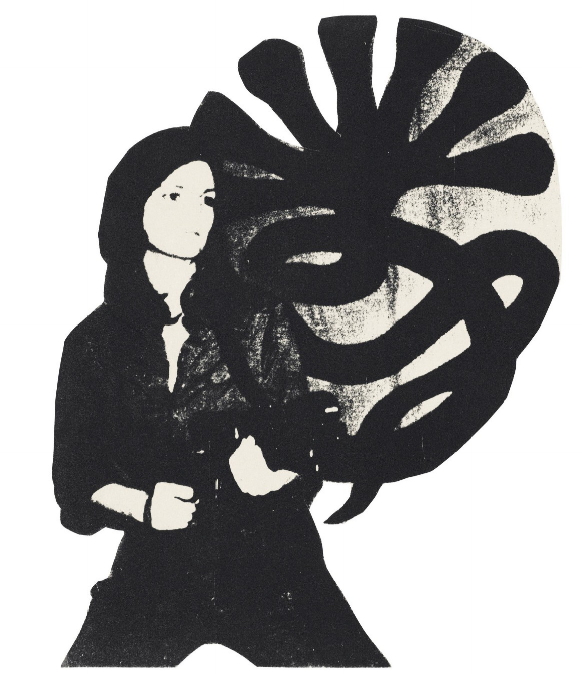 Tanya, 1989
Until the small photocopy Tanya turned up last year and prompted me to do a related edition of it, I confess, I hadn't paid much attention to Cady Noland's works on paper. The silkscreen on aluminum pieces always felt graphic and photocopied enough, I guess. But that interchangeability is one thing that makes the works on paper interesting.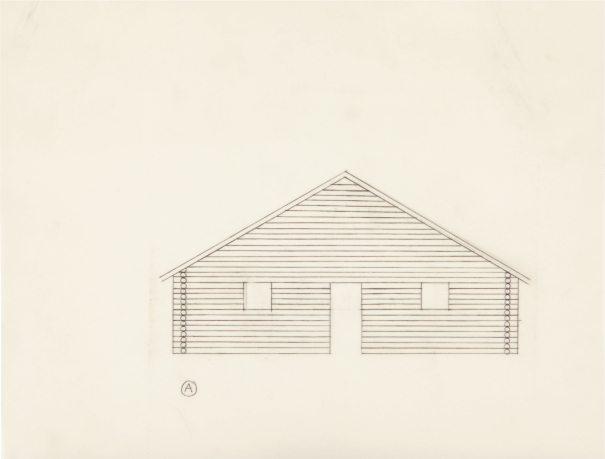 Untitled (Preparatory Drawing for Log Cabin), 1990
Then a few months ago, that whole mess about the unauthorizedly refabricated log cabin included mentions of blueprints, and so I looked back at Untitled (Preparatory Drawing for Log Cabin), which sold for not much a couple of years ago at Phillips. Which no one is saying is a blueprint or certificate for a sculpture, at least not publicly.
Last month Cristin Tierney showed a photocopy drawing at Expo Chicago. Mr. Automatic Drawing (1992) has colored pencil too, and this kind of great artist's frame made out of some hardware or other. I feel like I should recognize it from Home Depot.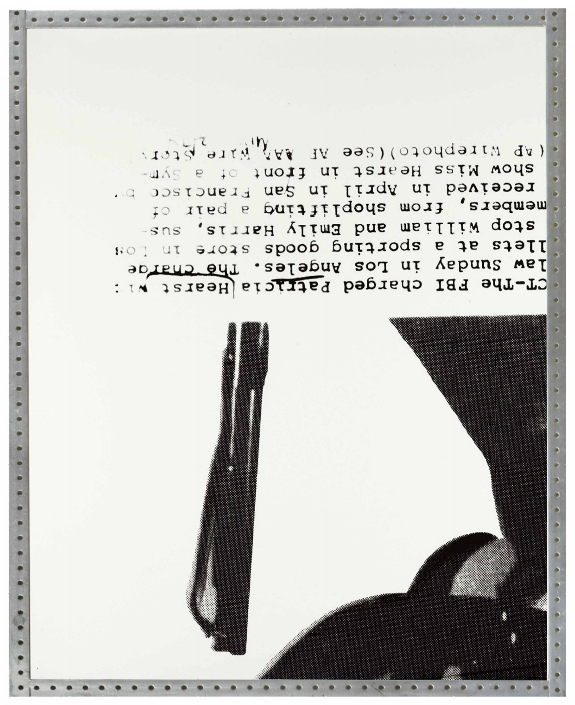 Untitled, 1991-2, big silkscreen monotype on paper
There was a similar frame on a larger work from 1991-2, a 40x32-inch silkscreen of a blown-up fragment of a Tanya wirephoto. It was sold at Christie's. At a benefit auction. For Leo DiCaprio's foundation. It went for 5x the estimate. It is listed as a "gift of the artist." So Noland is donating work to benefit auctions. Fascinating.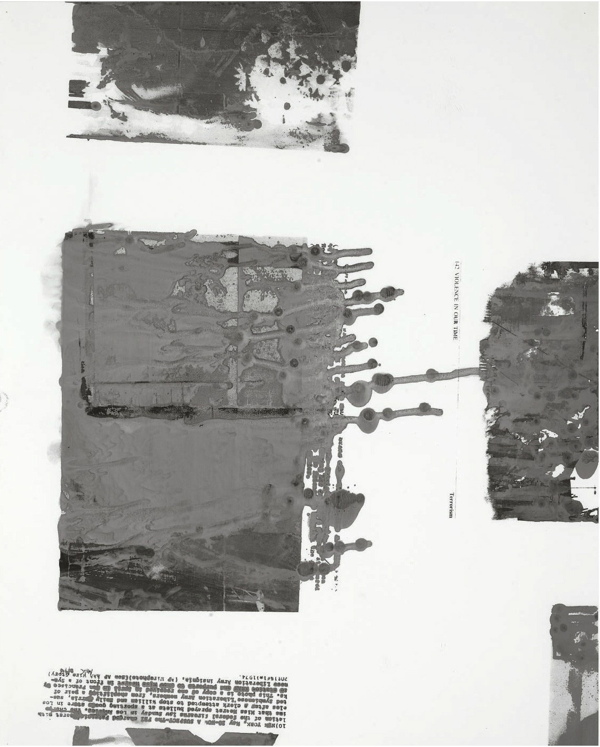 Untitled, 1992, ditto, 40x32
A similar work came up in 2010, with a more elaborate, Woollian abstracted print/blur, but no picture of the frame. This one was described as unique, a 1/1 silkscreen. [It went for 1/16th of the DiCaprio piece.]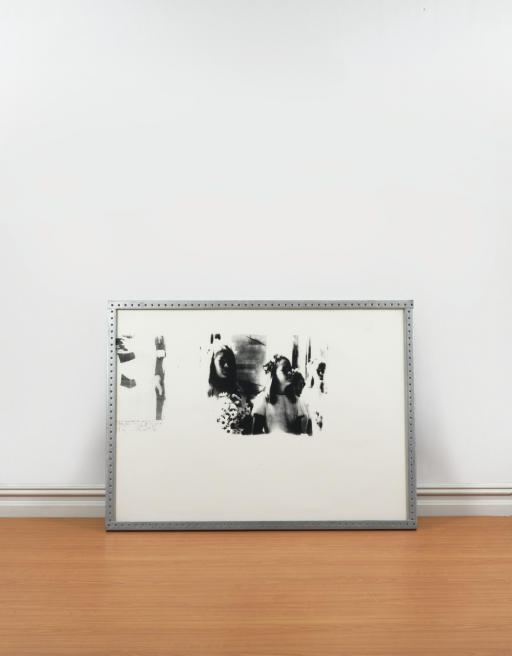 Untitled (Patty in Church), 1991
Oh hey, here's another one, Untitled (Patty in Church), sold in 2008, with what looks like a similar but sharper image, and an artist's frame. It's shown leaning against the wall, like some of the aluminum silkscreened pieces. Yes, it draws a connection, but does it also make you wonder what Ms. Noland might think of the apparently unframed image above?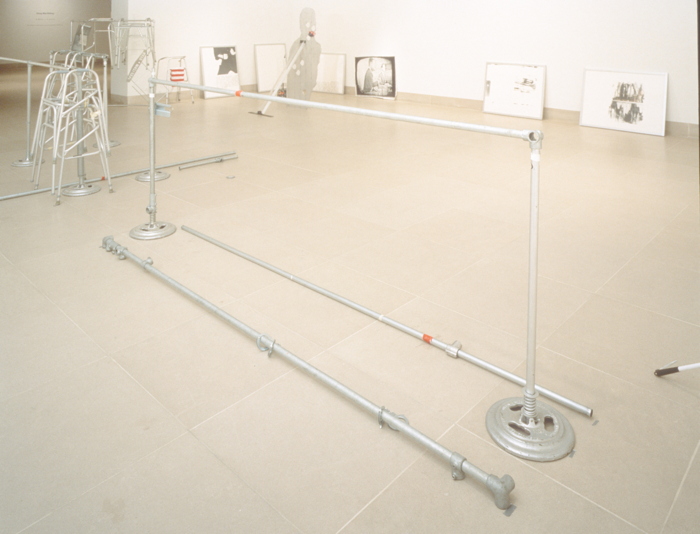 Maybe she'd be fine with it on a case-by-case basis. In this installation shot from Noland's 1993 2-artist show at the Dallas Museum [with Dallas artist Doug Macwithey], at least one of the works up against the wall is unframed.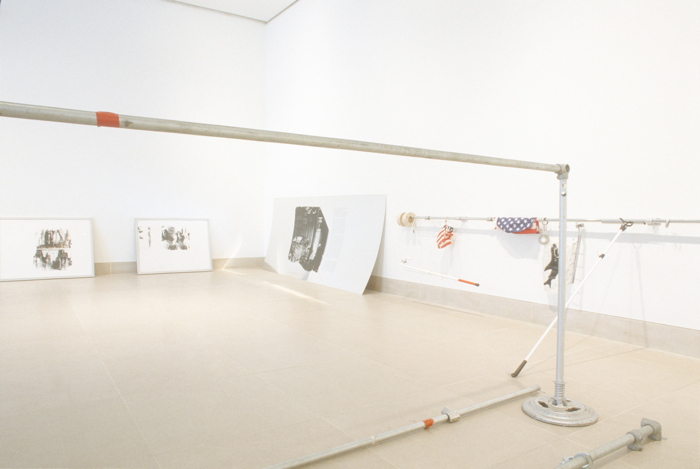 And yes, here is Untitled (Patty in Church) leaning next to an aluminum piece. [Looks fragile, watch the bending!] Noland's works on paper are integral, not ancillary.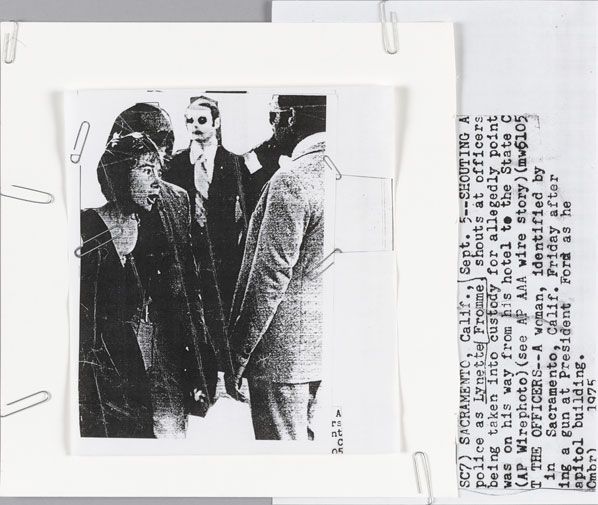 Untitled Xerox Cut-Out (Squeaky Fromme/Gerald Ford), 1994
Not everything turns up for sale, though it was. This clipped-together assemblage of cropped photocopies is from 1993-94 has a title, Untitled Xerox Cut-Out (Squeaky Fromme/Gerald Ford), and is one of three purchased for MoMA as part of the big Judith Rothschild acquisition. The others are of Betty Ford and John Dillinger. The Rothschild Hoard also includes 22 more Noland drawings, including a set of big set of Untitled for The Tower of Terror Studies from 1994. I don't know anything about these.
Previously: Tanya; Untitled (Tanya)
Why Wasn't Cady Consulted?