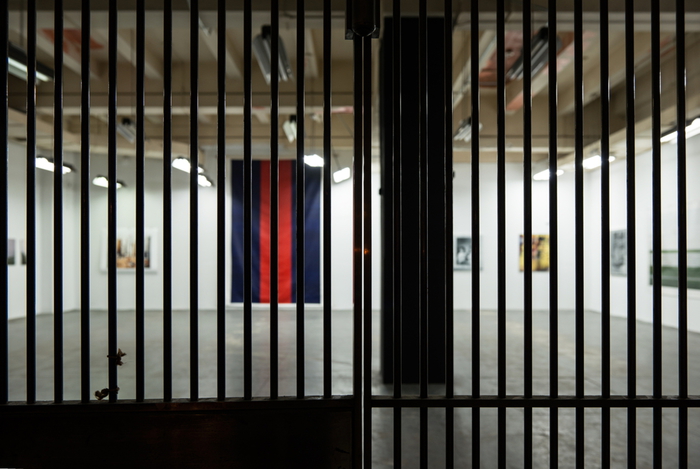 Chop Shop installation shot at SPRING/BREAK 2016, in the vault on the 3rd floor of Moynihan Station, image: Tamas Banovich
I am psyched to announce "Chop Shop", a show of my work at SPRING/BREAK 2016. SPRING/BREAK's keyword this year is ⌘COPY⌘PASTE, which is probably what gave Magda Sawon the idea to approach me about a project. "Chop Shop" coalesced around several subjects and series that have appeared recently on greg.org: creative destruction; authenticity; artist's agency; a critique of collectors, the market, and the networks art traverses; and the interactions between our digital, cognitive, and physical experiences.
In just the last few weeks, the show grew more ambitious and felt like the whole thing might just veer off the rails, but thanks to Magda and her people, the flexible and gracious organizers of SPRING/BREAK, and the expert assistance of some brave painters and printers, it all came together. And it looks absolutely mindbogglingly great, almost exactly the uncanny combination of spectacle, aura, and outrageous WTF? that I'd imagined. And to top it all off, it's installed inside A GIANT, FREAKING VAULT.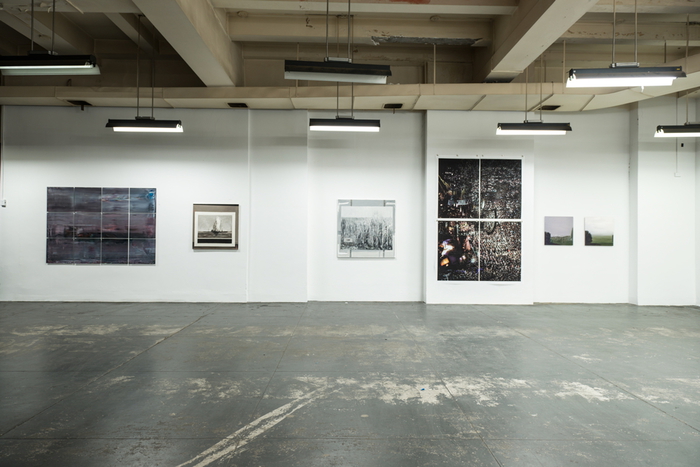 Chop Shop installation shot with Destroyed Richter Grid No. 4, Destroyed Richter Painting No. 8, Shanzhai Gursky Grid No. 1, and Destroyed Richter Paintings Nos. 12 & 11, image: Tamas Banovich
Every work in "Chop Shop" is something I've been imagining or visualizing for months, or sometimes even years, but which I had not experienced in person, until now. And this process of conceptualizing something, and then actually realizing it, and then experiencing it, is intensely satisfying to me. I look at tons and tons of art, not only online, but in person, too. And the differences between these experiences and the impressions they leave feel important. So it's not just a nicety when I say I hope you will be able to see "Chop Shop" in person. [It runs from Tuesday March 1 through March 7.]
"Chop Shop's" images are appropriated from the old masters, but its processes are lifted from collectors, dealers, and museum shopkeepers. The artwork on view has either already been destroyed, and brought back to life, or it's about to be chopped up to order, or broken up and parted out.
The show includes: new Destroyed Richter Paintings, which are full-scale resurrections of Gerhard Richter paintings that now exist only in archival negatives or jpgs. Some are of paintings the artist destroyed himself (after photographing them, obv), and some are of paintings that have been destroyed in the wild. In a nod to Richter's own practice of transforming his paintings into photos, prints, or other media, some of the Destroyed Richter Paintings in "Chop Shop" are printed on aluminum panels. They are literally dazzling.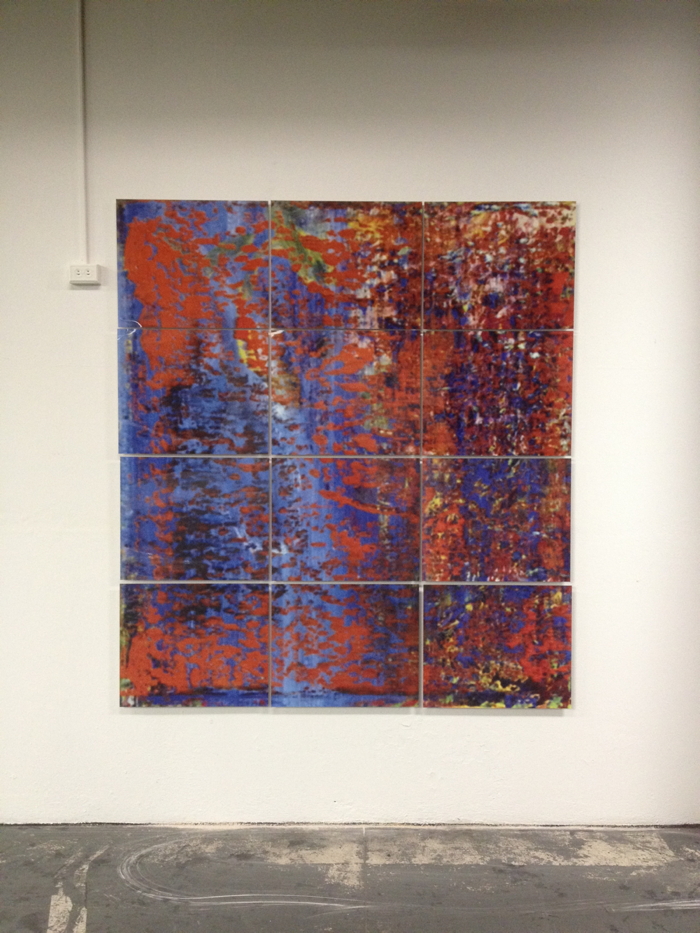 Destroyed Richter Grid No. 1 A-L, 2016, UV pigment on aluminum, 50x60cm each, unique, image: Tamas Banovich
In another nod-or maybe it's a critique wrapped up in an homage, it's really too early to say-to Richter's own destructive predilections, the Destroyed Richter Grid works transform [the jpg of] a lost squeegee painting into a set of prints on aluminum, which will be sold separately and scattered. Unlike Richter's Facsimile Objects, which are produced in bulk, these grid pieces are each a lone, unique work, part of a whole that will only be visible together during the show. So Richter's lost works stay lost, unless or until an enterprising curator in the future tracks all these panels down and reassembles them. And even then, what do we have, but a reconstituted jpg? We go to exhibition with the art we have, I guess.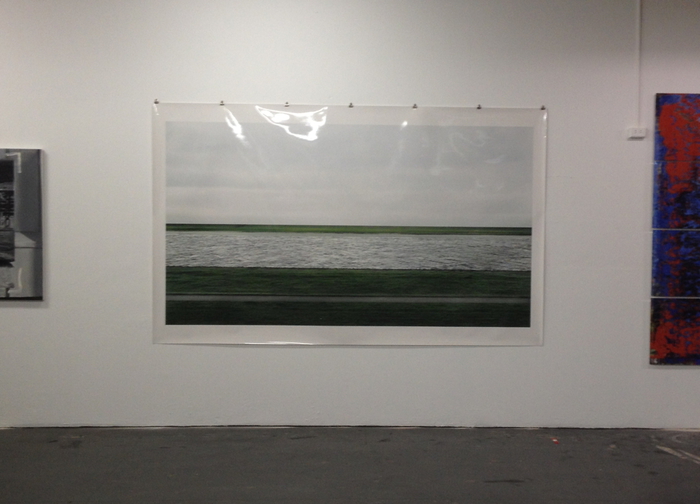 Shanzhai Gursky No. 005, 2016, C-print, 185x303cm, will be destroyed in the production of Shanzhai Gursky Nos. 006 - whatever, 185cm x whatever, at Chop Shop
Shanzhai Gursky Grids are related to the Shanzhai Gursky series, which are produced full-scale from whatever the highest-resolution versions of Andreas Gursky's images are available at the time. Except in this case, these new works, made for "Chop Shop," will be themselves chopped and destroyed, with the fragments each constituting a new, unique work. Some are pre-chopped for your convenience, but others will be chopped to order, then properly mounted and framed for posterity. But the sight of these Gursky-looking works hanging, raw and exposed, naked, is just awesome. What a world, they make me think. What. a. world.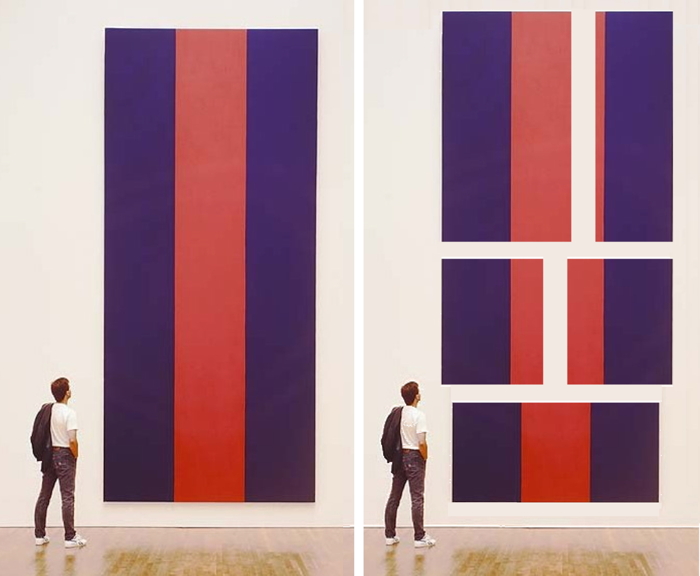 Study for Chop Shop Newman No. 1 and Nos. 2-6, 2015, jpg, but oh it's real now, baby
Which brings us to the centerpiece of the show, Chop Shop Newman Painting No. 1, a full-scale repetition of Barnett Newman's Voice of Fire (1967). It is literally awe-inducing, at least for me, and not just because I made it. [With conservation and materials research by the National Gallery of Canada, sage advice from David Diao, and the painterly talents of Tamas Banovich and Kyle Nielsen.] Newman made the 18-ft tall Voice of Fire to order for the 27-story geodesic sphere of the Expo67 US Pavilion. Chop Shop Newman No. 1 will be cut down into Chop Shop Newman Nos. 2 - ?? during the fair, with dimensions and compositions determined by the connoisseur collectors on a first-come, first-served basis. While supplies last.
There are so many variables and unknowns, and it's crazy/fascinating ceding the fate of so much work to the hands of collectors-or to their indifference, if no one ends up caring, or engaging, or liking the stuff enough to take it home, which I suppose could happen. But it's also immensely satisfying the way this show has me thinking through the systems of art, our expectations for it, and how we experience and value the world around us. So there's that.
Press release: Magdalena Sawon presents Chop Shop by GREG ALLEN at SPRING/BREAK Art Show, March 1 - 7, 2016 [postmastersart]
SPRING/BREAK Art Show 2016, ⌘COPY⌘PASTE [springbreakartshow]
So slick, you can buy "Chop Shop" works directly online until April 30th! [springbreakartfair]
Who's Afraid of Red & Blue? About Chop Shop Newman Painting No. 1 et al.
the original blog post, At Home with Voice of Fire
Previously, related: on Reassembling chopped up masterpieces after 500 years
on the still-hypothetical proposition that there is a non-traumatic way to chop up a Barnett Newman
On museums showing reproductions and being like, oh nbd
It was. the. jutes. Stefan Simchowitz just cold chopping up Ibrahim Mahama's jute sack installations
UPDATE: Reviews
"The outcome is a painterly concatenation of destructive and creative forces, capital's relentless churn made both gestural and material." [mostafa heddaya for artinfo]
"They look modest and a little scared. (Rightfully so: "Voice of Fire" (sic) lost its first chunk to an X-Acto knife on opening night.)" [jillian steinhauer for hyperallergic]
"Allen made an absurdist gesture by offering up fragments of copied masterworks of contemporary art for sale by the square foot, like pizza." [chris green for afc]

At SPRING/BREAK see @gregorg 's brilliant install @magdasawon ; also Caroline Wells Chandler knitted figs on the way pic.twitter.com/gMDUKn2gD8

— Roberta Smith (@robertasmithnyt) March 6, 2016
[!!]