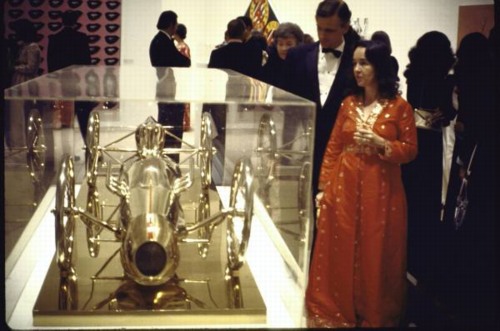 LIFE Magazine's digitized photo archives includes a few sweet pictures by Gjon Mili from the opening party at the Hirshhorn Museum in 1974. [here's a great shot of a whole gallery full of Giacomettis. Do they still have all those Giacomettis?]
Besides the fashion and the hair and the realization that the Hirshhorn came into being in the Nixon and Ford administration, [The opening was in October 1974, a couple of months after Nixon resigned.]–well, actually, that's quite a lot.
Anyway, I've tried and failed to figure out the artist who made this chrome Formula 1 race car sculpture. If you have any ideas, I'd love to hear them. Or I could ask Jeff Koons about it; didn't he work as a valet parker at this party? [see the full size image]
Trova. Mister Ernest Trova Thanks to Peter Reginato for identifying Study: Falling Man (Carman), 1965, one of Ernest Trova's series of Futurist-meets-Surrealism Falling Man sculptures which explored the changing nature of man in the technological age. Carman is the largest of the 14 Trova works [three sculptures, a portfolio, some other prints] that were part of Joseph Hirshhorn's initial bequest. It wasn't included in the Boca Raton Museum of Art's 2007 Trova retrospective; maybe they used another of the edition of six.
As Peter points out, a streamlined, nickel-plated Falling Man study used to be in the lobby of the Whitney "forever." I tried to look it up, but–is this right?–the Whitney Museum's collection is not searchable online? I remember the Whitney being one of the first museums on the web, hosted at my old ISP/BBS, echonyc.com/~whitney. But that was 15 years ago. It seems like they've been behind the curve ever since.
2018 UPDATE: In the last 9 years, the Whitney has worked on their website. cf. Ernest Trova, Study, Falling Man. Thx AW