Hello, Earth to Le Corbusier archive!
Corbusier conceived Poeme electronique for the Philips Pavilion at the 1958 Expo in Brussels. It was an 8-minute immersive light, film and sound experience which told mankind's long, hard slog towards peace.
Don't forget the architecture. The multi-channel version of Poeme electronique, with a score by Edgard Varese, was projected on the walls of the tensile tent-like pavilion, which was designed by composer/architect Iannis Xenakis, who was working for Le Corbusier's firm at the time. Xenakis recalled–perhaps wishfully, I don't know–that the parabolic concrete forms came directly from his graph-based score for his 1954 composition, Metastasis. [The piece was staged last March at the Barbican as part of a Xenakis program, concurrent with the Corbusier exhibition.]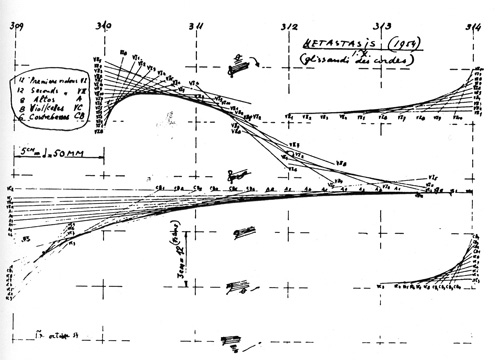 Here's Poeme Electronique in its single channel version:

This brief segment produced in 2000 for a virtual reality recreation of the Poeme Electronique experience also includes period footage, photos, and a couple of interesting looking models from the Philips archives:

Le Corbusier; Iannis Xenakis; Edgard Varèse
«Poème électronique: Philips Pavilion» [mediaartnet.org via things]
previously: E.A.T. and the Pepsi Pavilion, Osaka Expo 70; a lost piece of corporate-sponsored installation art?