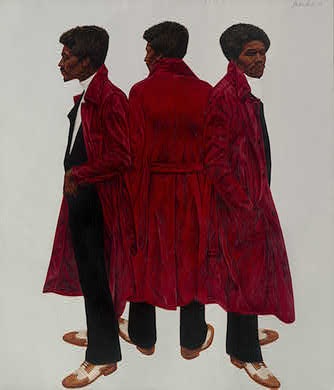 According to the very slowly reported story [1] in the Wall Street Journal, the Obamas have been selecting modern and contemporary art for the White House from among pieces in national and museum collections. The artists they requested includes several African American artists, including the wonderful DC abstractionist Alma Thomas, whose paintings from the Hirshhorn are already installed in the White House's private quarters. But they've also chosen plenty of white contemporary artists, too, though the Journal obviously doesn't identify them as such: works by Ed Ruscha, Richard Diebenkorn, Robert Rauschenberg, Louise Nevelson and Jasper Johns all came from the National Gallery, for example.
The Obamas' decorator Michael Smith apparently insisted on borrowing only works that were not currently on view. Hmm, African American artists, in national collections, not currently on view. Why didn't they ask–or why didn't the National Gallery offer–a major work by the art world's longest-time-coming overnight sensation, Barkley Hendricks?
I'm dying to hear the story of how the National Gallery came to acquire their awesome, awesome Hendricks, Sir Charles, aka Willie Harris, 1972, in 197-freakin-3, when the paint was barely dry And as soon as that story's finished, someone tell me how it is that the intensely classical triptych portrait–inspired, we are told, by van Dyck, Rubens, and Botticelli, with a little Shaft thrown in for good measure–is not only not on display now, but has never been exhibited at the National Gallery, ever.
I'd certainly be willing to look at one less Thomas Demand mural of the Oval Office in exchange for three Willie Harrises. And I'd trade all five Demands to see Harris in the Oval Office itself.
Holy smokes, the comments are a seething pit of powerless white guy rage: Changing the Art on the White House Walls [wsj]
[1] Though the story's filed 5/22, Kerry Brougher is quoted as acting director of the Hirshhorn, a position he hasn't held for over a month.