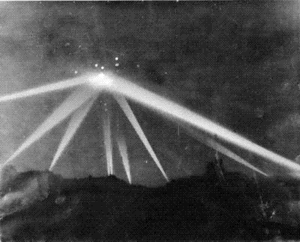 Before I realized that if I wanted to see an exhibit of a 100-ft silver balloon, I'd have to make it myself, I was still just ruminating on art I hoped/wished someone would make. One of those projects I want/need to see is a re-staging of the Los Angeles Times photo of the panicked air raid searchlights that criss-crossed the sky on the night of Feb. 25, 1942. Six civilians died in that apparent, still unexplained false alarm, and the Times' caption on the photo above described how the "searchlights built a wigwam" over the city. Wouldn't that be fantastic?
Well, now I wonder if there is someone to get to do it.
16 Miles pointed to an awesome 2001 Art in America article by Suzaan Boettger on Sculpture in Environment, a pioneering New York City-wide show of public sculpture organized by Sam Green, the director of the ICA in Philadelphia, which took place in October 1967.
The main focus of Boettger's article is an intriguing and prescient unmonumental work by Claes Oldenberg, and Robert Smithson's seminal roadtrip article/work, "The Monuments of Passaic," which [not] coincidentally, he made the day before. And the hook for 16 Miles' post is the death of Tony Rosenthal, whose Alamo cube still spins where it was shown, in Astor Place. But there are other great details: Oldenberg had first proposed creating a traffic jam; Robert Morris's jets of steam proposal was considered "too ephemeral." Isamu Noguchi was still pitching his playground idea ["too expensive."] Alexander Calder liked to help the Negros. &c. &c.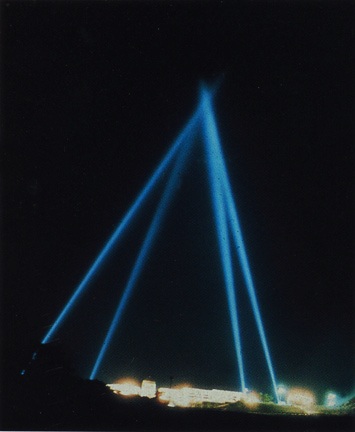 But anyway, Boettger mentions this "a nocturnal event by Forrest Myers, who projected four carbon arc searchlights from Tompkins Square Park." It's not clear what they were called, but this description from a 2006 Art in America profile of Frosty Myers explains what these sculptures were:
"Searchlight Sculptures," nighttime installations of carbon-arc searchlights that were sited at the four corners of Tompkins Square Park in the East Village in 1966, in Union Square in 1969, in a park in Fort Worth in 1979, and elsewhere. The beams tent upward to join at an apex in the manner of a vast pyramid.
Elsewhere included Artpark in Lewiston, NY, where Myers created a Searchlights pyramid in 1975 [see above]. You must admit, it does look very wigwammish.
You may know Myers from such previous greg.org appearances as: being instrumental in E.A.T. and the art/tech collaborative's ambitious artfest-in-a-mirrored-dome, the Pepsi Pavilion at the Osaka '70 Expo. And maybe being one of six artists whose work was secretly smuggled onto the moon on the Apollo 12 lunar module.
Remembering Tony Rosenthal, Remembering "Sculpture in Environment" [16miles.com]
A Found Weekend, 1967: Public Sculpture and Anti-Monuments, Art in America, Jan. 2001 [art in america via findarticles]
[Searchlights imagevia ekac.org]