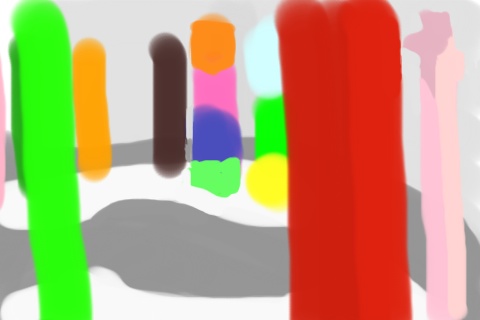 I'll have more to say about the incredible work of Anne Truitt in the Hirshhorn's retrospective, thoughtfully curated by Kristen Hileman.
Whether on canvas, paper or sculpture-like wooden armatures, Truitt's exhaustively spare paintings induce, by design, a lot of processing by the viewer. Those interpretations can range from the biographic–reading the works as minimalistic evocations of places, people, and memories from the artist's life; to the flighty-poetic–riffs on whatever sublimity the colors have been up to lately in nature; to the maddening and/or inapt–pronouncements by critics and curators in positions of authority in the art world who you'd expect would know better. I'm starting with the latter.
Truitt was one of critic Clement Greenberg's favorite Minimalists. Unfortunately for her career, that was a bit like being one of George Bush's favorite Democrats. And also? There was this, from Greenberg's 1968 profile of Truitt in Vogue, which Hileman quotes in her catalogue essay:
She certainly does not 'belong.' But then how could a housewife, with three small children, living in Washington belong? How could such a person fit the role of pioneer of far-out art?
Besides/because of Truitt's DC isolation, her work was difficult to place in the art world's discourse, which at the time was organized around where you drank: Cedar Bar or Max's Kansas City. Since then, of course, a critical context has developed that can accommodate minimalist abstraction and color and emotion and metaphor and extraordinary process. Which made Hirshhorn chief curator Kerry Brougher's demonstrably wrong characterization of Truitt's art historical significance in his opening remarks at the museum's panel discussion Thursday night all the more baffling.
Brougher described Truitt's work as hugely influential at the time "for Minimalism, Color Field School, whatever you want to call it." I guess it'll all make sense when his definitive catalogue on the Whatever School is published.
And it's shooting fish in a barrel, I know, but I'll end with Washington Post critic Blake Gopnik's flight of sexist goofiness. In one of her books, Truitt skewered Roberta Smith for a condescending, gender-based review of her work. I'd love to hear what the artist would have said about Gopnik, who framed his entire review around the idea that Truitt's human-scaled sculptures are actually mannequins and that her project is somehow transgressive fashion:
This one here could be a matronly Martha Cunningham, clad in forest green but with a stripe of scarlet at her hem to show she's still got spunk. There are the Updike girls, modish in tight-fitting lime and pumpkin and pink. And there's that absurd Mrs. Snyder: She's paired a perfectly nice linen suit with shoes in red and black patent leather.
…
Truitt's best sculptures, even at their most soberly geometrical, tend to "girlish" pastels or fashion brights — or worse, she mixes the two.
The analogy to fashion seems right. It feels as though Truitt has realized that the so-called "rules" of art are more like fashion etiquette than laws of nature. You imagine that it's simply not possible, dahhling, to wear blue with green — until the year that some new designer has everybody doing it. If you have the courage to get there first, you'll either make a fool of yourself or be recognized as fashion forward. The truly bold don't care which happens. That's Truitt.
Hahahaha, NO. It is not.
While using show-offy obversion to argue Truitt's significance, Gopnik manages to get Minimalism, Judd, Morris and Truitt wrong, all in one paragraph:
And yet, by the terms of the minimalist movement, Truitt once again turns out to have gotten things wrong. "Real" minimalism was supposed to be absolutely legible and "whole," so you could know a sculpture's essence almost at one glance. At the very least, you were supposed to get a clear "gestalt" of any minimalist sculpture just by walking all around it. Truitt's sculptures often mess that up, by striping each side of an upright in very different colors.
Judd was interested in the integrity of the object's shape itself, it had nothing to do with the viewer; he could not have cared less. Gestalt, meanwhile, was Robert Morris's concept for shape, whose "wholeness" could only [not "just"] be understood by the viewer experiencing it from all sides.
For Morris, the issue with color wasn't just uniformity; color was "optical" and "unstable," "inconsistent with the physical nature of sculpture." It thwarted Gestalt [*cough, Judd's anodized metal and tinted plexi *cough*]. But for Truitt, color was the Gestalt. She didn't get Minimalism wrong; she proved it wrong.
My own admiration for Truitt's work arose from her prescient infusion of content into abstracted, minimalist form; I thrilled to discover in her an antecedent to the contemporary artists I came up liking: Gober, Gonzalez-Torres, Horn, Hodges. But the longer I stay with it, and the more I see, the more it feels like a subtle deployment of memory to explore perception and experience. It makes me want to see Truitts alongside works by Ad Reinhardt, James Turrell, Olafur Eliasson, or–moving off the color reservation–even something like Cardiff/Bures-Miller's Forty-Part Motet. Hmm. That's more than I thought I'd have to say.