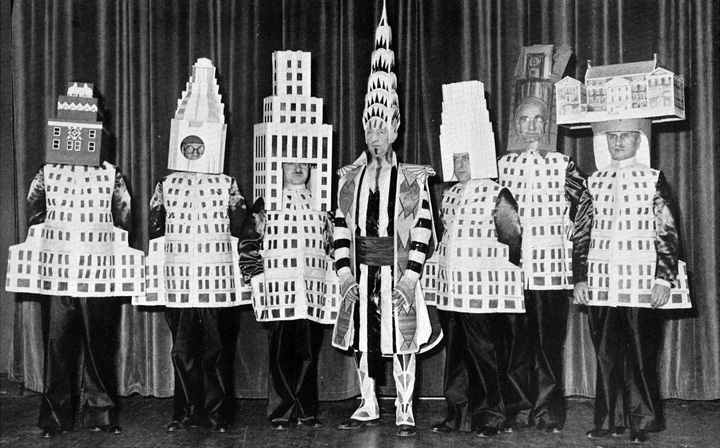 At the 1931 Beaux Arts Ball, more than a dozen New York architects came dressed as their buildings: [l to r] A. Stewart Walker [Fuller Building], Leonard Schultze [Waldorf-Astoria], Ely Jaques Kahn [Squibb Building], William Van Alen [Chrysler Building, who clearly booked his own stylist], Ralph Walker [Irving Trust Company], and Joseph Freedlander [Museum of the City of New York].
Rem Koolhaas included the Ball in his 1978 history/"retroactive manifesto," Delirious New York.
Which was hook enough for Lali Chetwynd, whose 2006 performance piece, "Delirious!" reimagined the Beaux Arts Ball as a skyscraper cocktail party. It was ably documented by Showstudio: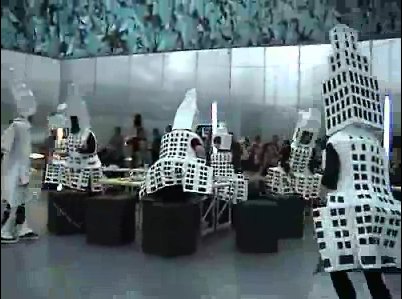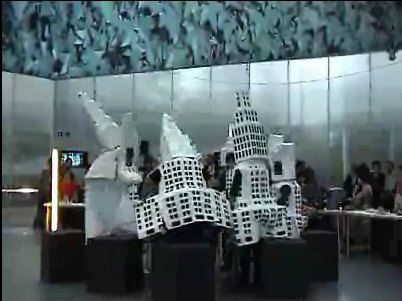 "Delirious!" was staged in the Serpentine Gallery Pavilion designed by Koolhaas and Cecil Balmond, which comprised a giant, inflatable ovoid canopy atop a cylindrical amphitheater/event space.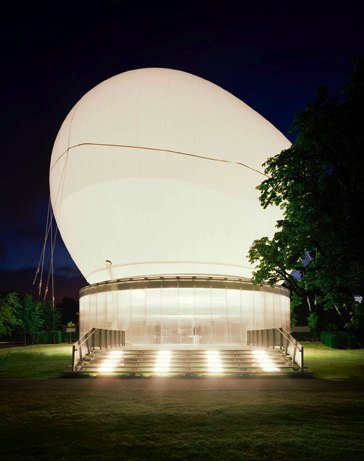 Which, of course, bears a striking resemblance to the much-discussed, little-funded inflatable balloon space Diller Scofidio + Renfro have designed for the Hirshhorn Museum in Washington DC.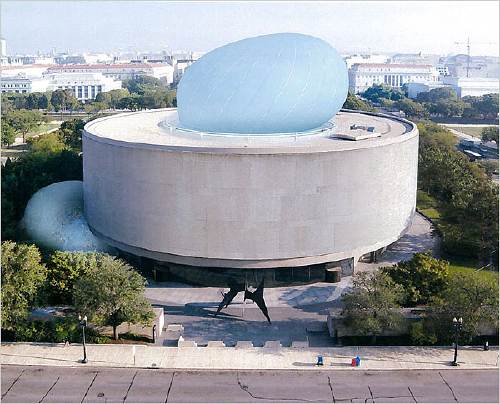 So now we have some idea what will go down in the Hirshhorn Balloon if and when it is realized: Liz Diller will appear at a $5,000-a-table benefit, dressed as her creation, and probably looking not a little like this: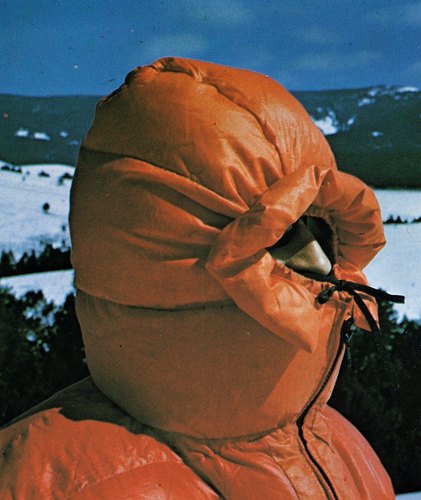 but in light blue.
Or perhaps.
Soon after "Delirious!," Chetwynd changed her first name to Spartacus. Tom Morton discussed the implications of this move in Frieze:
Chetwynd's adopted moniker seems designed to make us stage a mock-heroic mini-drama in our minds, in which she persuades a band of artists to stop pitting themselves against each other and instead revolt against their masters. Push this fantasy a little further (and Chetwynd's art is nothing if not about pushing idle thoughts as far they'll go), and we might imagine the defeated rebels refusing, pace Stanley Kubrick's 1960 film Spartacus, to identify their chief, instead claiming one after the other 'I'm Spartacus', only to be symbolically crucified by a poor auction result or a less than complimentary review.
If this flight of fancy resembles the absurd, unexpectedly telling narratives and motifs that characterize Chetwynd's work, then this is no mistake. In her practice the epic and the everyday speak through each other in accents of giggled hope.
Giggled hope seems to be an apt operating principle for the Hirshhorn's Balloon of Cultural Democracy. Is it not now time for us balloon lovers, each of us, to put on our puffy down coats, cinch our hoods around our noses, and raise the defiant cry to all who dare challenge or pooh-pooh us, "I'm Liz Diller!" "I'm Liz Diller!" To the Mall!
[hoodie image via old chum's flickr, thanks to the purely coincidentally titled blog, an ambitious project collapsing]