I'd say, "Adieu" or "Au revoir," but Janette Laverrière was as fierce an atheist as she was a communist, designer, and artist. So I'll just say I'm slow and sad to learn that Laverrière died last month at the age of, what, 101?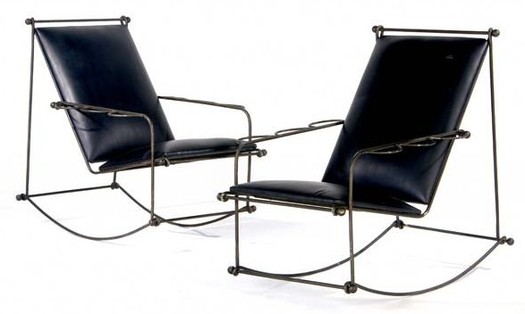 I first learned of Laverrière's work way too late, too; I saw some wrought iron furniture she'd designed in the 1930s at auction about six years ago. She was a remarkable, politically committed designer in an antagonistic, elitist French decorating world, where men and the richest clients set the agenda.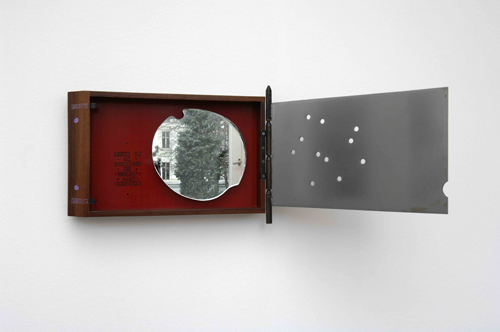 La commune (hommage à Louise Michel), 2001
The 2001 work, La commune (hommage à Louise Michel), includes a cherry-shaped mirror fragment in a rosewood box, with an iron lid peppered with what appear to be bullet holes.
As Laverriere plumbs history for her references, history is catching up, slowly, with her legacy. In 2008, the Iranian artist Nairy Baghramian collaborated with Laverrière on a very subtle exhibition at the 5th Berlin Biennial, where Laverrière's sculptures were installed in Baghramian's carefully calibrated architectural space. Baghramanian also included Laverriere's mirrored sculptural works in a 2008 exhibition at the Kunstverein in Aachen.
Laverrière discussed the switch from design to sculpture in a 2009 interview with Vivian Rehberg in Frieze:
VR Is there a link between utility and uselessness?
JL Of course. It's useful to have useless things.
VR Precisely – I agree.
JL So, I started anew by thinking about the oldest thing I could remember being inspired by. When I was 17, I really loved Jean Cocteau; I read a lot of his works. In 1989, I wanted to pay homage to him on the centenary of his birthday. So there I was in bed, thinking: I am not going to do anything useful anymore, I do not want to, I cannot, so I will do useless things. All of sudden, a new world opened up for me
And the Pompidou has acquired an interesting piece from 1952, a suspended secretary, made from steel and Formica, which is currently on view in Elles, an exhibition of work in the collection by female artists.


Secretaire suspendue, 1952, image via batir au feminin's flickr
Bhagramian's obituary for Laverriere [frieze.com]
Rooms No One Lives In, Katarina Burin's review of the Biennial show [thehighlights.org]
Use Value | Laverriere talks to Frieze [frieze.com]
short video: Portraits de Femmes Artistes – Janette Laverriere [ina.fr]