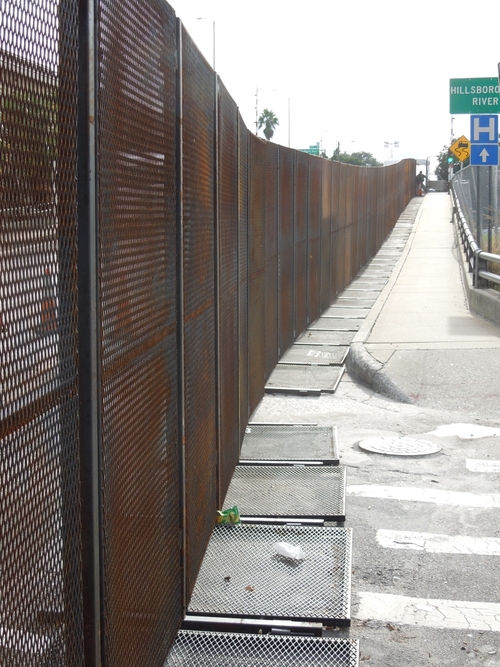 I'm really trying to get this writing thing done tonight, but I just have to point out that Richard Smith's photo of the Secret Service's six-mile perimeter fence at the RNC in Tampa is awesome. It's like if Christo and Serra were cellmates and Cady Noland was their baton-wielding guard.
Fence Comes Down [narrativemag]
UPDATE:
Speaking of Running Fence, there are two historical markers in Marin County commemorating Christo & Jeanne-Claude's 1976 project.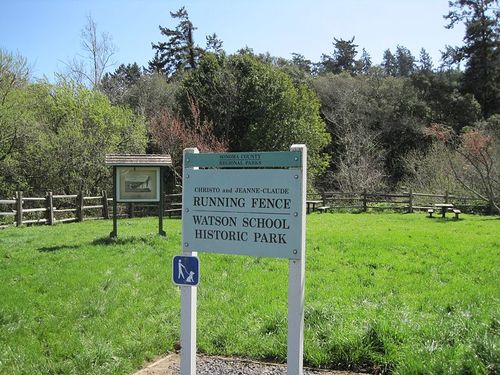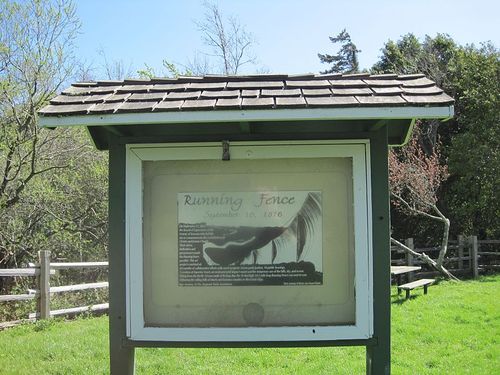 see full size images at the Wikipedia entry for Running Fence. Please.
This anniversary marker is located in the quarter-acre Watson School Historic Park in Bodega. An outdoor vitrine contains an installation photo by the artists onto which was added the following text:
Running Fence
September 10, 1976
On September 11, 2001,
the Board of Supervisors of the
County of Sonoma selected this
site to commemorate the contributions of
Christo and Jeanne-Claude.
Their vision,
dedication and
perserverance made
the Running Fence
possible. This art
project consisted of:
42 months of collaborative efforts with ranch property owner participation, 18 public hearings,
3 sessions at Superior Court, an environmental impact report and the temporary use of the hills, sky, and ocean.
Rising from the Pacific Ocean south of Bodega Bay the 19 foot high 24.5 moile long Running Fence ran west to east,
following the rolling hills of Marin and Sonoma counties to the Colati ridge. [Format and italics original.]
Watson School Park is currently listed as closed for renovation. It is not known whether the marker is affected.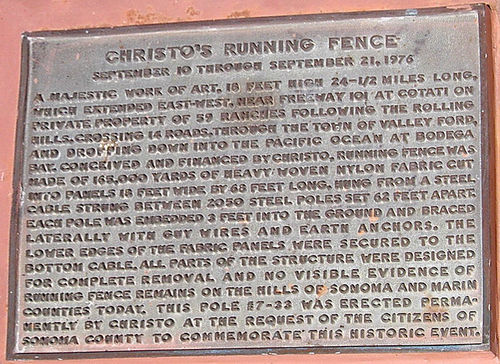 Meanwhile, in December 1976, the County Landmarks Commission in Sonoma designated Pole #7-33 as Historic Landmark #24, and installed a bronze plaque [above] that reads:
CHRISTO'S RUNNING FENCE
September 10 through September 21, 1976
A majestic work of art, 18 feet high 24-1/2 miles long, which extended east-west, near Freeway 101 at Cotati on private property of 59 ranches following the rolling hills, crossing 14 roads, through the town of Valley Ford, and dropping down into the Pacific Ocean at Bodega Bay. Conceived and financed by Christo, Running Fence was made of 165,000 yards of heavy woven nylon fabric cut into panels 18 feet wide by 68 feet long, hung from a steel cable strung between 2050 steel poles set 62 feet apart. Each pole was embedded 3 feet into the ground and braced laterally with guy wires and earth anchors. The lower edges of the fabric panels were secured to the bottom cable. All parts of the structure were designed for complete removal and novisible evidence of Running Fence remains on the hills of Sonoma and Marin Counties today. This pole #7-33 was erected permanently by Christo at the request of the citizens of Sonoma County to commemorate this historic event.
The County's landmark information lists the site as "containing steel pool [sic] from original art installation."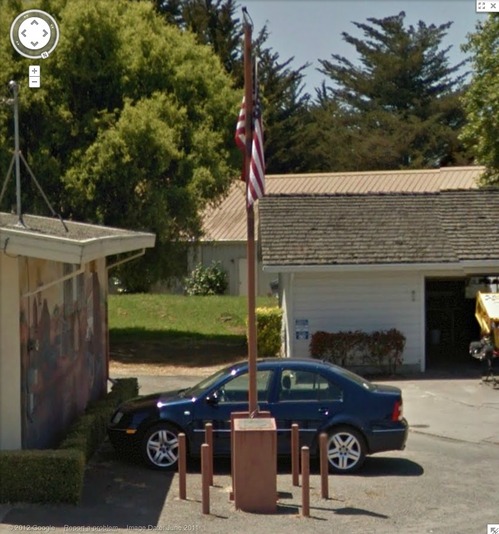 I believe this is it, next to the post office. Looks like it's presently being used as a flagpole.
Oh, the Bodega bay Heritage Gallery has a photo of the fancier plaque on the other side of the pole. Also, Running Fence was acquired by the Smithsonian American Art Museum. Remembering Running Fence was on view in 2010.
If moving it away from that mural didn't destroy its context, I would definitely replicate that, as is, stanchions, flag and all. Maybe a vinyl wallpaper photomural would work.