Speaking of violence and sculptural street furniture, the design team of Edward Barber and Jay Osgerby and Tor Studios made one of a series of commissioned benches for the Victoria & Albert Museum during the London Design Festival. It is an elegantly pockmarked block of Carrara marble.
They were inspired by shrapnel marks left in the V&A museum's western facade after the Second World War. "It's something that always fascinated me and Ed on the way from South Kensington tube up to the Royal College when we were students, and so when this project came up we thought it was a nice way to reference that," explained Jay Osgerby at the opening.
Indeed, the splash page for the duo's website is currently an image of the shrapnel marks.


Which, of course, immediately brings to mind the facade of JP Morgan's former headquarters, 23 Wall Street. The building was damaged by an explosion on Sept. 16, 1920, that was believed to be carried out by Italian anarchists. A donkey cart laden with 100 lbs of dynamite and 500 pounds of cast-iron window sash counterweights exploded at 12:01, killing 38 and injuring more than 143 people on the street and in the building.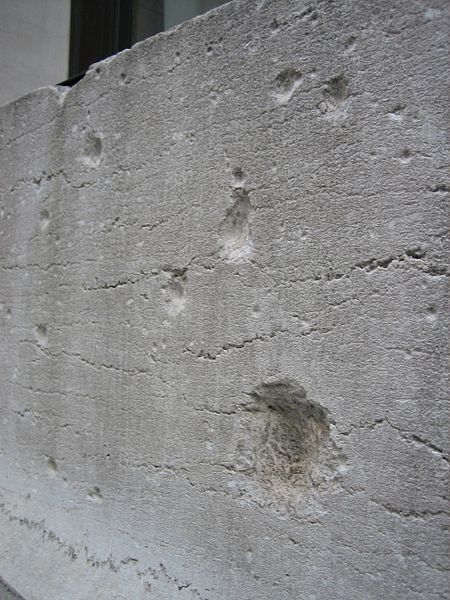 Morgan refused to repair the shrapnel marks, which are still visible on the pink marble Wall St. facade to this day. The building, long vacant, is currently being marketed as a retail site, perhaps for a department or Apple store.
Bench Years by Established & Sons at the V&A museum [dezeen]