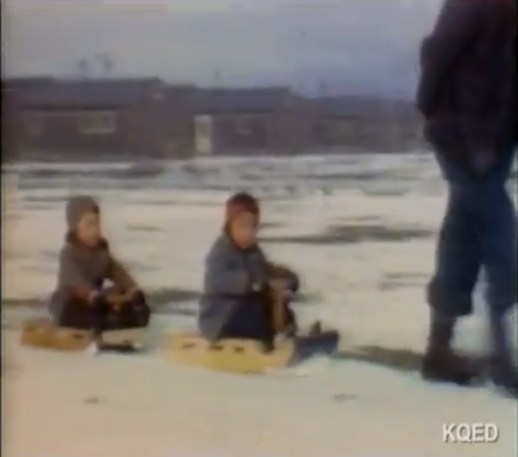 Dave Masaharu Tatsuno ran the dry goods store at Topaz Mountain, where Japanese Americans from the Bay Area were imprisoned during WWII. And he took a bunch of 8mm home movies, using color film which he'd pick up on buying trips back east. And then he edited the movies together into Topaz Memories [or Topaz, which is how it was listed when it was accepted onto the National Film Registry], a film/presentation which he gave at organizations around the country after the war.
Or maybe beginnin the 1990s, I haven't watched the end of the local PBS documentary on Tatsuno, produced after his death in 2006, to figure it all out yet. I was so amped up by these detainee-made sleds at 20:05, I had to post them right away. That's Bill Fujita, Tatsuno's brother-in-law, pulling David Fujita and Tatsuno's oldest son Sheldon in 1943.
The Tatsunos were expelled from their home when Dave's wife Alice was nine months pregnant, and their second son Rod was born at the Bay Area assembly/processing center at Tanforan race track. Their daughter Arlene was born at Topaz.
Dave Tatsuno: Movies & Memories [kqed's youtube channel via kqed.org]
COMMENTS: