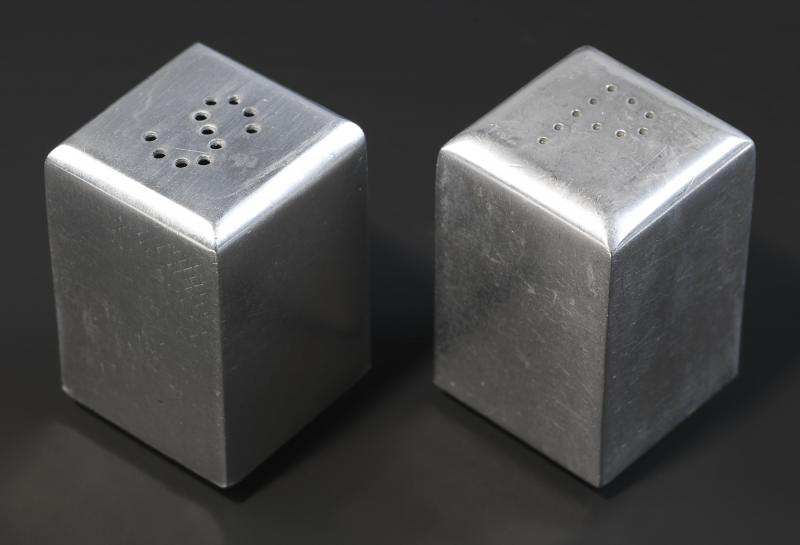 I am just cruising along through the utterly riveting, hilarious, and outrageous and insightful interview the American Art dealer Edith Gregor Halpert did for the Archives of American Art, when she just offhandedly mentions Charles Sheeler is the one who invented putting the S and P on the top of salt and pepper shakers??
In a sense it should not be surprising. Sheeler's salt and pepper shakers have been around. They show up most recently last year, in Rebecca Shaykin's show at the Jewish Museum on Halpert and her Downtown Gallery,  along with a silver brooch and ring he designed for Halpert when he was trying to woo her.
In 1934, to help drum up interest for artists during the Depression, Halpert had curated a groundbreaking show of her own, "Practical Manifestations in American Art," that paired a fine artist's work alongside an item of industrial design: Yasuo Kuniyoshi wallpaper, Edward Steichen textiles–and Sheeler salt & pepper shakers.
And then she says this:
We got the biggest silver company [International Silver Co., or ISC], and they stole the design.  Sheeler conceived the idea of the S and the P, but he didn't patent it, so they stole that.
Really? I will look into it. Halpert gave her Sheeler salt shakers to the Smithsonian in 1968.
[a little while later update: lol while researching these salt shakers, I come to wonder if I have them. There was a show from the Musée des Arts Décoratifs de Montréal called What Modern Was that came to New York, at the IBM Gallery, which was actually a thing, in the IBM Building, which was also a thing, and my favorite indoor garden space when I moved to the city.  Anyway, I think these were in there, and between that, the 1939 World's Fair, and Shmoo, I went on kind of a salt & pepper shaker binge. [I know, but also, I managed to block out the memory of it until at least this afternoon. Anyway, they're somewhere. Doesn't answer the question of the headline, though.]
Salt and Pepper Shakers [americanart.si.edu]
Oral history interview with Edith Gregor Halpert, 1962-1963 [aaa.si.edu]
Buy Shaykin's Edith Halpert, the Downtown Gallery, and the rise of American Art [bookshop.org]