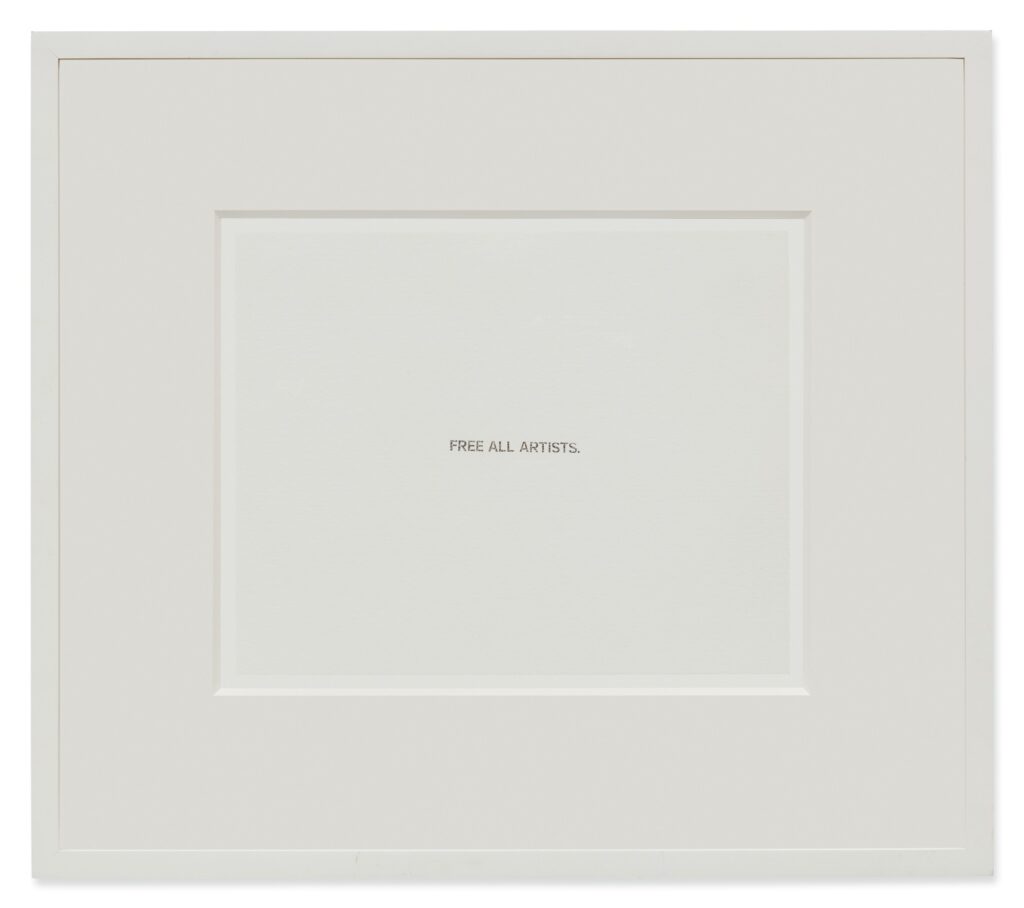 The provenance of this John Baldessari states that it was purchased at the 2010 installment of Incognito, the Santa Monica Museum of Art's popular annual sale of identically sized, anonymous artworks donated by hundreds of local artists, famous, not, and in between. It is an inkstamp on an 8×10 mat board that reads, "FREE ALL ARTISTS."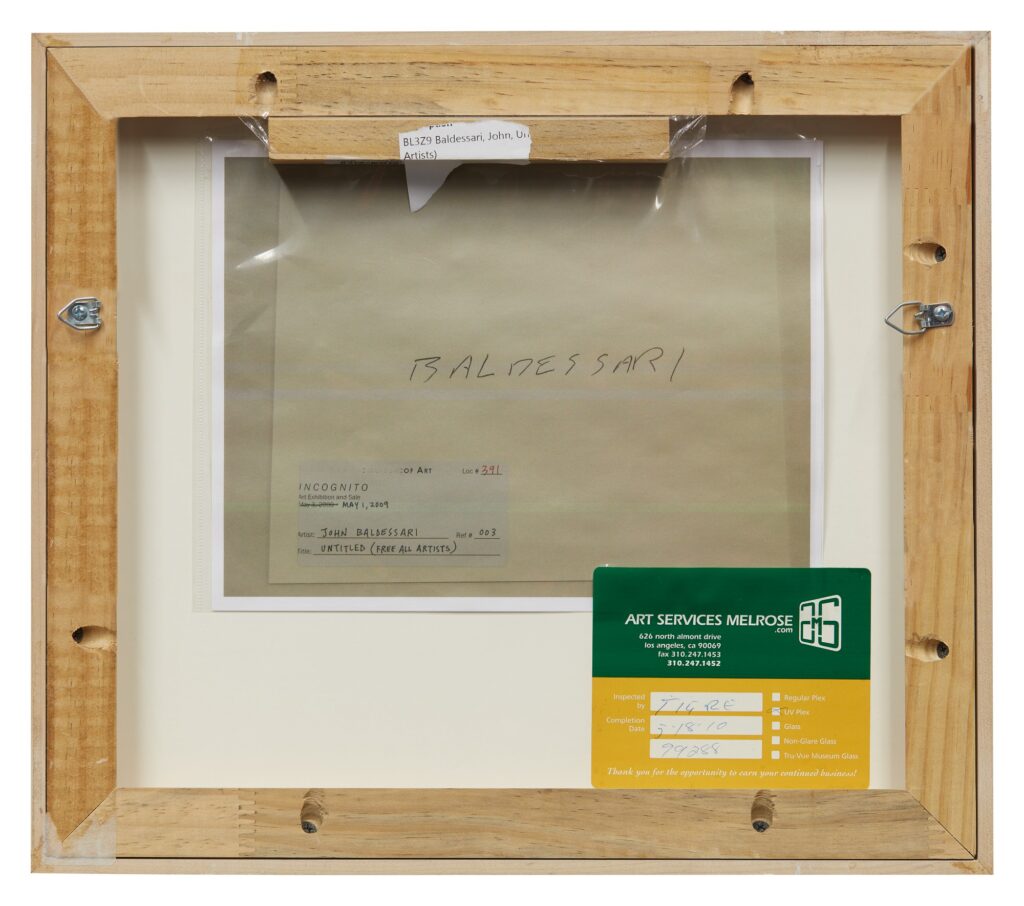 It is listed as an open edition, executed in 2010. Which is cool, except that there's an Incognito label on the back of the mat board–again, this is the entire work, an ink-stamped mat board–from 2008. And then that date is crossed out, and replaced with the date of the 2009 sale.
Can you just see how this went down? Hundreds of people buying VIP preview tickets in order to scan the hundreds of anonymous works, and to scope out the big scores, the big names, before anyone else. And for two years in a row, they left the Baldessari, the biggest name in town, sitting on the shelf.
It was only in 2010, that the art advisor Will Kopelman told the LA Times that he'd gotten a Baldessari, a Ruscha AND a Pettibone by getting to the front of the line at the preview. Was this the one? Was this the moment? Did he really have to elbow his way toward it? Was there a tipoff, perhaps, three years in, that a visually slight but conceptually robust Baldessari was lurking in plain view?
When I googled to see how large this open edition was, I found two things. The source of the text seems to be one of the stamps Baldessari used to fill out the form Melody Sumner Carnahan sent him in 1978, which ended up in The Forms, 1970-1979, the debut title of her independent press, Burning Books.
The second thing is that every other mention of this edition seems to be this same print. Before yesterday's auction, it has been put up for sale two times–once in 2014, and once last year–and it has failed to sell twice. So it was unloved twice when it was anonymous, and it was unloved twice when it was a Baldessari. It cannot catch a break.
This third time, it had no reserve price, and I so I bid a dollar for it, guaranteeing that it would, at least, find a new, happy home. Then today, someone outbid me. Right now the bid is $200, with fees, it's close to the $300 the Incognito buyer paid for it. Meanwhile, if this is really an open edition, only one example of it seems to have surfaced; so what was unloved as a Baldessari edition may turn out to be a unique work. And right now it is quite a bargain, if not free.
Lot 543: John Baldessari, Untitled (Free All Artists), est. $3,000-4,000, auction ends March 18, 2021 UPDATE: sure enough, it sold for a top bid of $2,400, or $3,024 with premium. Finally. [sothebys]