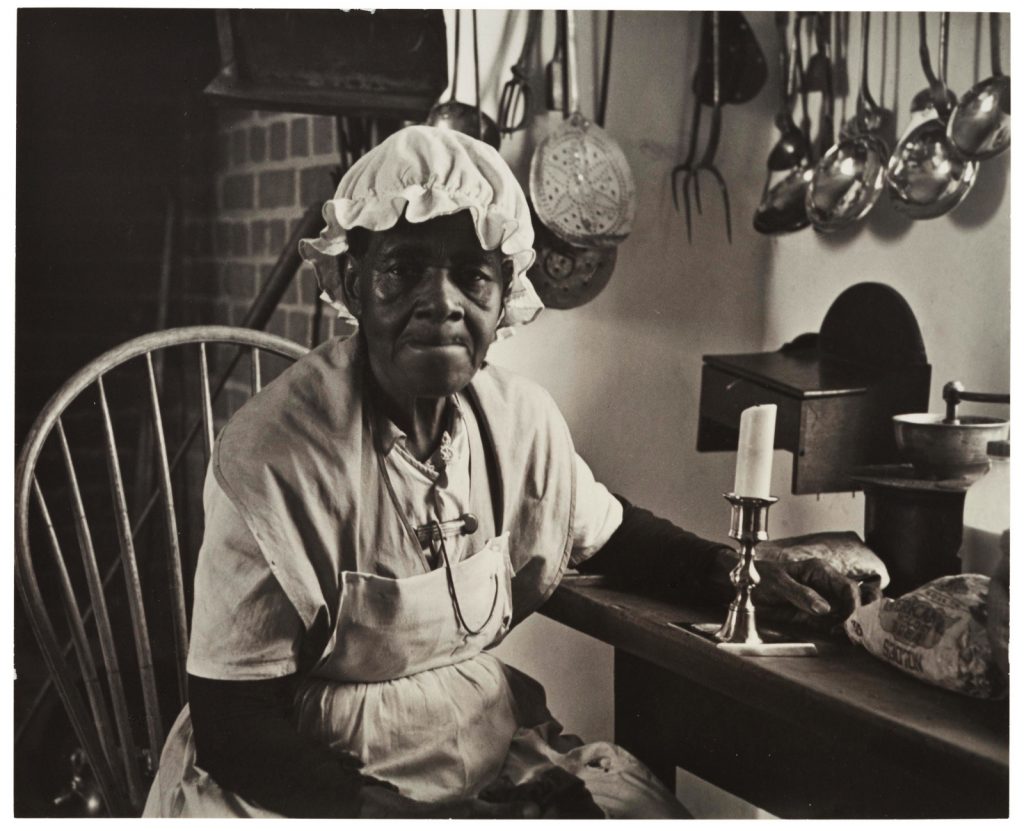 Since not buying the print of it MoMA deaccessioned three years ago, I've been low-key fascinated by Charles Sheeler's photo of "Aunt Mary," and the elderly Black woman in 18th-century costume seated in a kitchen at Colonial Williamsburg. Sheeler made the picture in 1935-36, while visiting at the invitation the Rockefellers. They donated this print to The Modern for a 1941 exhibition. This is the only Williamsburg photo Sheeler made public; the rest he used as reference for his paintings.
But that's not important now. While ostensibly depicting the past, Sheeler's photo of "Aunt Mary" captured a complicated aspect of its present, when a Black woman was hired to perform as an enslaved woman in a vast, celebratory fabrication of US colonial history, built by the richest man in the country, in the still foundationally racist Virginia of the 1930s. I've wanted to figure out who this woman was, and what her experience was like.
Because public versions of the photo and postcards over several decades referred to different interpreters as "Aunt Mary," I assumed it was a Mammy-like role, trying to recast slavery as a benevolent family relationship. Some historic mentions even say the woman playing "Aunt Mary" was born into slavery, a real possibility for an elderly Black woman in 1933, but less plausible in the 1950s.
During pandemic-related shutdowns in the Summer of 2020, I emailed folks at the John D. Rockefeller, Jr. Library at the Colonial Williamsburg Foundation to see if their archives might shed any clues on this woman's identity, and on the experience of her and other Black historic interpreters at the time. I was grateful and fascinated to receive from archivist Sarah Nerney who, with limited library access, managed to answer some of my questions, and inspire a whole bunch more.
First things first, for the first four decades, really, at Williamsburg, there were no specific historical people or fictional characters portrayed by African Americans. Costumed Black employees who drove carriages, opened doors, or worked as custodians, were known by their own names. And that likely included "Aunt Mary." [An excellent account of this era by Ywone Edwards-Ingram was published in February 2014 in the journal The Public Historian, in an article titled, "Before 1979: African American Coachmen, Visibility and Representation at Colonial Williamsburg."] As Ms. Nerney wrote:
The position of the employees of the Governor's Palace kitchen had the title of "kitchen assistant" or "kitchen helper" or "kitchen attendant" in the 1930s.  They reported to the Curator's department since the Curator had the oversight of the exhibition buildings (which the Governor's Palace and kitchen were).  The job duties of the kitchen assistant were to "receive and show the kitchen to visitors; dust the kitchen and polish the kitchen utensils" per a 1939 job description.  In a report on the history of CW costumed employees completed in 1976, there is a mention of a kitchen assistant from the 1930s called Mary Brown.  When we consulted the skeleton employee records we have for that time, there is a Mary Brown employed as a helper for the Curator from 1934-1939.  She is African American and her birthdate is given as 1860 (no further information).  That is the extent of the information we have been able to locate on Aunt Mary or Mary Brown in the Corporate Archives.
US Census records in 1930 and 1940, which bracket Mary Brown's employment at Colonial Williamsburg, show a Mary E. Brown listed as a homeowner on nearby Scotland Street. In 1930, she gives her birth year as 1865, and her occupation as laundress. In 1940, she says she is a cook/domestic born in 1869. In 1930, her household included two 16 year-old boys, Paul and Daniel Day, who were listed as grandsons. [The household above Brown's on the census sheet, presumably the house next door, were also named Day, John and Lucy, but they seem too old–60 and 61– to have been Mary Brown's children.] In 1940, Brown's household included two boarders, Raphael Whitley (21) and Linenza Johnson (32). Mary Brown of Scotland Street died in 1942, probably without knowing that her portrait had hung on the wall of a museum in New York City.
Despite many attempts over the months since, pulling on the threads spotted by Ms. Nerney, this is all I've been able to find about "Aunt" [?] Mary Brown or her family. There's more to know about the experience of Black interpreters in the early days of Colonial Williamsburg, though. Oral Histories of longtime hostesses/docents frequently mention their fond reliance on Black coachmen and custodians. And when Fleming Brown [no known relation] retired in 1958, after many years as Head Custodian of the Governor's Palace [where Mary, too, had once worked], his memories were recorded, too. There's an archive of newsletters for Colonial Williamsburg, which includes news and announcements for employees–separated by race.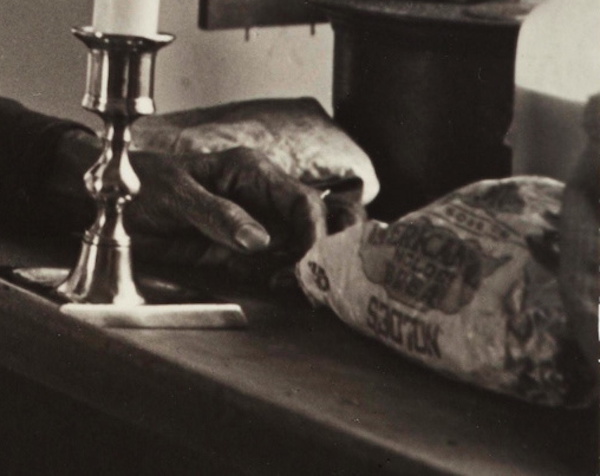 And there's the photo itself, which still reveals new information. Only this weekend did I notice the object on the table next to Mrs. Brown's elbow. It turns out to be the wrapper for a loaf of Nolde's American Maid bread, from Richmond. Whether he intended to or not, Sheeler showed that, for all its aspirations for historical accuracy, Colonial Williamsburg was very much a product of its modern moment. It's a moment and a reality Mary Brown knew very well.