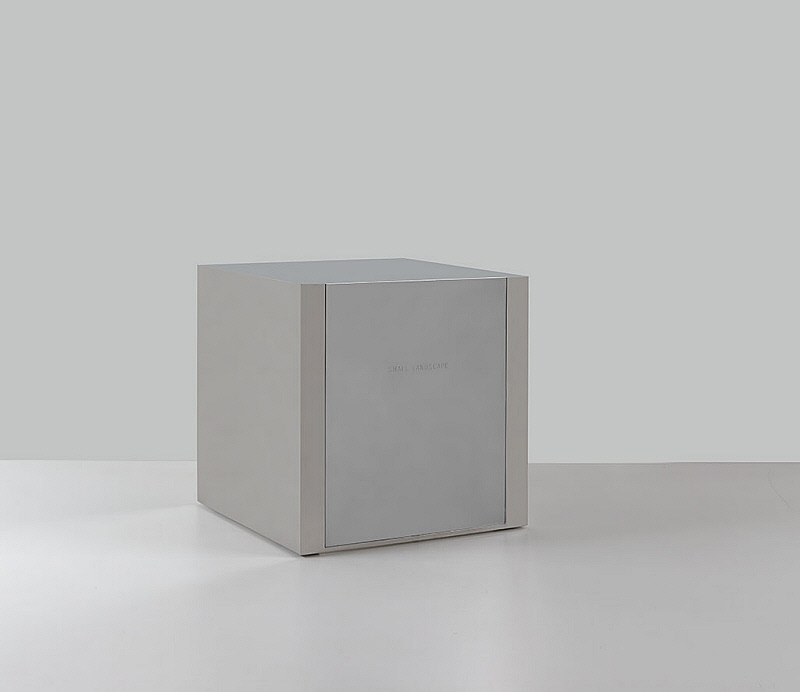 The opening at the Menil of an exhibition of Walter de Maria is notable partly because it's the first US museum retrospective of the artist's work, but also it is drawn entirely from the Menil's own extensive collection. There is a veritable landscape of work, and all the attention's been focused on a couple of square kilometers' worth.
Here is a small square of the landscape that caught my eye. Actually, a small cube of a landscape, a stainless steel sculpture and drawing combo called Small Landscape. It's from 1963-65, and the Menil only acquired it a couple of years ago. The images of it are rather inscrutable, as is the official description.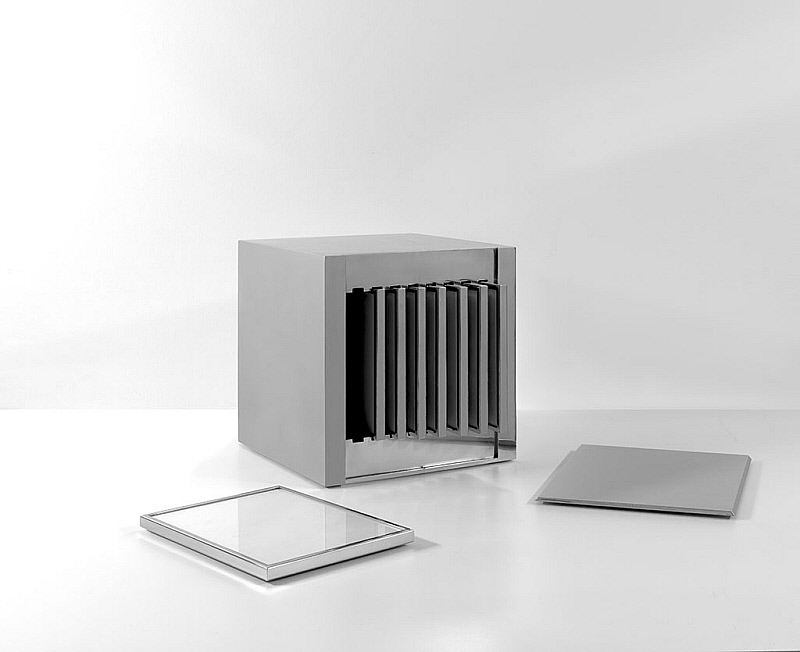 Fortunately, Prof. Anna Lovatt discussed the work a few months ago in her Research Fellow Lecture at the Menil Drawing Institute. She prefaced it with some drawings de Maria made of TV set-like boxes with beams or rays emanating from them, which casts a certain glow on Small Landscape's form. It is a cubic 13-inch box of polished stainless steel, lined with black velvet, which holds eight 8.5 x 11-inch drawings in steel frames. SMALL LANDSCAPE is engraved on the sliding lid/face.
The drawings are extremely difficult to see, even in person, Dr. Lovatt explains; there is a single faint word written at the center of each sheet:
TREE
MOUNTAIN
CLOUD
SUN
RIVER
SKY
FIELD
GLASS
Together they form a landscape. I had to listen several times because I originally assumed she said GRASS. Glass's role in a landscape is to shape and mediate it. A landscape is formed by being seen, whether through a window, or through the contemplation of a list of its constituent elements. Or through a screen, which resonates with Dr. Lovatt's larger discussion of the relationship of drawing and television.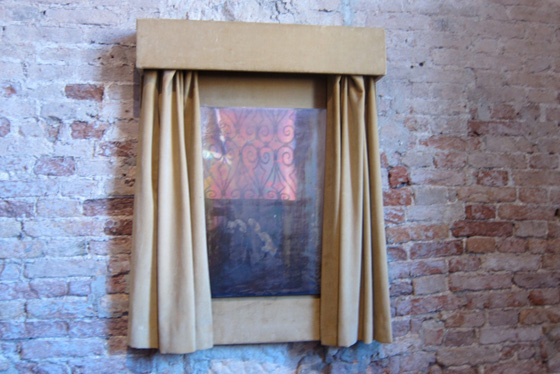 But Small Landscape obviously also relates to other bodies of de Maria's work from the early 60s. It was a moment when de Maria was making sculptures of polished stainless steel with the financial backing of Robert Scull. In 1965 he made Scull a mirror of silvered steel in a velvet frame and drapery titled, Silver Portrait of Dorian Gray, which the collector was permitted to polish back to perfection whenever he decided the natural oxidation had gotten too dark.
The hard to read text on paper also calls to mind another de Maria landscape series, [City name] Eats Shit [above], which was replicated almost immediately by Sturtevant as [City name] is Shit, which she showed at the Reese Palley Gallery in October 1971.
What sticks out from all this is how a decent number of people in the New York and European art worlds knew what de Maria was working on; it's only now, when his other work has been crowded out of mind by his land art, that we need a refresher. Fortunately, Gagosian has just released a 476-page monograph to finally share de Maria's complete history with the public. It sells for $200.