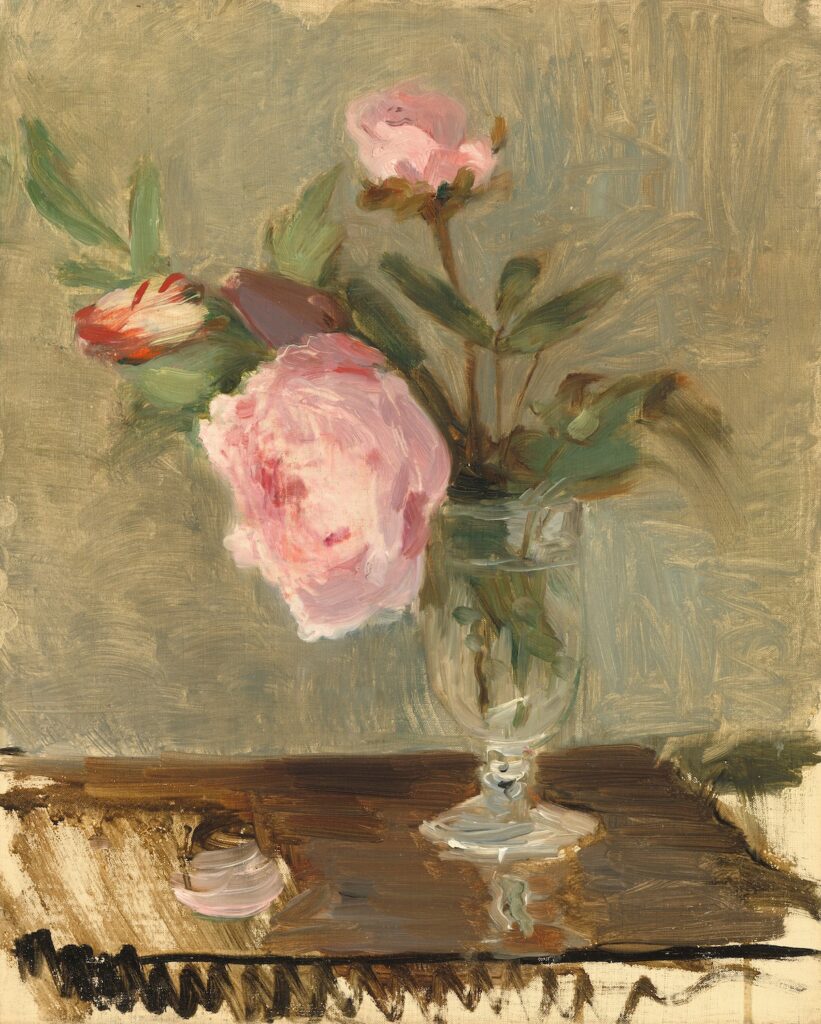 The first work on the National Gallery of Art's Artle quiz yesterday this Berthe Morisot painting of a vase of peonies, which, you have to admit, looks rather Manet-ish. I figured it wasn't Manet, because if it was, I'd have already seen it–unlike the dogs, which–we've been over this–are occasionally incredible, basically every [late] Manet painting of a little arrangement of flowers is, as far as I'm concerned, a masterpiece, and I can't imagine the National Gallery holding out on me by never showing this masterpiece. But I guessed Manet anyway, as a compliment.
Not that this is a masterpiece, ofc. Obviously, it's a bit of a mess, with some moments of greatness. And some meaningful echoes of Manet, who Morisot met in 1868. Morisot's family became close to Manet's, and she modeled and sat for him. And let him rework her paintings. And married his brother.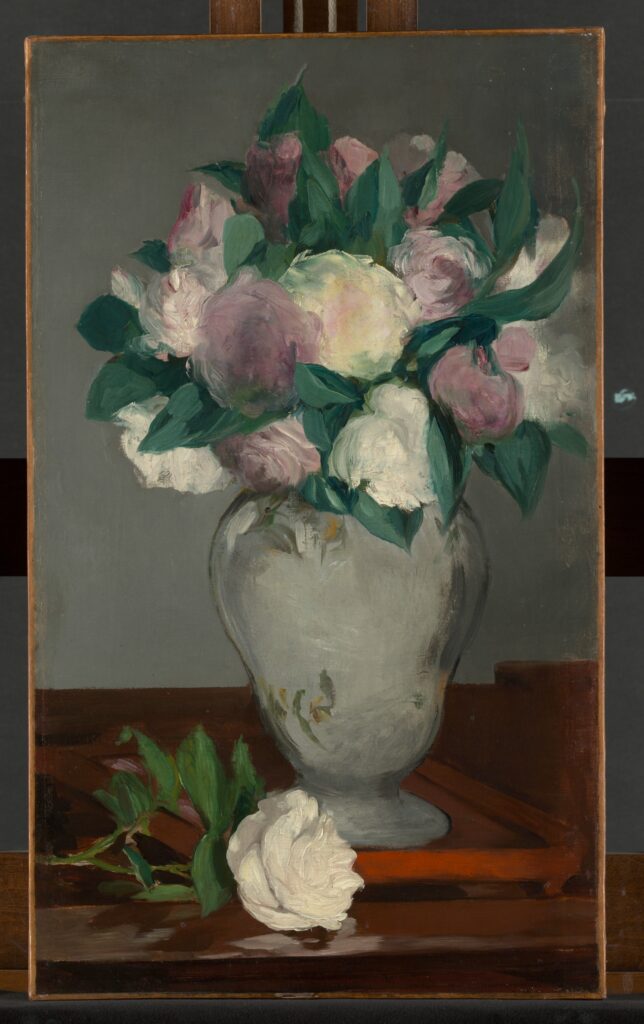 So Morisot would have known the peonies Manet liked to grow–and paint. Some of the half dozen paintings of peonies Manet made around 1864 had been shown repeatedly by the time the Morisots came to call.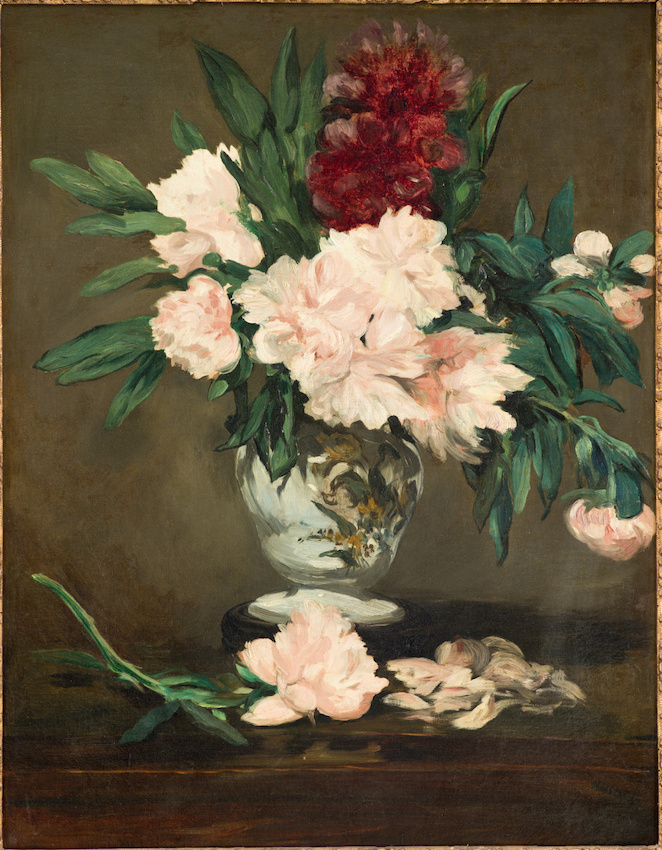 What's more amazing about this Morisot, though, is that it was unknown until 1980, when it was discovered underneath another painting, Un percher des blanchisseuses, from 1875. The title translates as a perch of laundresses, but the apparent English title is Hanging The Laundry Out To Dry. The combination of picturesque rural life and factory smokestacks encroaching on the horizon make the likely site of this painting Gennevilliers, a village outside Paris where the Manets owned property.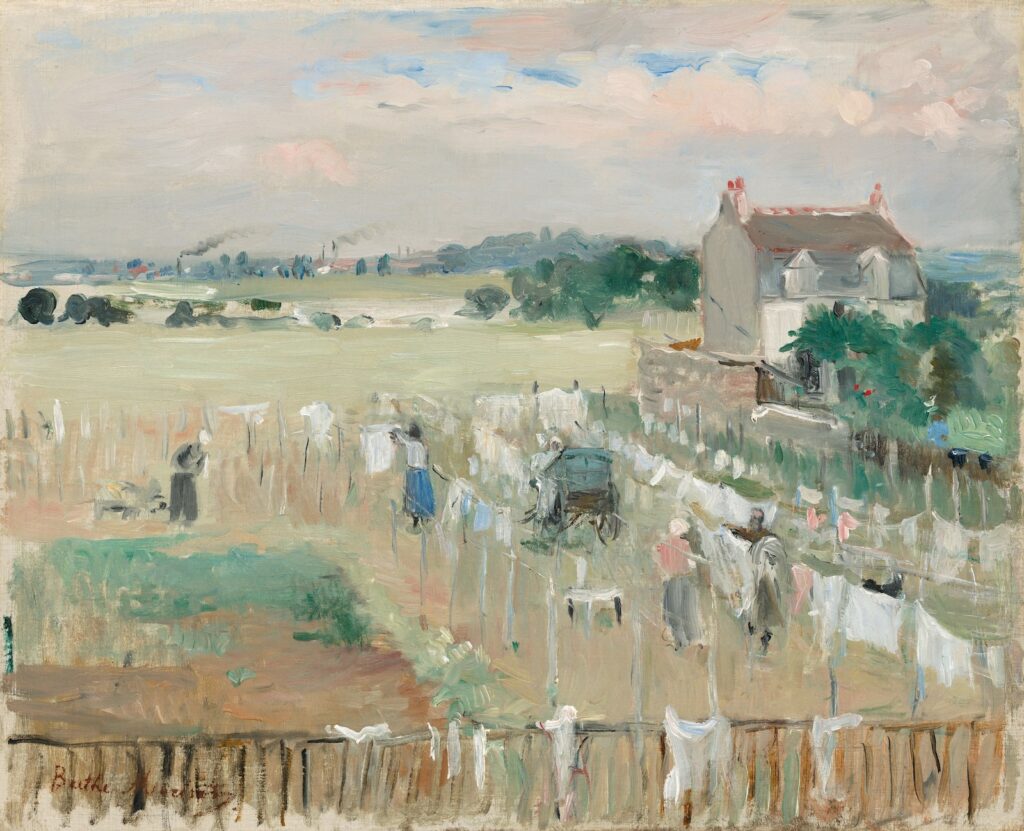 Morisot included the laundry scene in the second Impressionist exhibition in 1875, where it was one of at least four works by the artist purchased by Dr. Georges De Bellio. It passed through various heirs and dealers until Paul Mellon bought it in 1950. Given that timeline, it seems the most likely explanation is Morisot stretched a new canvas over the existing painting.
As a work from a historically important show, blanchisseuses was exhibited often over the years, and obviously included in the Wildensteins' 1961 Morisot catalogue raisonné. But it was only thirty years later, when the Mellons were getting ready to donate it to the National Gallery that the peonies painting was discovered underneath it.
The Mellons ended up donating Morisot's Hanging out the laundry in 1985. But they kept Peonies until 1994, which, wouldn't you? For all this, I'd expected more study of this double painting, and how it came to be. Despite decades of Morisot and Impressionist popularity, Peonies has never been exhibited outside the National Gallery.
I see at least five other paintings from the period, mostly around 1875, of the same dimensions, including two other Gennevilliers landscapes. Were these pre-stretched canvasses from the art supply store? It's now been 40 years; has anyone checked under them?
Previously, related: Not a Manet Facsimile Object [Manet painting of Morisot's violets]