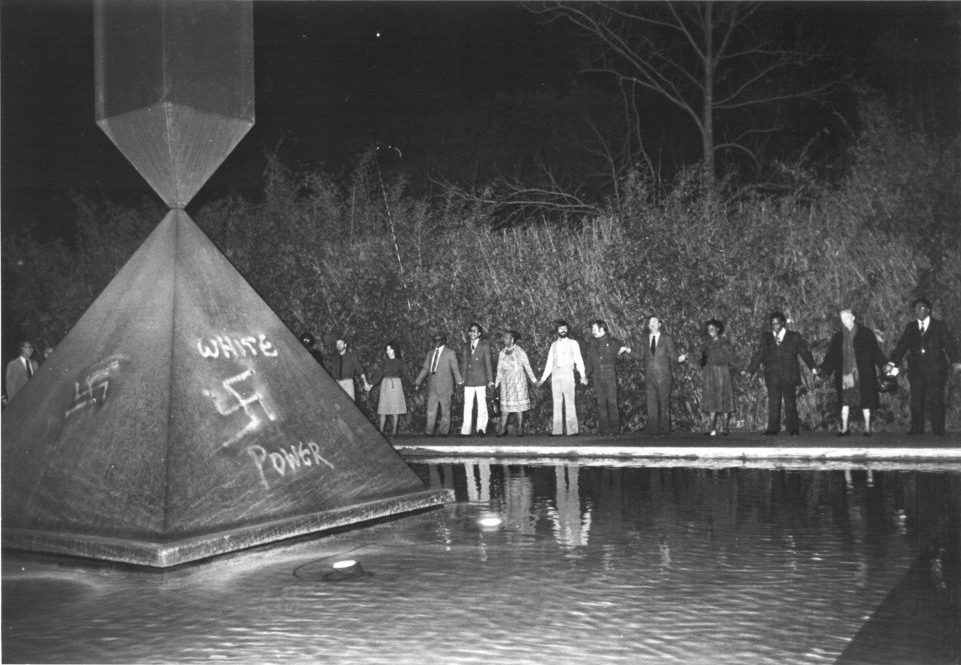 In May 2018, news of racist vandalism at the Rothko Chapel in Houston was soon overshadowed by a high school shooting in Santa Fe. I remember not posting about it at the time. Don't give it air, don't give it attention.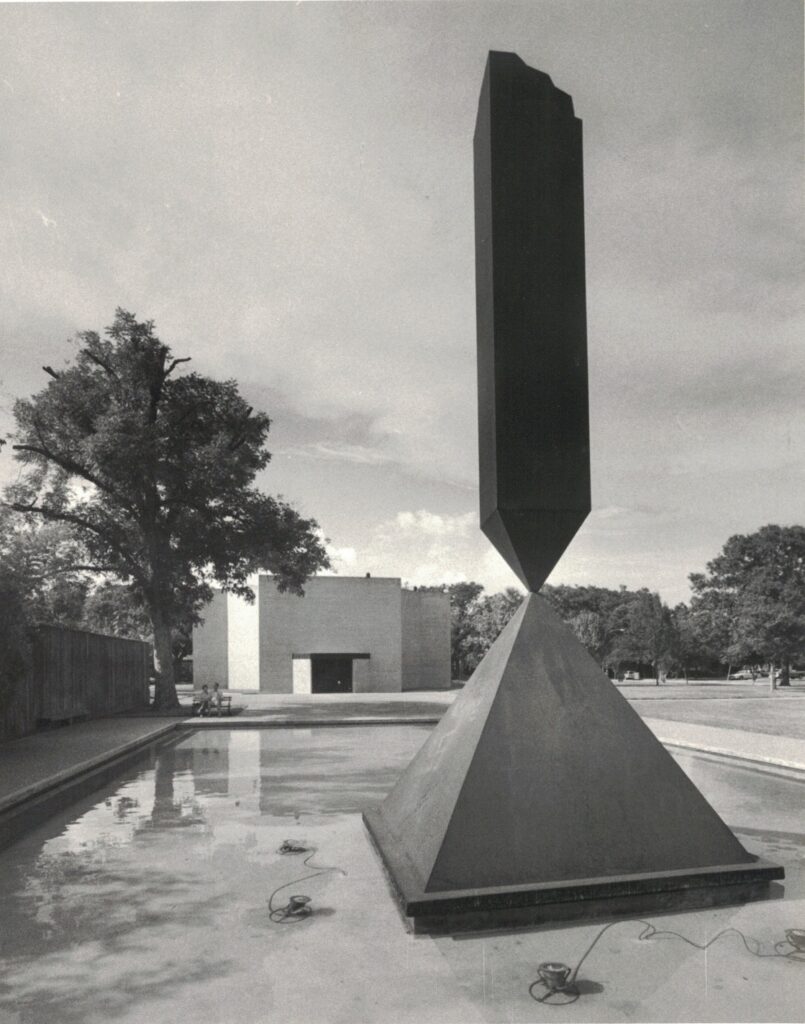 Because just a couple of weeks earlier, I'd been researching Barnett Newman's Broken Obelisk, trying to find out what protest message it had been tagged with when it was exhibited at the Seagram Building in 1967. And though I was unsuccessful, I'd found and bought a vintage press photo of Broken Obelisk in Houston in 1980, with most of the traces of the previous year's neo-nazi vandalism erased.
And then within days of finding a photo of an incident I'd known nothing about, a photo of an anti-racism demonstration surrounding Broken Obelisk ran at the top of Andrew Russeth's ARTNews review of a double biography of John and Dominique deMenil. It was from the same vandalism incident.
And of course, that brought to mind the whole origin story of Broken Obelisk at the Rothko Chapel, the site the deMenils chose after the Houston City Council refused their offer to match a federal grant to acquire the sculpture for the city. And how Houston's white politicians, in 1969, did not want an abstract sculpture in front of city hall, and especially one that was dedicated to the late Rev. Martin Luther King. And they definitely did not like the implication of John deMenil's offer to change the artist's MLK dedication to an inscription from the New Testament: "Father, forgive them, for they know not what they do."
And so I thought, you know, maybe just don't post about that, because ignoring it will make it go away, or at least go away sooner. And you know what, that has not worked. It has not worked at all. So let's put it out there that the white supremacism and fascist violence we have to deal with now is not new, and it's not eight years old, but it's been festering in places all over the US for a long, long time. And it will only get worse if we do nothing to stop it.
[lmao wtf how is it literally only at the end of writing this, and I'm debating whether to add the "architecture" category that I'm like, wait, how is it that the architect of the Rothko Chapel and the deMenils' house was actual nazi Philip Johnson? I'm going to guess that the deMenils, both of whom served in the French Resistance in WWII, should be forgiven, for they knew not who they hired, but this will require some digging.]
Get William Middleton's Double Vision: The Unerring Eye of Art World Avatars Dominique & John deMenil [amzn]
Broken Obelisk and Racial Justice in Houston, by Amanda Douberley [ricedesignalliance.org]