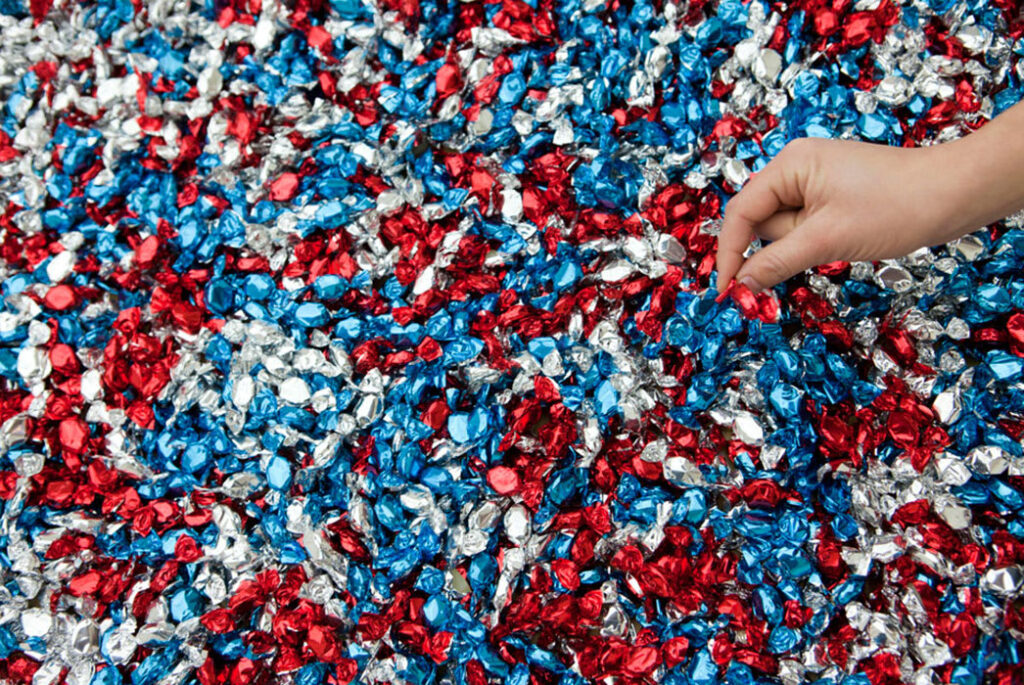 Felix Gonzalez-Torres' "Untitled" (USA Today) was included in Take Me (I'm Yours), an exhibition of participatory artworks, which opened at the Jewish Museum in New York in September 2016. The show was first conceived by Hans Ulrich Obrist in 1995 in particular reference to Gonzalez-Torres' work. HUO was joined by Jens Hoffman and Kelly Taxter at the Jewish Museum in organizing the expanded view.
I opted for the image above because it feels like it could be from anywhere, but it is from Specific Objects Without Specific Form, a three-venue, 2011 exhibition of Gonzalez-Torres' work organized by Elena Filipovic in 2010-2011. Filipovic included the work at Wiels in Brussels and at MMK Frankfurt in 2011. When the show was reconfigured by the artist co-curators at each venue, Danh Vo and Tino Sehgal, respectively, the work was removed, swapped out with another candy piece owned by MoMA, "Untitled" (Placebo), 1991. The extensive catalogue for the show was published in 2016.
The parenthetical in the title, USA Today, was originally a reference to a brightly colored newspaper with nationwide circulation, which you'd have to step over every morning on your way out of your mid-range hotel room. The artist once told Bob Nickas the piece referenced the "sugar rush" of patriotism. Obviously, I chose it for the color and everything else.