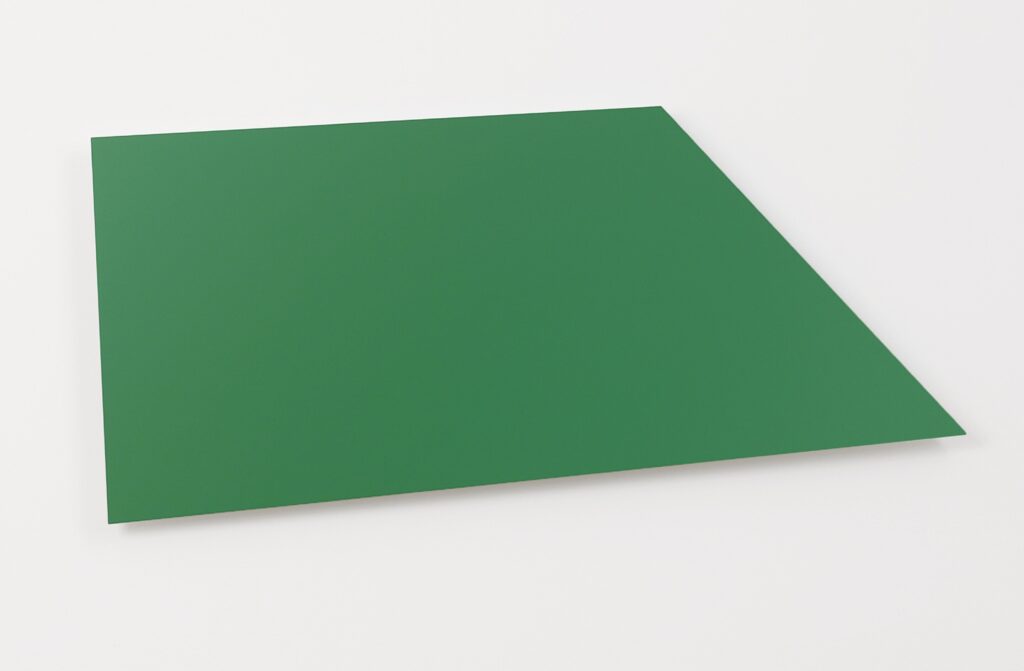 The circumstances of the shape are well-known, and generative: Ellsworth Kelly saw an aerial photo of the World Trade Center site illustrating a 2003 New York Times article about the controversies over what to build. Kelly collaged his proposal, which he sent to the Times, which Herbert Muschamp donated to the Whitney. Interestingly, Kelly's collage vividly captures the color of his proposal to fill the entire site with a large, grass-covered mound, used only for resting and gathering, while the flat, isometric image elides the actual form. Neither, as it happens, is it captured in the abstracted aluminum object he made in 2011, which somehow feels even flatter.
The circumstances of making this object are unclear, at least to me. There is the possible timing of an anniversary, of course. The collage was included in Peter Eleey's show, September 11 at MoMA PS1, but a green panel was not.
The size of the panel is very small, even domestic: 22 1/4 x 49 1/2 in. (56.5 X 125.8 cm). This feels like an object to live with. It was produced in painted aluminum by Carlson Baker, fabricators who were very familiar to Kelly. It was made in an edition of three. Kelly gave ed. 1/3 to the Whitney. The example sold as a fundraiser for something at Sotheby's in 2013 was listed as AC II, so Kelly had at least two for himself. The title then was Green Panel (Ground Zero), but the fabricators listed it as Green Panel, with the CR number, EK1022. The example hanging in the final gallery of the EK100 show at Glenstone is from the collection of Jack Shear. I recall it as thicker than expected, an aluminum slab rather than an aluminum sheet. Maybe that is the first one. Did they have it up in their house?