They're both under-known, and so they probably deserve their own posts, but the uncanny similarity of these two Alcoa Forecast program designs requires me to put them together.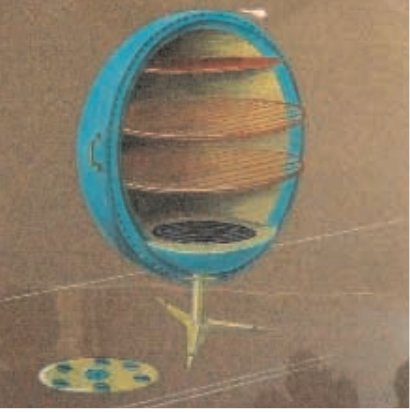 Greta Magnusson Grossman was a Los Angeles-based Swedish industrial designer. According to the notes at the 2008 Drawing Center exhibition of her never-before-seen technical drawings, she was highly influential on her fellow Southern California colleagues in the 1950s-60s, including the Eameses.
That show included a sketch [above] for the personal aluminum oven she designed for Forecast. A small photo of the wacky, ball-shaped oven appeared in a collaged Forecast ad in the Dec. 28, 1959 issue of LIFE Magazine.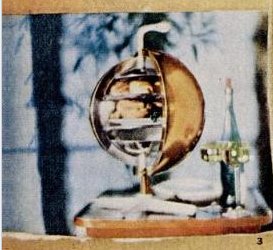 [update: whaddyaknow, the new blog The Modernlist reports that the Arkiteturmuseet in Stockholm has the first-ever Magnusson Grossman retrospective right now, through May 16. Definitely check out that crazy Grossman House.]
Graphic designer Lester Beall, meanwhile, is better known, at least by my criteria: I recognize his awesome, constructivist-style photocollage posters for the Rural Electrification Administration from MoMA's design collection. His portfolio site says he designed the Music Sphere for Alcoa in 1956, which seems remarkably early.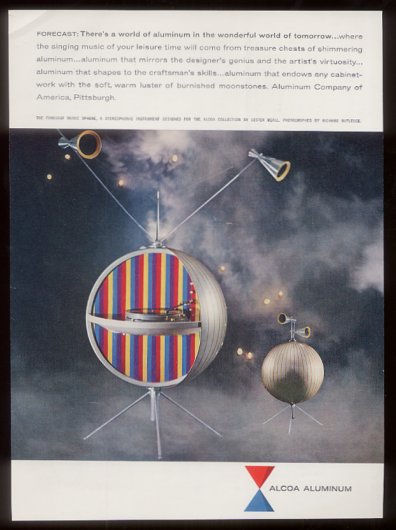 An unsourced tear sheet for a Forecast Collection ad on eBay says it's from 1969, which is remarkably late. I'm going to guess it's really 1959. But the real question is why the future doesn't have even a tiny fraction of the giant, shiny aluminum ball-shaped appliances we were promised?
"Aluminum that mirrors the designer's genius and the artist's virtuosity"? "Aluminum that endows any cabinetwork with the soft, warm luster of burnished moonstones"?? I think we have found Project Echo's official stereo!