Alright, I know it all looked like a black hole of boring embarrassment last week, but Amazon Art just broke through to the other side.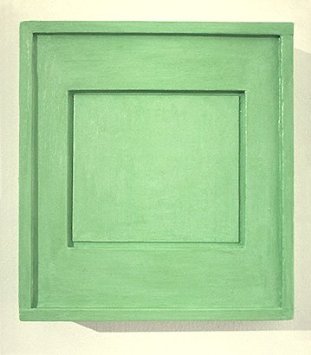 Artisoo Surrogate Painting [No. 783] – Oil painting reproduction 30" x 26" – Allan McCollum, $193
Kriston Capps and Joy Garnett were tweeting this link to what seems to be an Allan McCollum Surrogate Painting (No. 783), a 30×26-in original oil painting, offered on Amazon by a gallery called Artisoo–for $193. Kriston pointed out that Amazon's gallery system has a forgery problem, or at least an authenticity problem. Which could very well be the case! But this is not why.
Because Allan McCollum's Surrogate Paintings are not oil on canvas, but acrylic on plaster. Or as in the case of [No. 783], which was made in 1978, acrylic on wood. They're painting-shaped sculptures, really. And what Artisoo is selling here is actually an original oil painting of the jpg reproduction of the McCollum. Artisoo is making an artwork that's the picture of an artwork that the original artist hoped would help a gallery "become like a picture."
Artisoo guarantees that your Surrogate Painting [No. 783] will be "100% hand-painted by our experienced artists. We stand by our top quality." And you can order with confidence knowing that "The original motifs presented by Artisoo are created by artists from the most prestigious art schools and academies of fine arts. [emphasis added, because, 'motifs'! -ed.]"
Chinese Paint Mill has appropriated Google Images and put it up for sale on Amazon. There are at least 18 other McCollum jpgs available as oil paintings. They all appear in the first page of the artist's Google Image results. Artisoo currently offers 8,124 other paintings on Amazon, and unnumbered thousands more on their own website. In your choice of seven sizes.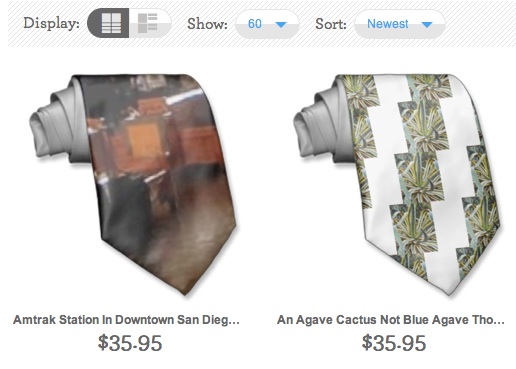 It's the fine art equivalent of LifeSphere, the Spamerican Apparel botcompany Babak Radboy wrote about that systematically turns every public domain image into every possible Zazzle product.
At least it's trying to be. After a quick surf, I'd say that this Artisoo McCollum Surrogate Painting counts as a rare conceptual gem; easily 98% of the company's merch is Chinese Paint Mill fluff. I'd call it pure over-the-sofa art, but that'd only account for one of the eight options in their Shop By Room function.
But there's something sublime about the way a painting of a photograph of a minimalistic, monochromatic painted object encapsulates the entirety of orthodox post-war art history, collapses it, and drops it into the world's biggest online vending machine. It's painting pared down to its barest essence as a privileged cultural signifier: a decorative picture of whatever, made by hand. Painting sells its soul for Dino Sponges. But wait, there's more!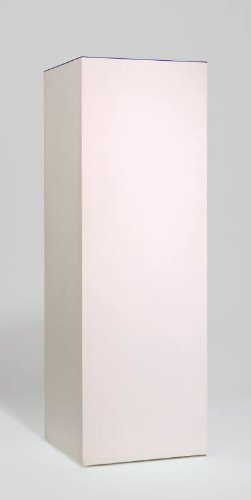 Like any serious collector, I like to shop for my art alphabetically, which means the first post-war artist to emerge in Artisoo's stable is Anne Truitt. Artisoo offers 62 paintings with an Anne Truitt "motif," including installation shots of her trademark acrylic on poplar columns; monochromatic works on paper; sumi ink drawings; and even the barely visible washes of the Arundel paintings. Can't wait to see how those come out.
Artisoo's daring paintings, uh, interrogate the conventions of scale as deftly as the notion of medium, date, authorship, context, and form. At 30×10 inches, this painting of a Parva sculpture is easily three times the size of Truitt's original.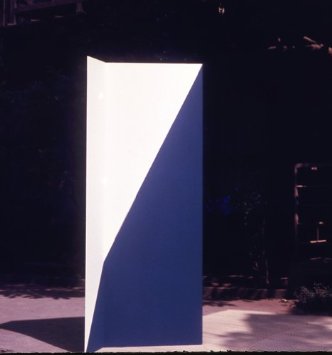 Artisoo Signal – Oil painting reproduction 30" x 28" – Anne Truitt
In a move that feels appropriated from my own playbook, Artisoo even offers paintings of early works that Truitt destroyed, the aluminum sculptures she created in 1964 while living in Japan. Unlike Destroyed Richter Paintings, however, Artisoo's Artisoo Signal – Oil painting reproduction 30" x 28" – Anne Truitt ($204) does not attempt to recreate the experience of being in the original's presence; it promises only its own, bold self: a painting of a vintage Kodachrome of a nautically colored sculpture bathed in the light of Tokyo courtyard.
I'm on slow wireless at the moment, so I gave up hope of surfing through all 340 pages of Artisoo's products, and instead started plugging in names of artists I liked, or rather, artists I'd like to see appropriated by Amazon Chinese Paint Mill. It didn't really pan out. No Kosuth, no Andre, no Beuys, Lewitt, Gober, Sherman, Levine, Hesse, Newman or Prince, and no Richter. The company's web-indexical curation strategy is clearly still a work in progress. There are several dozen Johnses on Artisoo.com, though. I wonder if I could order a copy of Flag in the exact dimensions of the Short Circuit original? Yes, there's no Sturtevant.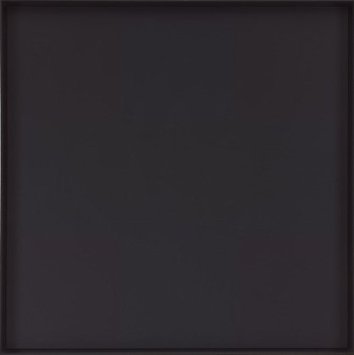 Artisoo Abstract Painting – Oil painting reproduction 30" x 30" – Ad Reinhardt, $221
There are Alma Thomases, though. And 63 Calders. Would you like a painting of a stabile? Oh, nice, there are 50 Ad Reinhardts. Those ought to be interesting. Likewise the 23 Agnes Martins.


Artisoo Happy Valley – Oil painting reproduction 30" x 30" – Agnes Martin, $239
Here's a standout, though, which reveals a lot about Artisoo's practice. It's a painting called, Http En Wikipedia Org Wiki File Hamilton Appealing2 Jpg 1956, and it comes 4x-36x larger than Richard Hamilton's 10-inch paper collage.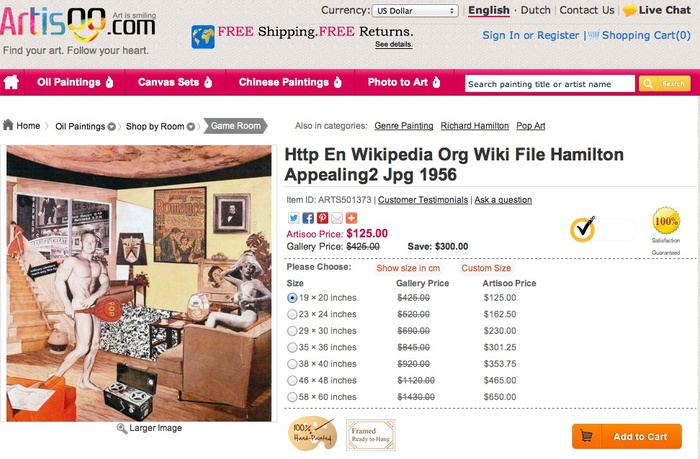 Http En Wikipedia Org Wiki File Hamilton Appealing2 Jpg 1956 ($125-650)
Everything about Artisoo is so immediately and obviously fantastic, I almost don't want to spoil it by seeing actual paintings. Almost.