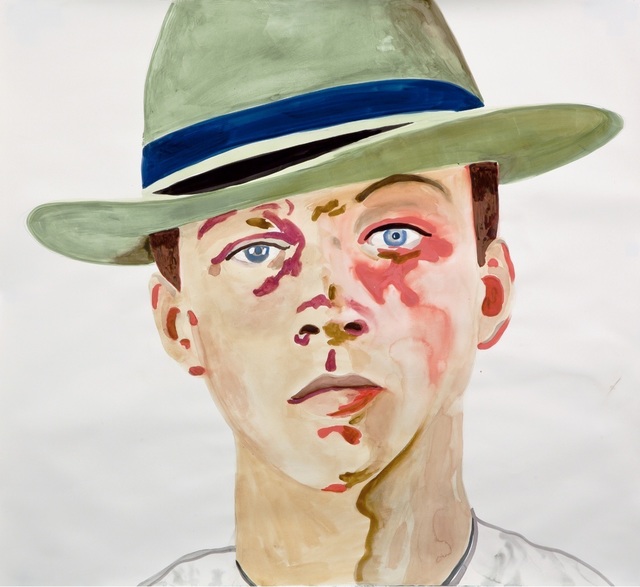 I still admire his films. And I still definitely want to make that shot-for-shot remake of Gerry I've been contemplating since a day after seeing it for the first time. But nothing I have seen has me pumped for Gus Van Sant's upcoming exhibition of wan paintings that Vito Schnabel's putting on any minute. One thing I am intrigued and concerned by is something I have not seen.
This joint at Vito's is not Gus's first gallery exhibition. Artsy notes, almost correctly, that "In 2012, Gagosian Gallery in Los Angeles gave him a joint show with James Franco, which featured watercolor portraits by Van Sant and two collaborative films that riffed on My Own Private Idaho." According to the AnOther Magazine article linked above, the show, "Unfinished," was in February–April 2011 at Gagosian Beverly Hills. The gallery's otherwise comprehensive-slash-exhaustive website makes no mention of the show.  The Internet Archive reveals the webpage for the show was deleted some time between November 2011 and January 2012.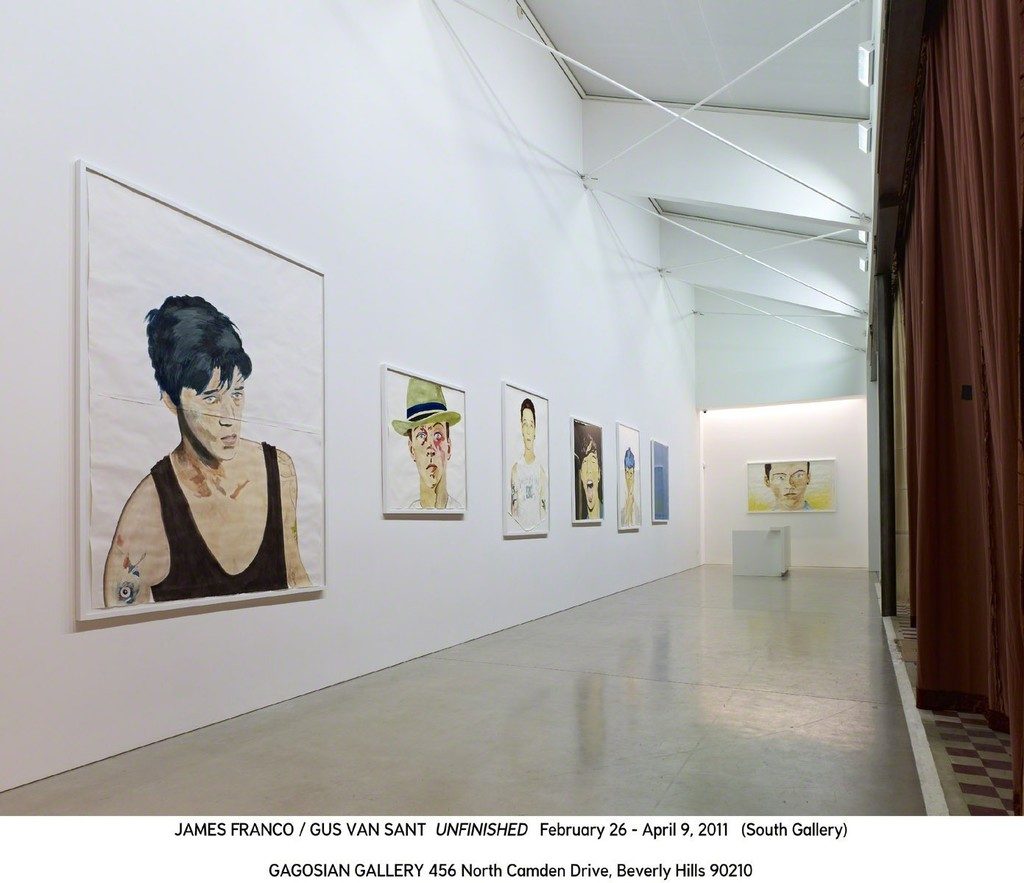 [OK, there is one mention: Derek Blasberg brings it up in an interview with Gus in the Summer 2018 issue of Gagosian Quarterly, an availability that now feels like part of the pitch phase for the current show. Gus is photographed on his sofa, in front of one of his giant, scrawly paintings.]
And it's not like the show didn't happen; Patrick McMullan covered it. But it wasn't so much Gagosian giving Gus a show, as James Franco proposing a project to Gagosian where Gucci would pay to digitize 25 hours of dailies and outtakes from My Own Private Idaho, which Franco and Van Sant would each re-edit. That did not happen. Instead, Franco, "performing as" Van Sant, edited 12 hours of River Phoenix footage into My Own Private River, and some other outtakes into Endless Idaho, an adaptation of one of the three source stories for the original film. Van Sant's contribution, beyond all the footage, was seven large watercolors of casting photos of hustlers. [Three are still listed on Artsy. They're not bad. Watercolor seems a tricky medium to manage, especially at scale.]
That summer My Own Private River appeared at PS1 as an exhibition slash film series curated by who knows? But the Franco indulgence and the double row of unwatchable monitors points to Klaus. The film was shown on an old TV facing a casting director's table at the end of a hall, so I guess we're all performing Gus Van Sant now. There was also Franco's 8mm adaptation of an earlier source script, featuring younger, Hispanic versions of Keanu & River's characters; and Aa 20-years-older Udo Kier reprised his daddy role. Not at all confusingly, it was called My Own Private Idaho. Instead of watercolors, Van Sant showed a wall of large-scale, unmounted prints of film stills.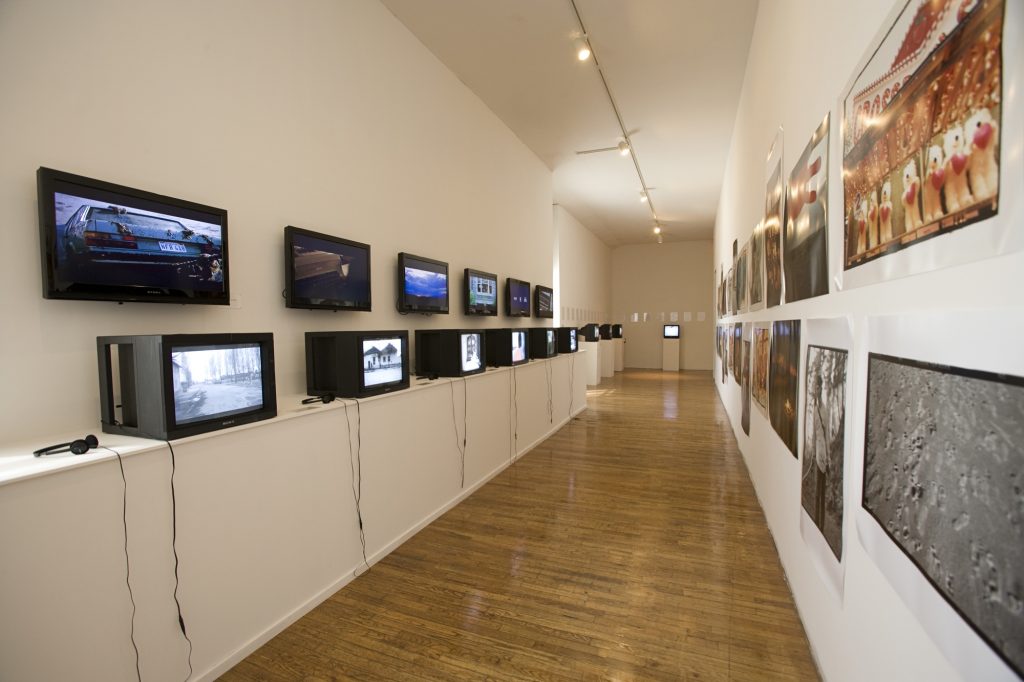 In September 2011 Franco and Van Sant showed an installation titled "Memories of Idaho" in the lobby of the Toronto International Film Festival. It comprised Gus's large photos "of actual street hustlers" and a new version of My Own Private River [below], edited down to a two-hour alternate take version of the original film after Joaquin Phoenix complained about the invasiveness of the 12-hour clip dump. The Film Society of Lincoln Center screening in February 2012 (programmed by Film Comment) also included Van Sant's photos.
Franco apparently wanted to release his reworked version, but New Line wouldn't let him. Art was fine, though. It was enough for the film and the title/hashtag to be ensconced in the River Phoenix fandom. It was uploaded to YouTube in 2015.  In 2018, Franco was accused of inappropriate sexual conduct by several aspiring actresses at his film school, which he abruptly closed. Which I mention because by this point Van Sant feels oddly peripheral to this whole project, displaced or subsumed by Franco's hustle.
It appeared and was covered elsewhere, and vestiges of documentation exist, but it still seems odd for the gallery who staged a show to delete any record of it from their archive. In just a few years this show has appeared to be many things: a project in a gallery; a film screening in a museum; an art installation in a film festival; a test of the meaning of context and the power of celebrity; and now, a tossed-off promotional claim for attention and artistic credibility that gets obfuscated and complicated upon even a cursory examination. Art is so wild, y'all.