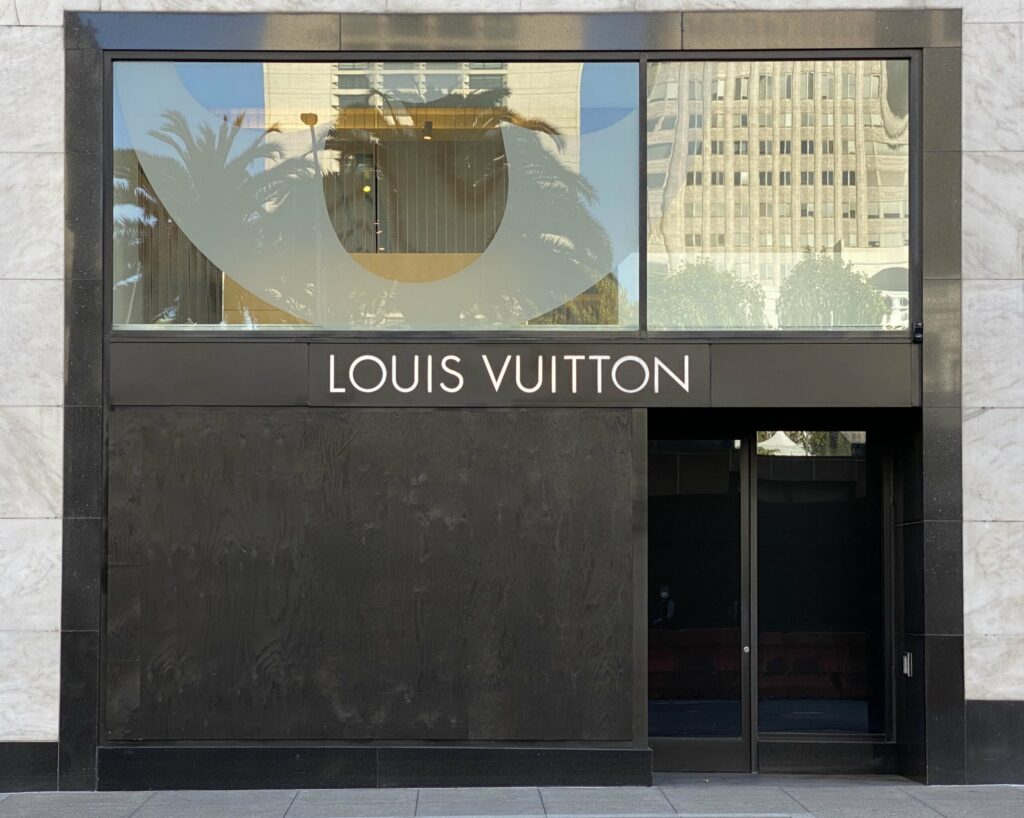 It has been a while since realizing works like this. Partly, it's just the world. As Martin Creed says, The Whole World + The Work = The Whole World.
But when it exists, it also feels wrong to ignore it. Untitled (Heist) was recently installed in San Francisco's Union Square, following a flashmob robbery of several hundred thousand dollars (retail) of merchandise from the Louis Vuitton store.
When Broke Ass Stuart ran this installation shot by Hunter MacNair on their post, "Let's Talk About The Louis Vuitton Heist," I first thought it would be a deep dive on the street value of the various items that got jacked.
But BAS instead went deep on luxury-fueled capitalism's complicity in gaping inequality. And that, along with LVMH's recent appearances in the art news, seemed like a collab-worthy context in which to encounter this work. Which I imagine will remain on view through much of the Christmas shopping season, at least. Maybe minting it as an NFT would make it last even longer.
UPDATE: As San Francisco Mayor London Breed's office put it in their review, "I think that's the visual for where the rule of law needs to make its stand." [FOIA'd and published by @journo_anon] Thanks for supporting the arts, Your Honor!
Let's Talk About The Louis Vuitton Heist [brokeassstuart]
Previously, related: Untitled (News Coverage), 2021; Untitled (Trump Plaza Black), 2016