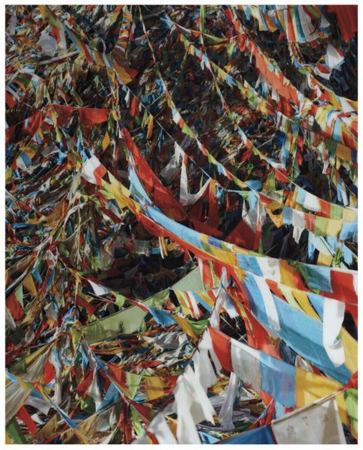 This gorgeous Darren Almond photograph, Infinite Betweens: Becoming Between, Phase 3, of an impossible-to-map landscape covered with Tibetan prayer flags is coming up at Philips in a couple of weeks. It reminded me how quietly strong his work is, and how his underlying interests in time, place, memory, and the human experience of them resonates with me. I just watched his Tate Talk from 2005 which, though it was a good primer on his film work, was pretty thin on insight. Almond is a pretty reticent guy on stage, and except for his discussion of his project of relocating Auschwitz bus stations into the gallery, it's only at the end when someone in the audience asks him about memory that he kind of lights up.
While trying to track down a long, deep-sounding quote from his grandmother, I found Brad Barnes' interview with Almond on Kultureflash, which was apparently conducted the next day:
BB: I think I know what you mean by seeking a "reassurance". Is that the grandfather alluded to in If I had you?

DA: Yes it is. "A much loved man" as carved on his head stone. For me he supplied much of my early field of memory. The terrain of his own life's experiences he passed on as we were very close. The whole notion of travel for instance came from him albeit that he was serving in the army during the WWII he then revisited the towns throughout Belgium, France and Germany after the war and maintained friendships with people he met through the war. During the procedure of trying to make If I had you my grandmother and I shared our feelings that we still had for him and in fact they were feelings generated by memory only so a shared local memory does provide a certain reassurance. I hoped that despite an increment of melancholia produced in If I had you I also hoped that it would provide a certain optimism. I like a statement that was produced to me last night at my talk at the Tate, "the vision for the future is not utopia it is a re-interpreted 'telling' of the now. Memory is not exactly the site of freedom, but the layering of identity and memory is a basis for moving forward. The limit for this is language itself."
Previously from 2002: wow,
family, travel, memory, Auschwitz bus stops.
I just wanted to add a "Previous Darren Almond mentions" link, but it's all kind of circling back.