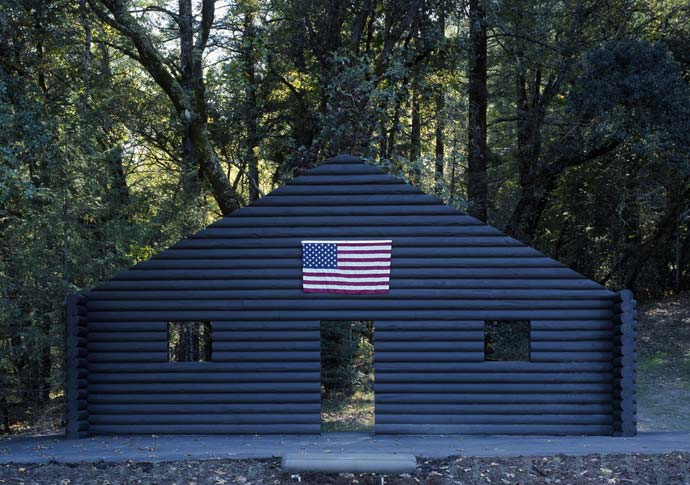 [This is not the Cady Noland log cabin you're suing for] Log Cabin Blank with Screw Eyes and Café Door (Memorial to John Caldwell) (1993), collection Norman & Norah Stone, image: stonescape.us
What is the deal with Cady Noland and her sculptures, especially this Log Cabin situation?
Which is not to say this Log Cabin. Let's be clear, the Cady Noland sculpture above is not the one in dispute in Scott Mueller's lawsuit against Michael Janssen Gallery. It is owned by the Stones, and is installed happily in Stonescape, their art vineyard in Napa. As of Saturday evening, Courthouse News, Artnet, Artforum, Art Market, and everyone who followed their initial report still has this basic fact wrong.
The facts about the sculpture's history and provenance don't line up to this work and this image, but you can't expect a court reporter to pick up on that. The reason the Stones' Log Cabin is mentioned or pictured at all is because it's on Google, whereas Wilhelm Schuermann's is not. [Courthouse News and everyone also got the basics of the refabrication wrong, and that matters, and it is because people don't read the primary material, they just go with whatever.] But Mueller has attached the sales agreement as an exhibit to his suit, and it includes a 2-page information sheet on the artwork itself ["Artwork Description And Provenance"] that leaves no doubt what it is, where it's been, who owns it--and some of what happened to it. I assume it was prepared by Janssen in cooperation with Schuermann. [Download it and read along: schuermann_noland_log_cabin_appendix.pdf]