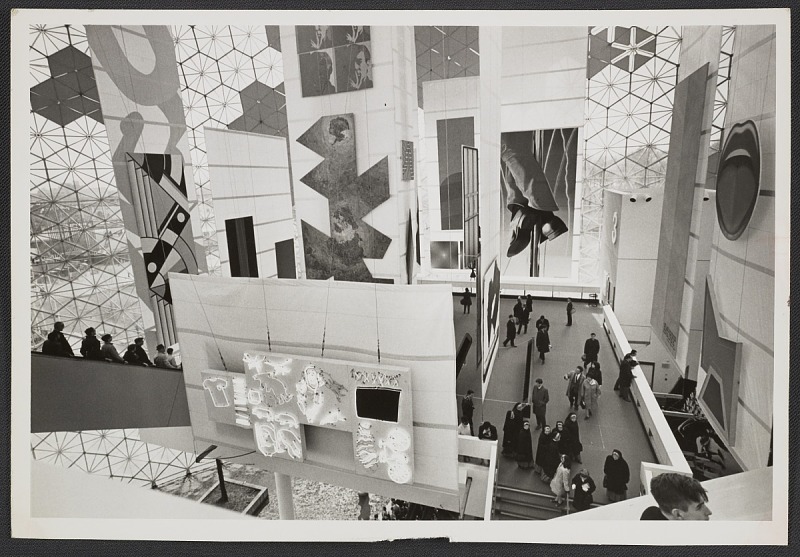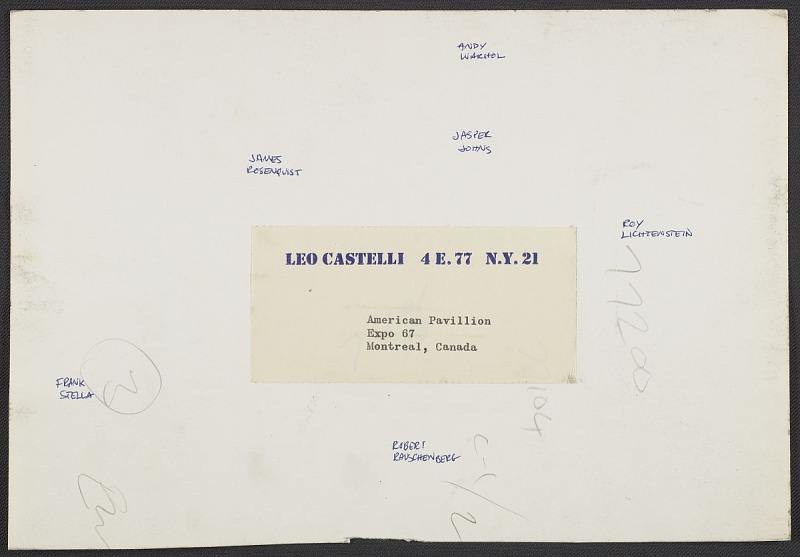 Though I haven't looked at the US Pavilion at the Expo67 World's Fair in a while, it still lives in my heart. But I just stumbled across this photo of the American Painting Now show from the Leo Castelli Gallery. I should clarify, the show American Painting Now was at the US Pavilion; the photo is from the gallery's records at the Archives of American Art. But it's hard to tell, when six of the 22 artists Alan Solomon curated into the show came from Castelli.
More than ten years after I first got fascinated with world's fairs as exhibitions, I was surprised to find it's still not easy to see who or what was in the show. So I've mirrored the American Paintings Now press release and checklist from worldsfairphotos.com's US Pavilion press kit. The installation of the sailcloth panels and innovative uplighting gets two paragraphs and top billing over the paintings themselves. Solomon is not mentioned at all.
But at least the artists in the show were listed in what I think is rough exhibition order, perhaps following the pavilion's prescribed escalator&walkway path: Edward Adevisian, Allan d'Arcangelo, Jim Dine, Friedel Dzubas, Helen Frankenthaler, Robert Indiana, Ellsworth Kelly, Roy Lichtenstein, Robert Motherwell, Kenneth Noland, Tom Wesselman, Nicholas Krushenick, James Rosenquist, Richard Anuszkiewicz, Jasper Johns, Andy Warhol, Frank Stella, Larry Poons, Larry Zox, Robert Raucenberg [sp], Claes Oldenberg, and Barnett Newman.
Except though Larry Poons' painting was credited as coming from the Sculls, he showed with Castelli then. So really, it's seven of the 22, and six in one installation shot. [Interestingly, six of these artists also made work for the New York Pavilion at the 1964 World's Fair: Indiana, Kelly, Lichtenstein, Rauschenberg, Rosenquist and Warhol.] I think I need to finally chase down this entire show.
CANADIAN WORLD EXHIBITION, MONTREAL, 1967, AMERICAN PAINTING NOW press release and exhibition checklist [pdf via worldsfairphotos.com]