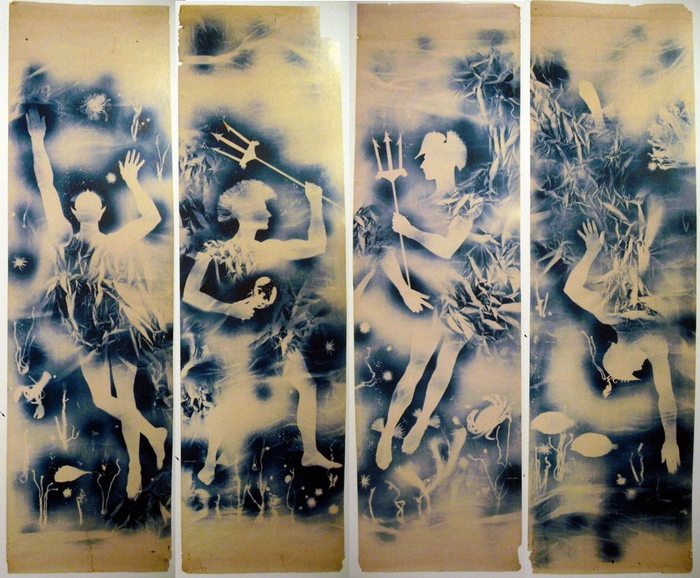 The four-part cyanotype/photogram that is Matson Jones' masterpiece will be offered for sale in a few days at Christie's.
Previously known as Jasper Johns Blue Ceiling when it was being offered for a variety of mid-seven-figure prices a few years ago, the work, by Robert Rauschenberg and Jasper Johns is now untitled. The duo made it in 1955 for a window display at Bergdorf Goodman. The design director who hired them, Gene Moore, held onto the prints for several decades, until they were acquired in 1978 by the current owner.
Roberta Bernstein included an illustration of them in the chronology of Johns' catalogue raisonée (v5, 8.), but not in the works section.
The estimate is $600-800,000 but seriously, who even knows? I just know I want them, and/or I want to see them in a museum somewhere, away from direct sunlight.
Dec. 2, Lot 40: Matson Jones, Untitled, 1955, est. $600-800k [christies. UPDATE: Sold for $750,000, hopefully with a gentle landing.]

Previously, related: Wait what? Jasper Johns Blue Ceiling by Matson Jones??
Matson was Mrs. Rauschenberg's Maiden Name
Also related: Michael Lobel's Artforum cover story about Rauschenberg's early blueprint collaborations with Susan Weil