Well, let's just get this out of the way: if you can only see one Warhol exhibition in Washington this year, see Shadows. The Warhol Headlines show is very slight. It's hard to call it a highlight, but a series of three 1982 or '83 silkscreen paintings of successive pages in the NY Post did remind me a bit of the newspaper On Kawara used to line the boxes of his date paintings. Also, the show includes the three Screen Tests where the subjects appear to be reading and unaware they were being filmed: Alan Solomon, Grace Glueck, and Arman. That really is all.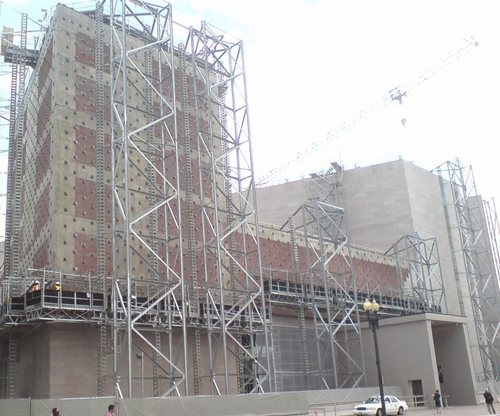 But let's back up because, hey-ho, did you know the National Gallery's East Wing was built with red brick infill walls?? It's like Long Island City up in there behind IM Pei's Indiana granite.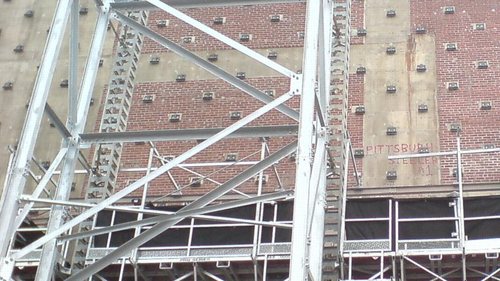 I also love that a construction worker in 1975 declared his allegiance to the Pittsburgh Steelers, practically in the Baltimore Colts' own backyard. That was the year the Terrible Towel was invented, and when the Steelers did, in fact, win their second Super Bowl in a row. Also, I thoroughly approve of this epic-scale scaffolding. Glaze it and set it up at the beach for me, please.
Anyway, after the Warhol bust, I went downstairs for a close look at one of the NGA's current strengths: contemporary monochromes. I'm working on some little monochrome panels right now, and I wanted to see surfaces and techniques--and to see if I'm inadvertently copying anyone I don't want to.
I think I want a really immaculate, glassy, brushstroke-free surface, and I definitely know I want a continuity around the edge of the thin steel and aluminum panels I'm trying. So I figure setting out to study the cleanest, smoothest paintings I can find will be yield some hints.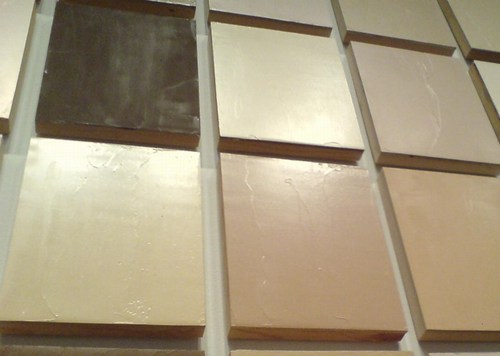 So first up: Byron Kim's Synecdoche (1991-), the multipanel grid of monochromes based on various art world folks' skin tones.