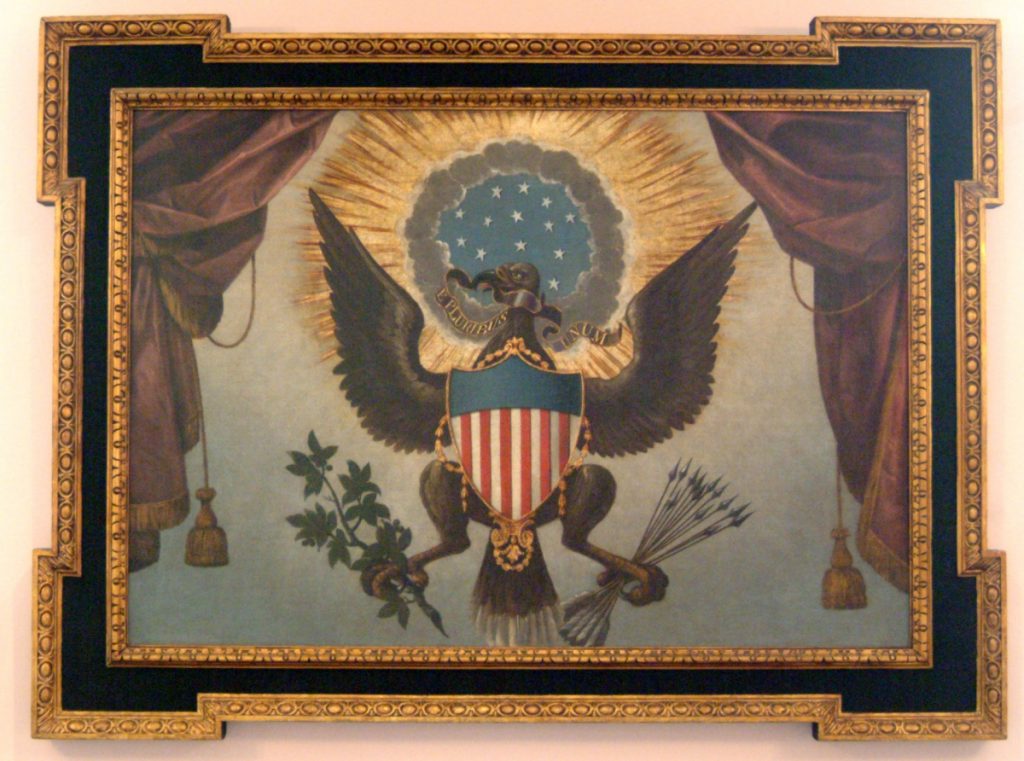 In 1776 a committee of Thomas Jefferson, John Adams, and Benjamin Franklin were charged by the Continental Congress with creating an official seal, a sign of sovereignty and authenticity, for the new United States. Two committees later, in 1782, the primary suggestion from their committee included in the final design was the motto, E Pluribus Unum. Other committees, meanwhile, contributed the eagle, and the use of 13 elements–stars, stripes, arrows, olive leaves–to symbolize the original states in the Union.
The final design was described in terms of its heraldic elements by Congressional Secretary Charles Thomson, and this text remains the law Congress enacted in June 1782. Thomson provided an engraver with a sketch, which was turned into a die and put to use by September.
In October 1785, as the new Constitution was being negotiated nearby, the Vestry of Trinity Church on Wall Street commissioned an unidentified artist to paint one of the earliest public depictions of the Great Seal of the United States. The painting was installed on the north wall of St. Paul's Chapel above the pew reserved for George Washington's family. The pew is gone, but the painting (above) remains.
After his inauguration in April 1789, President Washington asked Thomson to transfer custody of the Great Seal from Congress to the Department of Foreign Affairs. It has remained under the charge of the Secretary of State ever since.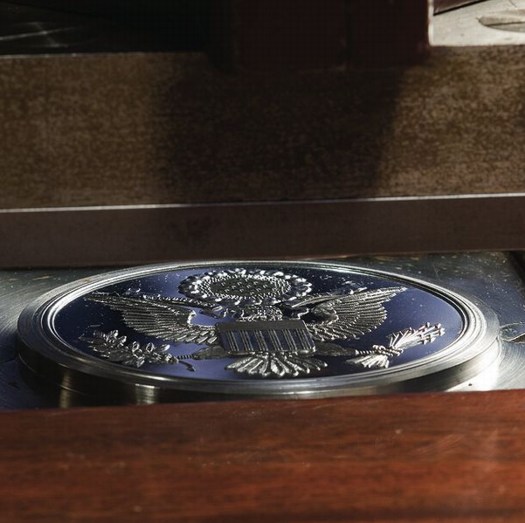 Between 1782 and 1885, four dies were created as replacements were needed, with minor changes or heraldic corrections each time. But since 1885, the die's design has been fixed. It was installed inside a new press in 1904, and in 1986, the current die, along with a master die from which all future dies may be created, was put into service. An officer of the Department of State uses the Great Seal for 2-3,000 official statements, treaty documents, ambassadorial appointments, and such, per year. It is most widely seen via its depictions on the back of the $1 bill and the covers of US passports.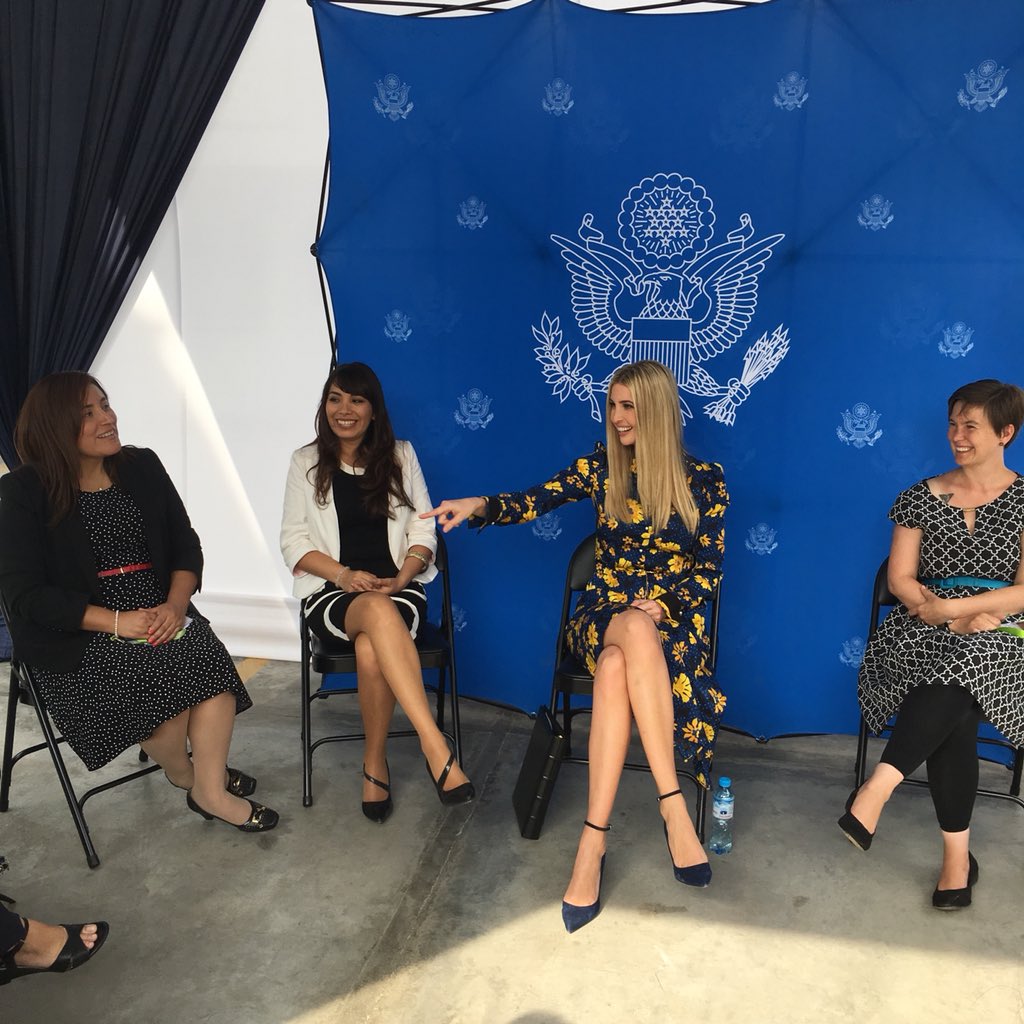 With this context in mind, I hereby announce a new work, Untitled (Art In Embassies), which went on exhibition this week in some courtyard at the US Embassy in Lima, Peru. It comprises a pop-up The Great Seal step & repeat tradeshow photo-opp backdrop and thirteen folding chairs, arranged in a circle.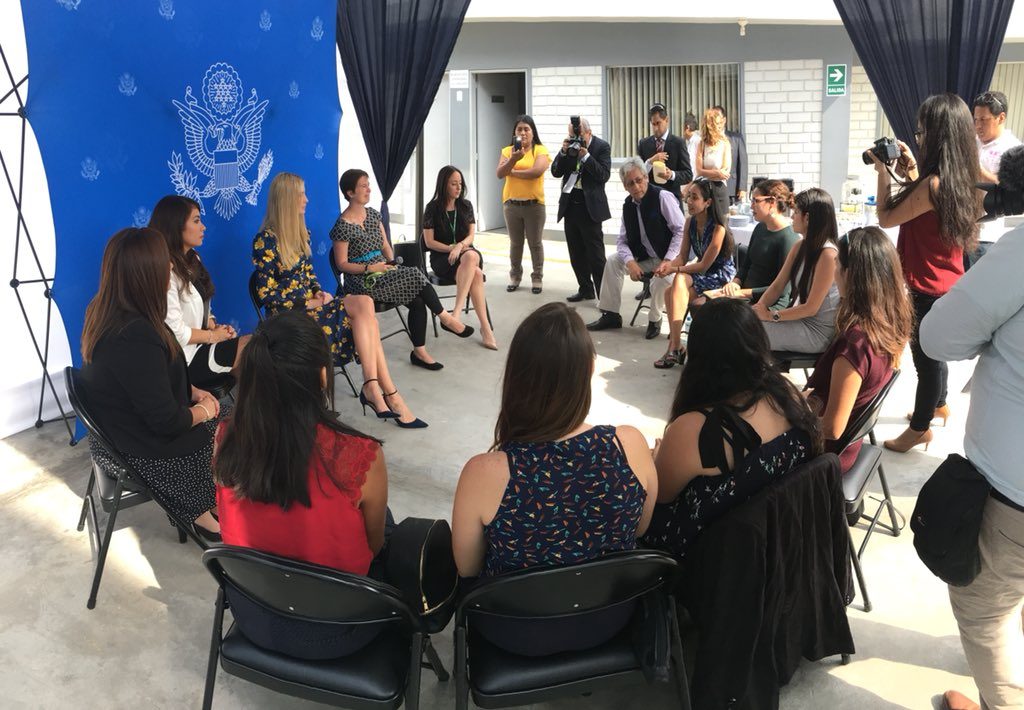 The installation is visible in these photos showing the US' official representative to the Summit of the Americas, a relative of the president with no experience or actual role, who cannot obtain a security clearance because she and her family are under criminal investigation; eleven alumnae of some economic development grant programs of the previous administration; and someone's tio.
Previously, related:
Untitled (Presidential Seal), 2017, ed. 25+5AP
The Great Letterpress of the United States
How ya like How Ya Like Me Now?